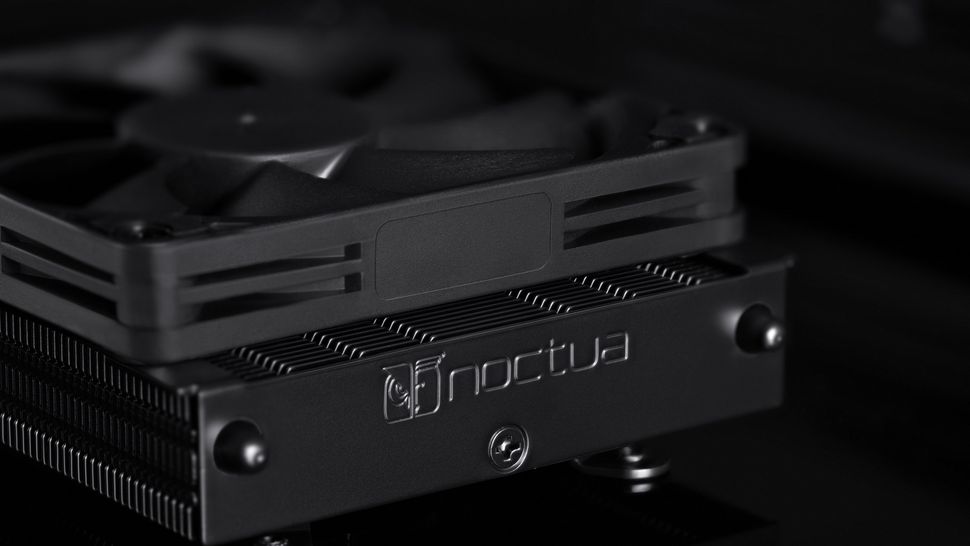 Noctua's NH-L9a CPU cooler isn't new, having been available in the vendor's traditional brown and beige color scheme for some time. But today Noctua announced that it's finished giving the unit its all-black treatment and released the NH-L9a-AM4 Chromax.Black. This is a very thin small form-factor (SFF) cooler aimed for use in PCs with the AM4 CPU socket (opens in new tab)(for AMD CPUs (opens in new tab)) and where space is a luxury.
The NH-L9a-AM4 Chromax.Black's height without the fan is a very thin 23mm, and adding the fan increases it to 37mm.
The fan is 14mm-thick with a maximum speed of 2,500 RPM or 1,800 RPM with the low-noise adapter installed. The minimum rotational speed under PWM fan (opens in new tab) control is just 600 RPM, which for bigger fans might be fast, but for a smaller unit such as this one, is quite low. Maximum noise output is just 23.6dBA, or 14.8dBA when limited by the low-noise adapter.
With this form factor, you'll have no need to worry about RAM (opens in new tab)clearance when building your PC (opens in new tab). Installation should also be a breeze with the SecuFirm 2 installation mechanism.
There is one thing you should keep in mind though. Due to its smaller form factor it doesn't have as much thermal headroom as bigger CPU coolers (opens in new tab) do. Nevertheless, Noctua said the cooler is fit for pairing with up to an AMD Ryzen 3800X (opens in new tab). However, it noted that you won't have any turbo or overclocking headroom left with that chip. Remember to double-check whether your CPU will work with this cooler in the compatibility list (opens in new tab) if you have concerns.
For those with Intel-based systems, there's the NH-L9i chromax.black (opens in new tab).
Pricing is set at $50, and it's currently available on Amazon (opens in new tab). For that price, you also get Noctua's high 6-year warranty and a tube of thermal compound.