They may be a little late, but the first crop of PCIe 5.0 SSDs have finally arrived at retail. The Corsair MP700 is one of the first models, and its leading-edge performance of 10GB/s of sequential read throughput and 1.7 million random write IOPS is a good indicator of what we can expect from the new wave of drives.

The MP700 is a flagship-class PCIe 5.0 NVMe SSD with good performance across the board, bringing enthusiast-class levels of storage performance to your desktop with high sequential bandwidth and all-around consistent performance. The drive also boasts good support from Corsair, a trusted name in SSDs.

The current crop of high-end PCIe 4.0 SSDs are still good enough for the majority of users, though, and are far cheaper. There are also faster 5.0 drives coming out this year. However, the MP700 is a good way to get into the PCIe 5.0 game and have DirectStorage-optimized firmware ready to go. Pricing is likely to come down quickly, but if you want the absolute fastest drive around, this is it for the time being. Let's take a closer look.
Specifications
Swipe to scroll horizontally
| Product | 2TB |
| --- | --- |
| Pricing | $289.99 |
| Form Factor | M.2 2280 |
| Interface / Protocol | PCIe 5.0 x4 |
| Controller | Phison E26 |
| DRAM | LPDDR4 |
| Flash Memory | 232-Layer Micron TLC |
| Sequential Read | 10,000 MBps |
| Sequential Write | 9,500 MBps |
| Random Read | 1,500K |
| Random Write | 1,700K |
| Security | AES 256-bit |
| Endurance (TBW) | 1,400TB |
| Part Number | CSSD-F2000GBMP700 |
| Warranty | 5-Year |
The Corsair MP700 is designed for 2TB and carries an MSRP of $289.99. This is slightly higher than the current price of the Inland TD510, a similar drive that has seen its price decline more than once since it launched. This means that PCIe 5.0 drives are already becoming more affordable.
The MP700 is rated for up to 10,000 / 9,500 MBps for sequential reads and writes and up to 1,500K / 1,700K IOPS for random reads and writes. In addition, it's backed by a five-year warranty that includes up to 1,400 TB of written data. Corsair claims AES-256 support, which could be misleading; however, the design of this controller is such that some manufacturers may choose to implement optional features.
Software and Accessories
Corsair offers a download for its SSD Toolbox software on its site. This application displays drive information and SMART health attributes, plus allows you to TRIM, clone, overprovision, or to securely erase the drive.
A Closer Look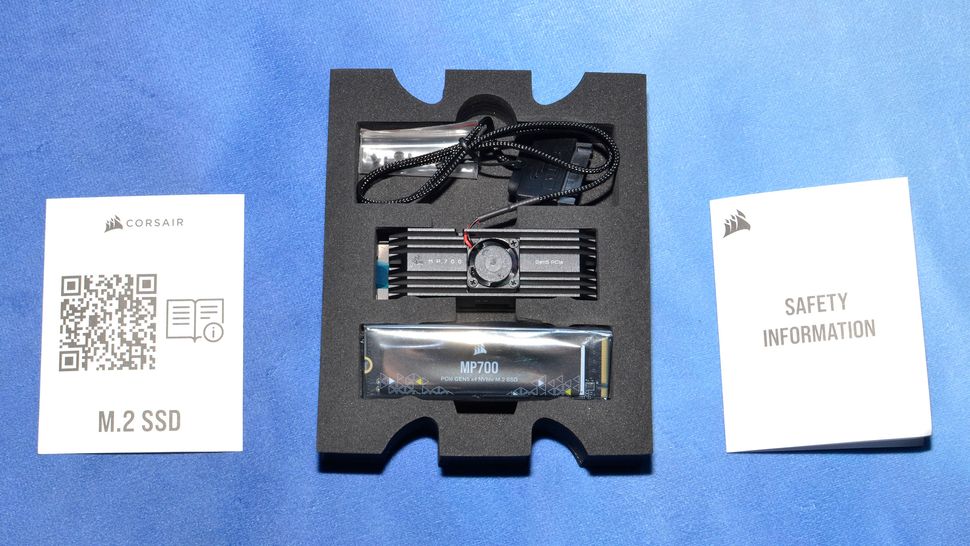 We had no issue running this SSD without the fan, but your own high-end cooling solution, purchased separately or as part of your motherboard's features, should be more elegant.
Corsair apparently agreed — the company had originally announced the drive with a cooler but changed course and decided to release this as a bare drive without the reference cooler. However, it's important to note that the drive should not be run bare, or it will eventually throttle. We tested with our own motherboard's heatsink and verified that this type of cooling is more than sufficient.
This drive has two NAND packages on either side, for a total of four, as well as a controller and a DRAM package on the front. You should take care to select a cooler that can handle a double-sided drive, but there are plenty of options on the market, not to mention possibly built right into your motherboard.
We can also see the indomitable Phison E26 PCIe 5.0 SSD controller. It's an eight-channel controller with a bus of up to 2400 MT/s for the NAND packages, which suggests it could hit up to 15,000 MBps. As configured, the MP700 is closer to 1600 MT/s and 10,000 MBps.

The E26 has the same optional I/O+ firmware optimizations as the E18, although currently that only applies to the Sabrent Rocket 4 Plus-G for PCIe 4.0 SSDs. These optimizations get the most out of DirectStorage and also improve sustained performance. The E26 is derived from an enterprise design, so this is a good match for sustained workloads, and it also has many more powerful but optional features.
The DRAM is Hynix H9HCNNNCPUMLCR-NEE, or LPDDR4. This is a low-power solution, and we saw some power savings with the even more efficient LPDDR4X on the Lexar Professional NM800 Pro. This is 32 Gb, or 4 GB, of DRAM, which is twice the expected amount. This was also the case with the reference design we previewed previously. There may be reasons for this decision, but we will have to test more E26 drives to get the full picture.

The NAND flash is labeled NV066, which is Micron TLC. This is its newest generation of flash at 232 layers, but it currently runs at 1600 MT/s for this drive. Peak rates will reach 2000 and 2400 MT/s with newer revisions.

Micron has gone from four to six planes with this design which helps improve performance due to greater internal parallelization. The flash dies used here are 1Tb or 128 GB each, so four dies in a QDP configuration for each of the four NAND packages. The use of denser dies means that SSDs can and will be able to reach higher capacities. Drives with 4TB of capacity should be common with the E26.
MORE: Best SSDs
MORE: Best External SSDs and Hard Drives
MORE: How We Test HDDs And SSDs
MORE: All SSD Content