Intel SSD 335 240 GB Review: Driving Down Prices With 20 nm NAND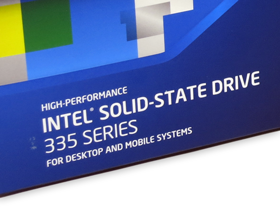 Intel SSD 335 240 GB: Refreshing SSD 330 With 20 nm NAND
Update, November 29, 2012: Shortly after this story went live, Intel sent us an email stating: "Engineering has confirmed that the media wear indicator…is not reporting correctly on the SSD 335. The MWI calculation is an algorithm, which is based on P/E cycles of the NAND and the NAND writes. Intel found that the numbers used in the 335-series algorithm were not correct and decrementing twice as fast as they should." We just finished re-testing endurance, and you can see the results on page eight. The old speculative discussion about endurance is gone in order to avoid confusion. Intel's warranty period is still three years on the retail SSD 330 and 335, so we continue to believe endurance should not be a concern on these drives, even if you're thrashing them.
Back in September, Samsung launched its 840 Pro, and we declared it the fastest, most efficient SSD we had ever tested. The company used an updated controller, a tuned firmware, and the first Toggle-mode 2.0-compatible flash memory to achieve great performance all around. Check out Samsung 840 Pro SSD: More Speed, Less Power, And Toggle-Mode 2.0 for more about that drive. With such a compelling product in our labs, what more could anyone want from an SSD?
A lower price, to start with. Newegg currently has the 256 GB 840 Pro listed for pre-order at $270. That's more than a dollar per gigabyte of storage (an amazing deal by last year's standards, but not nearly as compelling as some of the deals we flagged in Best SSDs For The Money: October 2012, which dip under $.70/GB). Clearly, you have to pay to play when it comes to the quickest hardware available.
Intel's approach to the solid-state storage market is quite a bit different. Once the pioneer in controller technology, it now relies on third-party vendors for the logic that drives its highest-end client-oriented drives. Most recently, the company's SSD 330 saw Intel adopt 6 Gb/s controller logic from SandForce, mated to its own 25 nm multi-level cell NAND (Intel SSD 330 Review: 60, 120, And 180 GB Models Benchmarked).
And now it's evolving that SSD 330 with flash memory manufactured using an even smaller 20 nm process. Presumably in an effort to avoid the issues that OCZ encountered when it silently started using new NAND on its Vertex 2 drives, but failed to disclose (we explored all of that in The OCZ Vertex 2 Conspiracy: Lost Space, Lost Speed?), Intel is calling its new drive the SSD 335 and launching it in one trim: 240 GB. Performance specs don't change relative to the 240 GB SSD 330, but pricing does, and common sense tells us that endurance should as well.
In fact, for the first time, Intel is introducing an SSD at a price point under $1/GB. Yeah, we know that's not particularly stellar in a market hammered by competing brands pushing per-gigabyte costs 20 and 30% lower (particularly since many of them are using SandForce's technology, too). But remember that plenty of folks are willing to pay a premium for Intel's name. A compelling "better together" story is big business for the company, and it's common to see its CPUs, motherboards, network controllers, and SSDs all used in the same system.
The revelation that Intel keeps performance constant on the SSD 335 is an interesting one. We know the SSD 330 and 520 both employ 25 nm synchronous NAND and an ONFi 2.2 interface. They use the same SandForce controller, too. Thus, we can be relatively certain that the SSD 330's lower performance comes from its firmware (a hypothesis made more probable by our discovery that the SSD 330 employs the same PCB as the 520).
Swipe to scroll horizontally
240 GB Performance Comparison (Assuming Compressible Data)

Row 0 - Cell 0

Intel SSD 330
Intel SSD 335
Intel SSD 520
4 KB Random Read (IOPS)
42 000
42 000
46 000
4 KB Random Write (IOPS)
52 000
52 000
56 000
128 KB Sequential Read (MB/s)
500
500
550
128 KB Sequential Write (MB/s)
450
450
515
Because the SSD 335 wields those same specifications, it's consequently hard for us to know for sure whether the 20 nm NAND affects performance. More certain is that a new process node does have an impact on endurance, and we'll be looking to quantify that change in today's review.
Naturally, IMFT isn't getting specific about the differences between its 20 nm high-capacity NAND and last generation's 25 nm process. But the company claims to achieve similar performance and endurance. A fairly conservative company, Intel doesn't tend to adopt new technologies prematurely. And, given an identical three-year warranty on the SSD 335, we have every reason to believe end-users won't be affected by this subtle transition. We're going to run the numbers the best way we know how, anyway, though.
Join the experts who read Tom's Hardware for the inside track on enthusiast PC tech news — and have for over 25 years. We'll send breaking news and in-depth reviews of CPUs, GPUs, AI, maker hardware and more straight to your inbox.