In case you wondered whether it's possible to quickly distinguish between an AMD-based laptop running the latest Ryzen 7000-series CPUs featuring the Zen 4 microarchitecture and notebooks powered by the Zen 2 or Zen 3 microarchitectures, it is. Apparently, systems with the latest Zen 4-based Ryzen 7040/7045-series CPUs inside carry an orange sticker, whereas PCs that use processors featuring previous-generation designs carry a gray sticker, AMD's new marketing deck reveals.
When AMD introduced its latest model numbering system for Ryzen 7000-series processors for notebooks, it disclosed that the new Ryzen 7000 family will include CPUs based on the latest Zen microarchitecture as well as processors powered by the previous-generation Zen 3 and even Zen 2 microarchitecture. The lineup will also include APUs with integrated GPUs featuring the Vega, RDNA 2, and RDNA 3 architectures, making things even more confusing.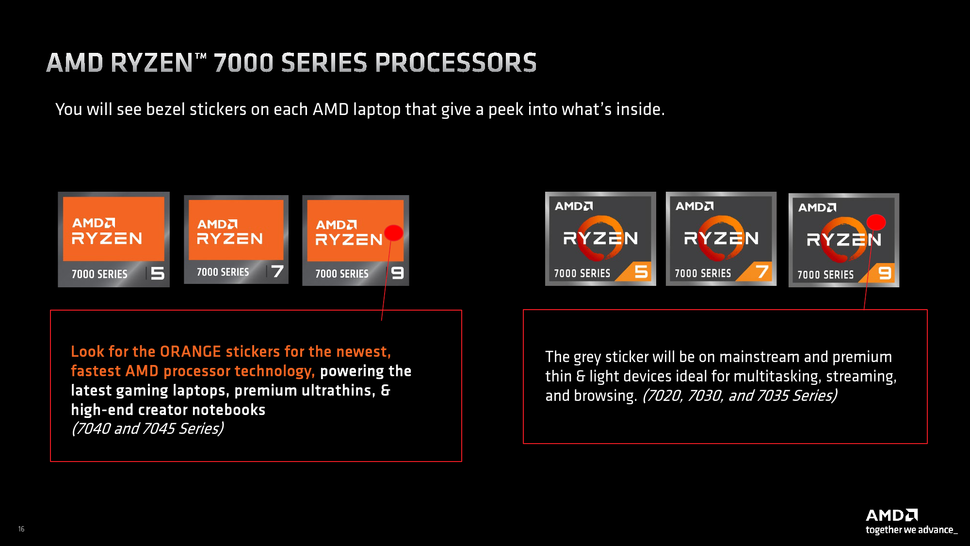 Truth to be told, the third digit in a Ryzen 7000 model number reveals the microarchitecture, but few buyers will know or remember the model numbering system when shopping for a new PC. So, AMD asked its partners to use new orange Ryzen 7000-series stickers with systems based on Zen 4-based Ryzen 7040/7045-series 'Dragon Range' and 'Phoenix' APUs. Midrange and entry-level laptops will get the existing silver/gray stickers. That will indicate the laptop has a Zen 3-powered Ryzen 7030-series 'Rembrandt' CPUs with Zen 3 and RDNA 2 graphics, or potentially even older Zen 2-based Ryzen 7020-series chips. (Hat tip to VideoCardz for picking up on this first.)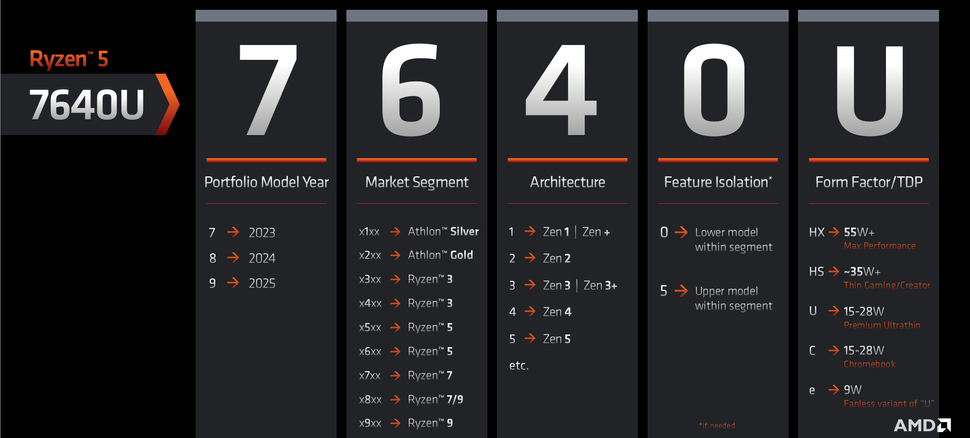 While an orange Ryzen 7000 sticker is a nice way to distinguish between systems running AMD's latest technology and PCs featuring previous-generation architectures, many people don't buy their laptops at retail, and not all online stores post accurate pictures of the products they sell. Furthermore, for many, the first digit in the model number is still one of the main indicators that influences their buying decision.
Marketing different generation products in the same product family certainly confuses customers, but OEMs tend to like new product families even if they include rebadged previous generation processors. As a result, both Intel and AMD often include older silicon in brand-new lineups under new model numbers.

Bottom line: If you're looking for a Zen 4 laptop, you want to join Team Orange.