The Nvidia Geforce RTX 3000 series is right around the corner, and while we've already written about how its lower-than-expected pricing is impacting older Nvidia GPUs, AMD cards don't seem to be immune to price drops either. Take the MSI Radeon RX 5600 XT, which offers similar performance to the Nvidia Geforce RTX 2060 and is now only $220 (opens in new tab) on Newegg (with promo code EMCDRGK36 and after a $20 rebate).

The Radeon RX 5600 XT came out earlier this year for a starting price of $280. At 36 CUs and with 6GB of GDDR6 memory, it's meant to support high-end FHD and entry-level 1440p gaming. The particular model that Newegg has on sale comes from MSI, has a max boost frequency of 1.62 GHz and connects over PCIe 4.0. It also has two fans, one HDMI 2.0 port and three DisplayPort 1.4 connections.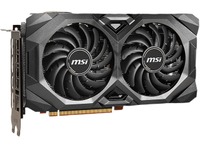 (opens in new tab)
MSI Radeon RX 5600 XT: was $289.99 now $219.99 @ Newegg (opens in new tab)

The MSI Radeon RX 5600 XT is an AMD GPU that's competitive with the RTX 2060 thanks to its 36 CUs, 1.62 GHz max boost clock and 6GB of GDDR6 memory. It's also now over $100 cheaper than the RTX 2060 after a promo code and rebate.
Our review for the RX 5600 XT praised the card for beating the RTX 2060 in most titles while drawing less power and being closer to the GTX 1660 Ti in price. For example, it earned an average 91.4 fps in The Division 2 on our test system compared to 83.6 fps from the RTX 2060. Given that the RTX 2060 currently sells for closer to $330 (opens in new tab), being able to beat it on performance for over $100 less is an attractive deal.

Plus, Newegg's sale comes with free copies of Godfall and World of Warcraft: Shadowlands. If you are interested in these games, that makes this card an even sweeter deal if you aren't willing to wait to see what comes from Nvidia and AMD in terms of mainstream cards in the coming months.