Some GeForce RTX 4070 graphics cards are discounted to MSRP a day after launch. Some of these Best GPUs cost as much as $629.99 yesterday but have been discounted to $599.99 today. We don't know why we see discounts this early, but it's a nice bonus to see, nonetheless.
Among the various discounts, the Asus RTX 4070 Dual OC and MSI RTX 4070 Ventus X3 OC have seen some early adjustments. Both cards have been visibly discounted on Best Buy's online store from $609.99 and $629.99, respectively, to $599.99. Unsurprisingly, both cards have gone out of stock on the Best Buy storefront since the discounts went live.
Thankfully, both SKUs are still available with other retailers such as Newegg and Amazon at the same $599.99 pricing. Though strangely, Newegg does not state these are discounted prices and is selling them as if they are the card's normal prices.
The most interesting aspect of these price changes is that most RTX 4070 models and their factory-overclocked models now retail at $599.99 due to this change. Usually, factory overclocked models are at least $10 to $20 over their standard counterparts due to their slightly faster performance. But this time around we aren't seeing that with most of the RTX 4070s, which is great for customers. Of course, factory overclocks won't give the 4070 any significant performance advantage, but it's free performance in this case.
Also, some non MSRP cards on Newegg are already getting discounted back to MSRP lol: pic.twitter.com/k4xh7ITd6JApril 13, 2023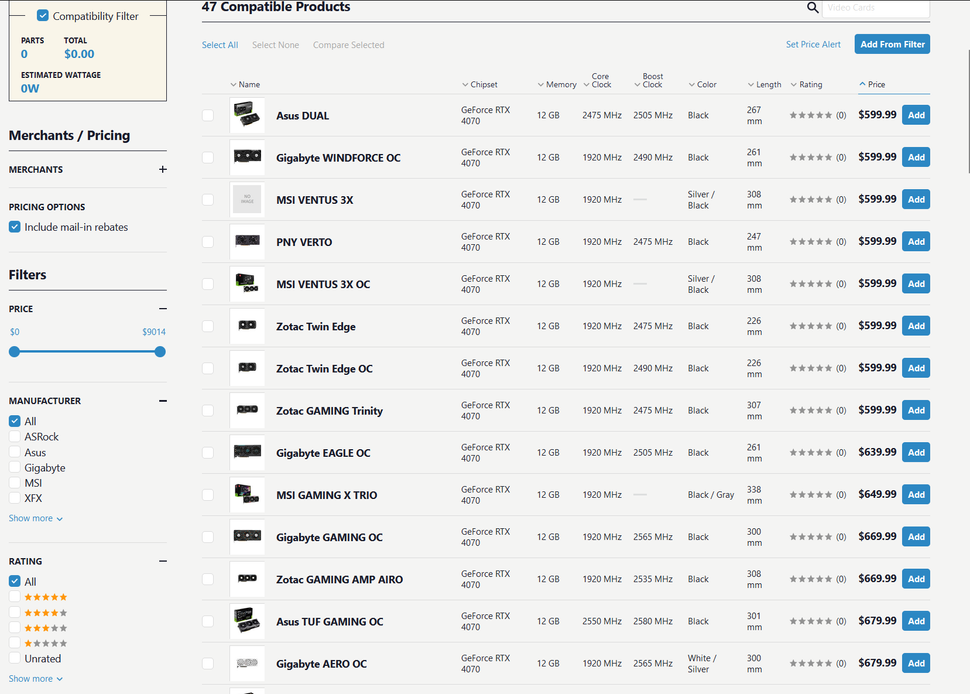 However, there are still a good amount of flagship RTX 4070 models that are well above MSRP, cards like the MSI Gaming X Trio, Asus TUF Gaming OC, Gigabyte Aero OC, and Aorus Master are all well north of $599.99, coming in anywhere between $649.99 to $679.99, respectively. These cards feature significantly upgraded heatsinks with triple-slot coolers, compared to the dual-slot coolers on the standard cards. Most of these cards also favor the 16-pin power connector over the 8-pin to increase power limits and overclocking headroom.
But the good news is that most, if not all, of the baseline RTX 4070 AIB partner cards are now sitting at the $599.99 MSRP, giving customers plenty of options to choose from.