The best wireless gaming headsets provide all the audio quality you get from their wired counterparts without the hassle of being tethered to your PC or getting cables caught under the wheels of your chair. However, most models max out at 30 hours of endurance, which means that you need to remember to charge them regularly.
HyperX's Cloud Alpha Wireless breaks the mold, by combining excellent audio output, strong build quality and a rated 300 hours of battery life. That's ten times what competitors such as the Razer Kraken Pro and HyperX's own Cloud Flight Wireless offer. And indeed, in our use, the headset lasted through more than two weeks of regular use, without even coming close to needing a charge.
While the HyperX Cloud Alpha Wireless offers great sound and long battery life, it's not without trade-offs. For the premium price of $199, you don't get RGB lighting, haptic feedback or any other way to connect except for 2.4 GHz wireless. However, if you don't need these extras, the Cloud Alpha Wireless is hard to beat.
Specifications - HyperX Cloud Alpha Wireless
Swipe to scroll horizontally
| | |
| --- | --- |
| Driver Type | 50 mm neodymium dual chamber |
| Impedance | 62 Ω |
| Frequency Response | 15Hz - 21,000 kHz |
| Microphone Type | Detachable bi-directional, noise-canceling |
| Connectivity Options | USB Type-A dongle |
| Cables | Detachable Mic, charging cable |
| Weight | 0.74 lbs |
| Lighting | None |
| Software | HyperX NGenuity |
| Extra | None |
Design and Comfort of HyperX Cloud Alpha Wireless
The HyperX Cloud Alpha Wireless retains the same design and classic red/black color scheme as the wired Cloud Alpha. The headset utilizes a soft pebblestone leatherette headband with red stitching, threaded wiring, and a red aluminum frame instead of plastic, unlike the budget HyperX Flight Wireless. As such, the headset feels durable and premium at the same time. Thanks to the high-end materials, the Alpha Wireless looks pretty and can survive several falls off a table without a scratch. It does attract dust and fingerprints, but those can easily be wiped off.
The right earcup features an LED light next to the power button to indicate when the device is on. Next to that is a raised mute button, a USB-C port for charging, and a 3.5mm port for the detachable mic. The left earcup has a volume wheel. On either side of the earcups is the HyperX logo, which is not illuminated (if it were, the headset would likely not reach that "300-hour battery life" threshold). The cups can adjust vertically, as they're held on by a swivel connected to the aluminum frame. The headband can also extend in about 8 increments, measured by the indents inside the frame's band.
As with many HyperX products, the manufacturer retains its "signature comfort" with memory foam cushions. It felt like my head was in between two clouds. The Alpha Wireless is also surprisingly light at 0.74 pounds (336g), which is only 0.04 pounds heavier than its wired predecessor. It has a slimmer form factor than the wired Cloud Alpha as well. My head didn't get tired during prolonged use and my ears didn't get sore either.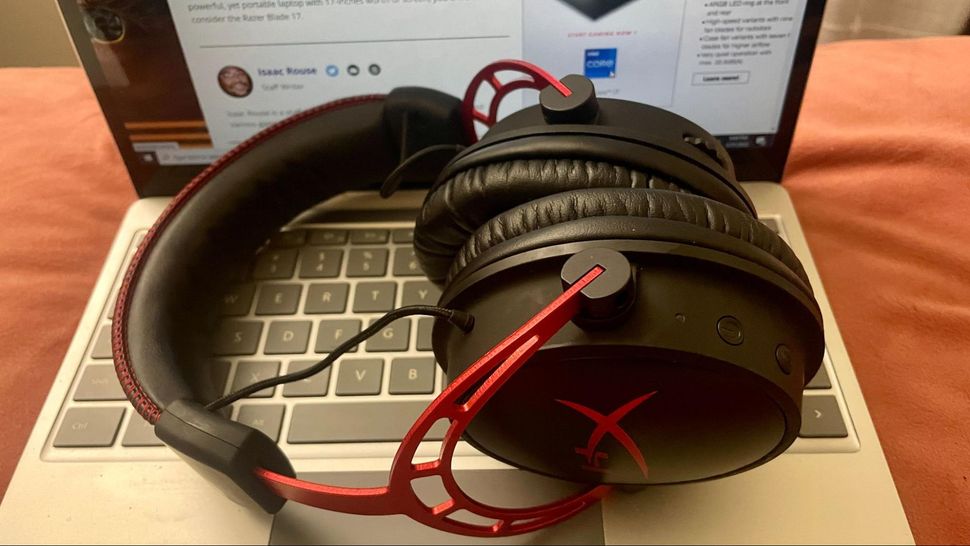 Audio Performance of HyperX Cloud Alpha Wireless
The HyperX Cloud Alpha Wireless supports virtual 7.1 surround sound out of the box, making sounds more immersive on consoles that support the output. When I was playing Persona 5 Royale on PlayStation 4, background noises were so slight that sometimes I thought audio from my smartphone was leaking into my headset. Although the Alpha doesn't use spatial audio outside of NGenuity, playback with the PlayStation sounds surprisingly good.
In-game music over the PS4 sounds pristine and crisp while maintaining heavy bass and audible kicks. Thanks to the Alpha Wireless' neodymium dual-chamber drivers and 15Hz - 21,000 kHz frequency response, highs, mids, and lows sound appropriately spaced out and robust.
I heard "No More What Ifs" for the first time while playing Persona using this headset and it quickly became my favorite song in the game after accumulating 135 hours throughout the years I've been playing. It's such a clean track elevated even more so thanks to the headset's range of high and mids.
I originally used the Cloud Alpha fresh out of the box, without installing updates from the NGenuity software. Since the quality of sound was great with the PS4, I figured it would sound the same over PC, but I was wrong. Everything sounds flat without any software being used. Music lacked dynamics and the maximum volume didn't go beyond a satisfactory threshold. Some of the tunes that I created in FL Studio lacked a certain pop I'm used to hearing from my TV speakers, Razer Kraken Pro headset, and my personal Sennheiser MOMENTUM True Wireless 2 earbuds when exported into a .wav file.
I used software release version 2.7.1.0 before it was released to the Microsoft Store. When I connected the Alpha Wireless while using NGenuity, I got a notification with a spelling error, asking if we want "to to level up" our audio experience by downloading new drivers that'll enable DTSX spatial sound and an EQ. The download also updated the firmware of the Alpha Wireless to v4.1.0.2, which permanently improved the audio threshold. I immediately went back to FL Studio and heard the dynamic sound I was missing before the update, without any of the new features enabled. The maximum volume got louder and the range of sounds was immediately improved.
The EQ comes with presets mostly geared toward music that boosts or cuts bass and treble. There are also presets for clarity and optimization, as well as one strictly focused on First-Person Shooters. The optimizer preset provides the best balance when listening to music, otherwise, every preset does what it claims to do.
DTSX spatial sound is not great for music, as it instantly muddies the quality with booming bass. Instead, we used DTSX during my playthrough of Devil May Cry V, and it was apparent the setting is best used for gaming. Sounds elevated the game for me during my combat as V. I could hear the bike chain on his belt loops rattle with each step of his hard bottom sandals.
When I called upon Nico to upgrade my move pool, her exaggerated entrance saw her crashing the van at my location. The sounds of gravel moving as she approached, as well as the ensuing crash landing she made, had a cinematic quality akin to an action film. This appreciation of sounds carried over in combat when I was able to discern an oncoming enemy from its scythe scraping the concrete as it approached. This is all possible due to the spatial audio feature. Although it's not a great feature for standalone music, the music quality wasn't muddy like it was during regular music playback. Although, sometimes the bass got a little louder than normal when songs bombastically conclude after fights, as they do in DMCV.
If a long-lasting battery is your priority, then the HyperX Cloud Alpha Wireless is peerless. I tested the headset for more than two weeks and barely depleted half the battery. However, I found the battery drained a bit faster after the software and firmware were installed. Despite this, the Alpha Wireless powers off after a few minutes of nonuse. I believe this is one reason HyperX's headset can live for so long without charging. I appreciate the large capacity battery, as well as the conscious steps made in order to preserve life.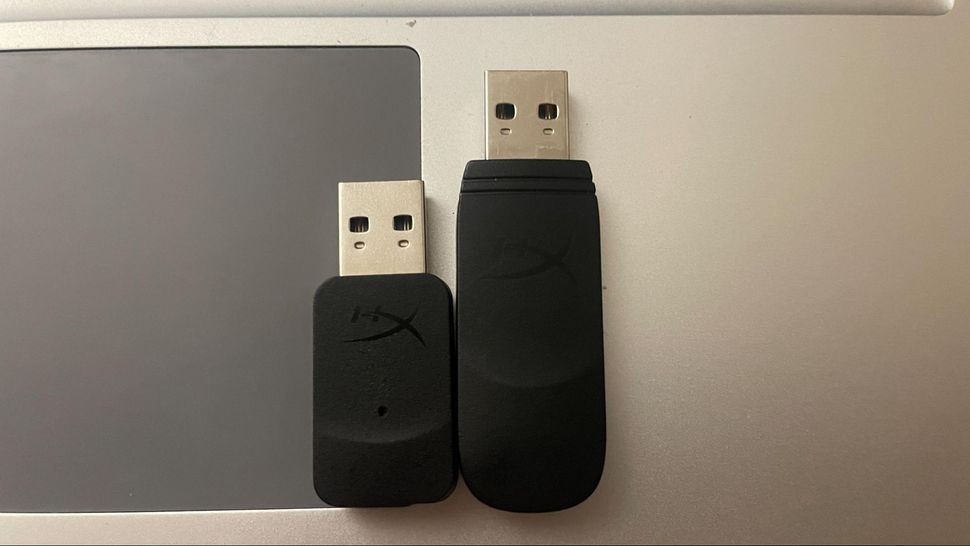 Compatibility of HyperX Cloud Alpha Wireless
The HyperX Cloud Alpha Wireless utilizes a 2.4 GHz USB Type-A dongle that's compatible with PlayStation consoles, PC, and a docked Nintendo Switch. About half the size of the Flight Wireless' dongle, the Alis good. It's see-through and has a LED light that shines red when active.
I attempted to use the 3.5mm headphone jack used to plug in the detachable microphone on the PS4 controller, the undocked Nintendo Switch, and my Xbox One X controller to see if playback was possible, but it wasn't. There also isn't a way to connect wirelessly over Bluetooth. This isn't a big deal, but for a premium $200 headset, it would be nice.
I found compatibility to be limiting without a 3.5mm headphone jack. It's a bit of an old-school way to connect, but it's surefire. With it, there's no need to wonder if the headset is compatible with the dongle. As a result, the Alpha Wireless is best suited for PC use, especially given the software features.
Microphone on HyperX Cloud Alpha Wireless
I was surprised by the great quality of the poseable, detachable microphone. My voice came through crystal clear when I heard the playback of myself on the Audacity app. Although there was slight feedback whenever I spoke, it was hardly noticeable in the background. There wasn't as much feedback as we experienced when we used the microphone that comes with the HyperX Cloud Flight Wireless. The bi-directional microphone was even strong enough to pick up the snapping of my fingers a ways away from the receiver.
Though the microphone is better suited for gaming chats, it can be useful for a quick conference call or a game stream if you've got nothing else. But naturally, the quality of this detachable microphone is nowhere near as good as one of the best gaming microphones.
HyperX Cloud Alpha Wireless vs the Competition
For $200, folks may want more connectivity options and other bells and whistles not included with the Cloud Alpha Wireless. For instance, Razer's Kraken Pro can be used via its proprietary dongle and headphone jack (wire included), features built-in haptic feedback and has RGB lighting that can be turned on or off.
The Kraken Pro has comparable sound quality when gaming but handles music better than the Cloud Alpha Wireless, all for the same price. However, the Kraken's battery life will be regulated to the industry standard of about 30 hours. There's a trade-off with either option, but ultimately, the best choice depends entirely on if you prioritize battery life over contemporary frills.
Bottom Line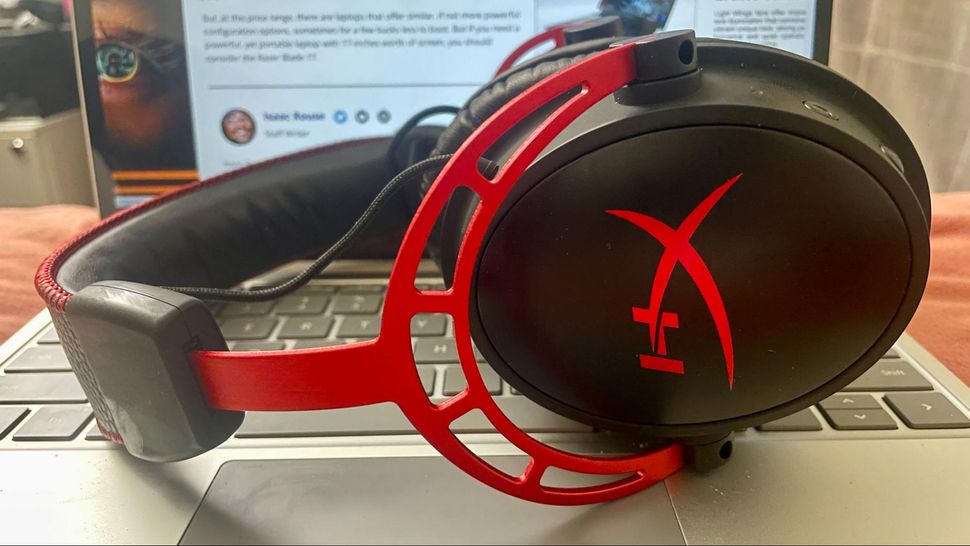 The HyperX Cloud Alpha Wireless retains the tough build, design, and comfort of the Cloud Flight, but in a slimmer form factor and with a massive 300-hour battery life. Its neodymium dual-chamber drivers, as well as its additional NGenuity EQ and DTSX software make it a great gaming headset in terms of performance too.
However, because there's no Bluetooth or 3.5mm wired options, compatibility is limited. Don't expect to use the Cloud Alpha Wireless with your phone or tablet, not that you'd want to wear such a massive headset as you walk around town or exercise.
If endurance isn't as important to you, consider the Razer Kraken Pro, which costs the same price but has more connectivity options, as well as built-in haptic feedback, and RGB. Plus, the Kraken Pro sounds better in some instances, like when playing music.
But if you need a wireless headset that can survive for the long haul, the HyperX Cloud Alpha Wireless can't be beaten. During my time reviewing the product, the headset never died and, after two weeks, had just gotten down to about 50% capacity. That makes it much less likely you'll have your gaming experience interrupted by a low-battery warning or the loss of audio.