If you've been craving an IPS display but don't need any fancy features, Newegg's latest Acer monitor deal is a great opportunity to bring one home at a reasonable price. The Acer G7 G257HL is a 25" IPS monitor with a 1920 x 1080 resolution, and it's currently listed on the Newegg website for just $109 (opens in new tab) when you use promo code 62GAMETBR53 (down from $199). IPS displays are known for their color accuracy, which is why the best monitors tend to use them.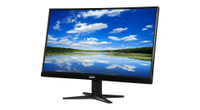 (opens in new tab)
Acer G7 G257HL 25" IPS: was $199, now $109 @Newegg (opens in new tab)
The Acer G7 G257HL is listed for just $119 at Newegg, and you can use promo code 62GAMETBR53 to get an additional $10 off. It spans 25" across and features an FHD @ 60Hz IPS panel.
This IPS display features an FHD resolution of 1920 x 1080. The refresh rate isn't the highest, but you can expect a maximum performance around 60Hz.
You've got multiple input options, including both DVI and HDMI. It comes with a tilt-adjustable stand and even has built-in speakers if you want to save a little extra desk space.
If you want to get your hands on this offer, visit the official Acer G7 G257HL (opens in new tab) product page at Newegg. This deal is listed with an expiration of October 12th.