Today direct from Newegg at eBay, you can find the AMD Ryzen 9 7950X3D for its lowest price yet. This processor usually goes for around $700, but right now, Newegg has marked it down to $629 over at its eBay profile. This is the lowest price we've ever seen for the processor since its launch.
We reviewed the AMD Ryzen 9 7950X3D in March, shortly after it first debuted, and overall regarded it as a top-tier processor due to its maximum gaming performance and a hefty allotment of cores. We specifically appreciated its performance and efficiency, as well as its overclocking support. Of course, the biggest caveat was pricing, but today's discount makes that con less of a concern.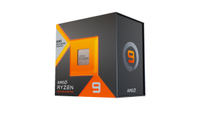 AMD Ryzen 9 7950X3D CPU: was $698, now $629 at eBay (through Newegg)
This leading Zen 4 CPU is available for its lowest price yet today. It has 16 cores and 32 threads and can reach up to 5.7 GHz with max boost enabled. Users can expect PCIe 5.0 support as well as the ability to use up to 128 GB of DDR5.
The AMD Ryzen 9 7950X3D processor uses the Zen 4 architecture. It has a total of 16 cores and up to 32 threads, a base speed of 4.2 GHz, but can boost as high as 5.7 GHz. This processor comes with PCIe 5.0 support and can connect to four USB 3.2 ports as well as 1 USB 2.0 port.
Users can install up to 128 GB of DDR via two memory channels with the AMD Ryzen 9 7950X3D. It also has integrated AMD Radeon Graphics, so no GPU is necessary to get off the ground with the processor—although we highly recommend pairing it with one for gaming.
For more details about this offer, visit the AMD Ryzen 9 7950X3D CPU product page over at Newegg's eBay profile. It's not clear how long the discount will be made available.