A purported AMD engineer's LinkedIn profile has exposed the codename and process node for AMD's distant Zen 6 processors. Zen 5, which should hit the market by 2024, is the next microarchitecture up to bat, so there's still a long way to go before we see any glimpse of Zen 6.
The new information comes courtesy of Md Zaheer, who appears to be a senior silicon design engineer at AMD that has worked on the power management aspect of Zen 4, Zen 5, and Zen 6 processors. The person has since disguised the names of the AMD projects he has worked on, but Twitter user Maraux David took a screenshot of the original description before the changes. Admittedly, it's not a big blunder since AMD has already revealed some details about Zen 5. However, it does provide some information on Zen 6.
You won't find Zen 6 on any official AMD roadmaps, as the chipmaker has only shared its plans for up to Zen 5. The last roadmap, which dates back to June 2022, showed that AMD expects to launch Zen 5 in 2024. Therefore, Zen 6 likely won't reach the retail market until 2025, if not later. According to Zaheer, who started to work on Zen 6 at the start of 2023, the internal codename for AMD's Zen 6 cores is Morpheus. The author didn't share the codename of the CCD (core complex die), though. Zen 6 chips reportedly leverage the 2nm manufacturing process. However, we aren't sure if AMD will continue to tap TSMC for CCD production or jump ship to Samsung. Both TSMC and Samsung expect to have their 2nm process nodes ready by 2025.
AMD Microarchitectures
Swipe to scroll horizontally
| Microarchitecture | Core | CCD | Process Node | Launch Date |
| --- | --- | --- | --- | --- |
| Zen 6 | Morpheus | ? | 2nm | ? |
| Zen 5 | Nirvana | Eldora | 3nm | 2024 |
| Zen 4 | Persephone | Durango | TSMC 5nm | 2022 |
| Zen 3 | Cerberus | Breckenridge | TSMC 7nm | 2020 |
| Zen 2 | Vahalla | Aspen Highlands | TSMC 7nm | 2019 |
| Zen+ | ? | ? | GlobalFoundries 12nm | 2018 |
| Zen | ? | ? | GlobalFoundries 14nm | 2017 |
The silicon engineer seemingly worked on Zen 5 from January 2021 to December 2022, so it looks like Zen 5 is on track for a 2024 release per AMD's roadmap. The commercial name for Zen 5 processors is unknown, but AMD refers to the mainstream chips as Granite Ridge. Thanks to Zaheer, we know now that Zen 5 cores are internally known as Nirvana, whereas the CCD (via Andreas Shilling) goes by the codename Eldora.
AMD had previously stated that it would use an "advanced node" for Zen 5, which we speculated could be 4nm or 3nm. As per Zaheer's previous notes, Zen 5 will come 3nm furnace. It's important to highlight that he was part of the development team for server chips, probably EPYC. Some rumors exist that Zen 5 might be available in 4nm and 3nm variants.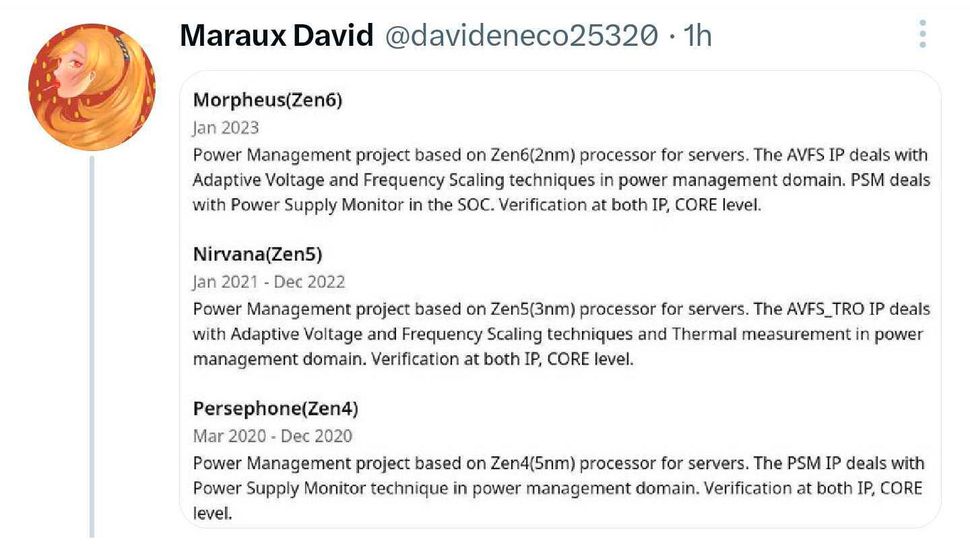 AMD will exploit the Zen 5 microarchitecture to the fullest. Zen 5 will debut in Granite Ridge for the mainstream market and EPYC Turin for servers. For Zen 5, AMD will also release chips with Zen 5c cores, which are theoretically similar to Intel's E-cores found on the mainstream 13th Generation Raptor Lake processors. We'll also see Zen 5 in Strix Point, AMD's upcoming APUs with RDNA 3+ graphics and an Artificial Intelligence Engine (AIE).
Assuming that Zen 5 follows a similar cadence as the previous Zen microarchitecture, the first consumer desktop Ryzen chips will likely land in the second half of 2024. The 3D V-Cache-equipped counterparts should arrive a couple of months later.