Graphics Card Retail Pricing Update, August 2023
Some GPUs are up, some are down.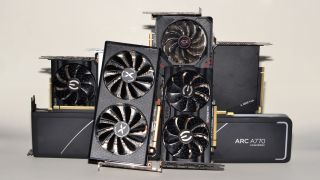 (Image credit: Tom's Hardware)
With another month in the books, we've rummaged through the web, looking for retail prices on the best graphics cards. Actually, we're looking at prices for all current and previous generation AMD, Intel, and Nvidia GPUs — even those that don't make sense any longer (looking at you, RTX 30-series). Since last month had some Prime Day GPU deals, there are some upward trends on many models, but some of the cards do show price cuts. We're also looking at data from the start of July compared to now, on August 3, so not all previous prices reflect Prime Day discounts.

We also have a "value" metric, calculated as the average FPS across our full 15-game test suite at 1080p medium, 1080p ultra, and 1440p ultra. You can't find those exact numbers in our GPU benchmarks hierarchy, as they use our newer test PC, and we haven't finished testing (and retesting) all the GPUs yet. Also, any GPU we didn't test at 1440p ultra (like the RX 6500 XT and Arc A380) gets a blank, along with all older GPUs that lack ray tracing hardware. However, there's little point in buying most of those at retail these days.

Preamble rambling aside, here's how things look. (Note that all the links in the first column go to the current best price we found, with a mix of Amazon, Newegg, and B&H Photo listings.)
A lot is going on with the expected monthly price fluctuations. Starting with AMD, the RX 7900 XTX and RX 7600 increased slightly in price, along with a few other cards. Meanwhile, the RX 7900 XT and RX 6800, plus the remaining cards, all dropped a bit. We saw some good deals on most of the AMD GPUs, thanks to Prime Day (which extended to the start of July in some cases), so if you missed out, you're now looking at paying slightly more for most of the cards.

The story reads the same for Intel Arc, with the A770 16GB dropping to $330 ($20 below the launch MSRP), thanks to the ASRock model. The A770 8GB held steady, as did the A380, and the A750 dropped slightly to $220. However, we've seen the A750 go for as little as $199 in the past, so current prices have increased by 10%.

For Nvidia, the RTX 30-series isn't worth considering anymore, except for maybe the RTX 3070. It's now down to $380, and performance (not counting Frame Generation) basically ties the newer RTX 4060 Ti 8GB. But it also draws more power, and for the price, we'd lean toward the RTX 40-series instead, even if they have narrower memory interfaces. If you're willing to go even older, there's also the RTX 2060, now starting at just over $200, which still outperforms the RTX 3050 in most games. It makes the GTX 16-series parts largely pointless at the current retail prices.

Nvidia's newer RTX 40-series cards have mostly held steady, though the RTX 4080 increased from its all-time low of $1,000 to $1,100. The RTX 4060 dropped by 7%, potentially providing the best bang for the buck from Nvidia and nearly matching the Arc A750 (if you're only looking at the performance of the GPU relative to its current price and not factoring in the rest of the PC cost). And then there's the new RTX 4060 Ti 16GB, which we haven't tested yet (soon, though).

Sticking with the value topic, the standings are mostly what you'd expect. Overpriced cards like the faster RTX 30-series GPUs rank poorly, as do the RTX 4090 and 4080. AMD's RX 7900 XTX/XT aren't that great of a value either, while the RX 6950 XT marks the bottom of the middle section of the value rankings. It's all somewhat subjective, however, as PC cost and the games you play are definitely things to consider — AMD GPUs, for instance, take a hit in ray tracing games, so if you don't care about ray tracing, they will move up the rankings.

With the end of summer now in sight, we're mostly in a holding pattern while we wait for the back-to-school sales to kick in. Or there's always Black Friday if you can hold out until November... but we don't talk about Black Friday.
Join the experts who read Tom's Hardware for the inside track on enthusiast PC tech news — and have for over 25 years. We'll send breaking news and in-depth reviews of CPUs, GPUs, AI, maker hardware and more straight to your inbox.
Jarred Walton is a senior editor at Tom's Hardware focusing on everything GPU. He has been working as a tech journalist since 2004, writing for AnandTech, Maximum PC, and PC Gamer. From the first S3 Virge '3D decelerators' to today's GPUs, Jarred keeps up with all the latest graphics trends and is the one to ask about game performance.
Prime day sales weren't low enough to entice me. I'll continue to speak with my wallet.

Reply