If there's one thing the PC community is good at, it's pushing hardware performance to new heights. Today, we're excited to share an impressive benchmark from a user known as CENS over at HWbot. CENS has pushed an Nvidia GeForce RTX 4090 GPU to a whopping 3,930 MHz. This card, one of the best graphics cards, has a boost clock speed of 2,520 MHz and was already famous for its chart-topping high-speed performance.
We reviewed the Nvidia GeForce RTX 4090 when it debuted in October 2022 and were thoroughly impressed by its performance, dubbing it the Queen of the Castle. It's easily the fastest GPU on the market, thanks to the groundbreaking performance of Nvidia's Ada Lovelace architecture. Despite already being remarkably fast, users are still eager to push the GPU beyond its marketed limits.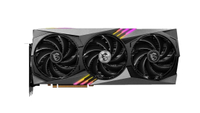 MSI Gaming GeForce RTX 4090: was $1,699, now $1,599 at Amazon
You can find the MSI Gaming GeForce RTX 4090 at Amazon for $1599. This edition comes with 24GB of GDDR6X. There are three DisplayPort 1.4 ports to take advantage of, along with one HDMI 2.1 port.
Understanding how CENS reached beyond the 3,900 MHz barrier helps to know precisely what hardware he used in this record-breaking benchmark. According to CENS, he pulled it off with a Z790 motherboard with an Intel Core i9-13900K processor, which features Raptor Lake-S architecture. The rig also had 32GB of DDR5-4300 and was kept cool with a liquid nitrogen cooling system.
The record puts the new high speed at 46 seconds and 383ms fluctuating between 2.63 GHz and 3.93 GHz. This is the highest GPUPI benchmark achieved for the RTX 4090 on record over at HWbot. GPUPI isn't the most graphics-intensive benchmark, unlike 3DMark. However, it's an important feat since it's the first time that a graphics card was this close to reaching 4 GHz.
Check out CENS on Twitter for behind-the-scenes screenshots of the impressive new benchmark. You can also visit the submission page at HWbot for additional spec details.