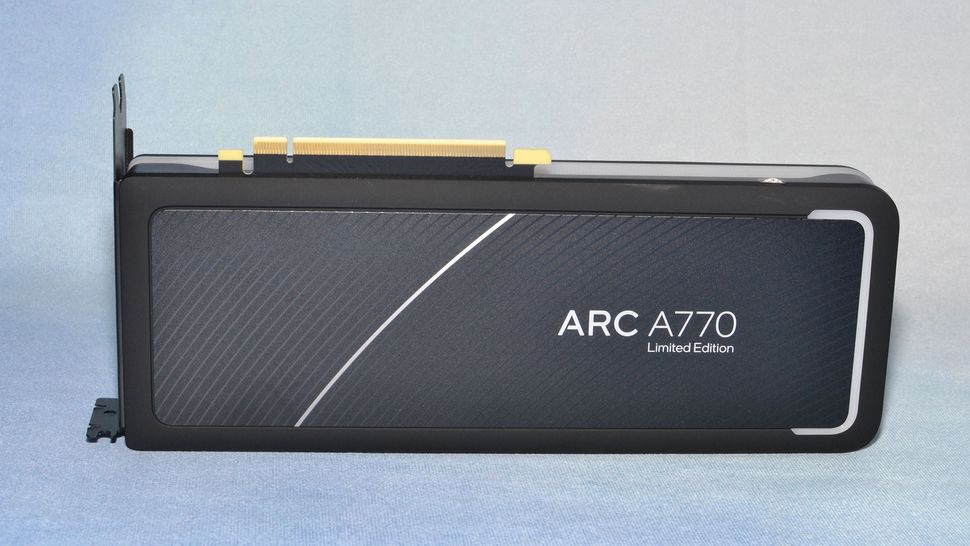 While the Arc A380 technically arrived first, the Intel Arc A770 represents Team Blue's best foot forward for the graphics card market. We can't say it's perfect or even a better option than the competing AMD and Nvidia cards, particularly if you play a wider selection of older DX11 (or earlier) games, but compared to the A380 just one month ago, the overall experience is much improved. If Intel can keep iterating on the drivers for a few more months, it could be a serious competitor in the midrange market.

Given the Arc A770 Limited Edition represents the best-performing Arc Alchemist GPU Intel currently has available, outside of overclocking, Arc maxes out at mainstream levels of performance. It's faster than the RTX 3060 in our testing, even in ray tracing games, but it's clearly slower than the RTX 3060 Ti. The same goes for AMD's RX 6650 XT, which it can match or beat in standard games, and it easily surpasses AMD's GPUs in the realm of ray tracing.

Intel also has some other interesting ideas. One is Smooth Sync, which obscures screen tearing with vsync off by blurring the boundary between the current and previous frames. It wasn't quite ready for use when the A380 first started getting into reviewers' hands, but after running everything in the current test suite with Smooth Sync enabled, I can say that I never noticed tearing as a problem. Others might be more keen-eyed, but it's an interesting alternative to getting a more expensive adaptive sync display with a high refresh rate.

I also watched a bunch of videos with the A770 installed, and everything worked without a problem. That's not too surprising, but it's good to know that quirks during everyday use are likely far less common than driver incompatibilities with games. Intel's media encoding capabilities remain excellent and are another potential selling point, assuming you'll actually use them.
Where the Arc A770 truly shines is in the value department. Sure, AMD's RX 6700 XT has been on sale for as little as $360 in recent weeks, but it's now selling for $410 or more. The RX 6650 XT might cost $50 less, but it also has half the VRAM and substantially weaker ray tracing performance. As for Nvidia, there's no question the A770 has the potential to deliver superior performance for a lower price. Except when the drivers occasionally hold it back.

The safer bet right now would be buying an AMD or Nvidia GPU. They're known quantities, and both companies have been working on graphics drivers for decades. Of course, Intel has decades of driver experience as well… but it's only just starting to truly take such things seriously. Just check out what we said last year when we benchmarked the Intel DG1 or even our review of the Arc A380 last month. Things are improving, but there's still work to be done — and there will be more driver work to do as long as Intel keeps supporting its GPUs.

We can't help but wonder what Intel might have been able to do if Arc had been fully ready to ship earlier this year. Whatever the cause of the delays — and there were most definitely delays, as companies don't do a full deep dive into a new GPU architecture and reveal most of the secrets a full year before launch — the fact is we now have Intel Arc GPUs facing off against AMD and Nvidia GPUs. It's great to finally see some new blood in the dedicated graphics card market.

Now, Intel needs to take the learnings and successes of Arc Alchemist and execute better on delivering the follow-up Battlemage in a timely fashion. The A770 might be able to trade blows with current midrange RX 6000-series and RTX 3000-series cards, but when Nvidia's Ada Lovelace and AMD's RDNA 3 enter that market, we suspect the A770 and A750 will be in for some stormy seas.