It's a new age for custom mechanical keyboards, and there's never been a better time to jump into the hobby. It used to be difficult to assemble your own custom keyboard, sourcing parts from different websites or joining group buys that demand payment up front and months of waiting to see a final product. Those days are behind us, and there are few better examples of that than the Portico75 from TheKey.Company.
The Portico75 is a compact tenkeyless keyboard kit that retails for $140 without switches or keycaps. It includes a colorful plastic case, hot-swappable switches, per-key RGB, pre-installed gasket mount strips for a soft typing experience, and a thick silicone dampener to tune the sound and quiet your keystrokes. It's also compatible with QMK and VIA for complete, open-source programmability. If you've been looking for an affordable way to try a custom keyboard for yourself, this is a solid option that's well worth your consideration.
Portico75 Specs
Swipe to scroll horizontally
| | |
| --- | --- |
| Switches | None included |
| Lighting | Per-key RGB Backlighting |
| Onboard Storage | 4-16 profiles |
| Media Keys | Programmable rotary encoder |
| Connectivity | USB Type-A |
| Cable | Braided USB-C to USB-A cable |
| Additional Ports | None |
| Keycaps | None included |
| Software | VIA/QMK |
| Dimensions (LxWxH) | 12.8 x 4.5 x 0.8 inches |
| Weight | 2.02 pounds |
Design of the Portico75
The Portico75 is a 75-percent keyboard housed in a polycarbonate case. It joins the likes of the Keychron Q1 and Glorious GMMK Pro as an affordable entry-level option that delivers custom mechanical keyboard features at entry-level prices. Unlike those two keyboards, its plastic case and internal sound damping offers an entirely different sound profile and feel.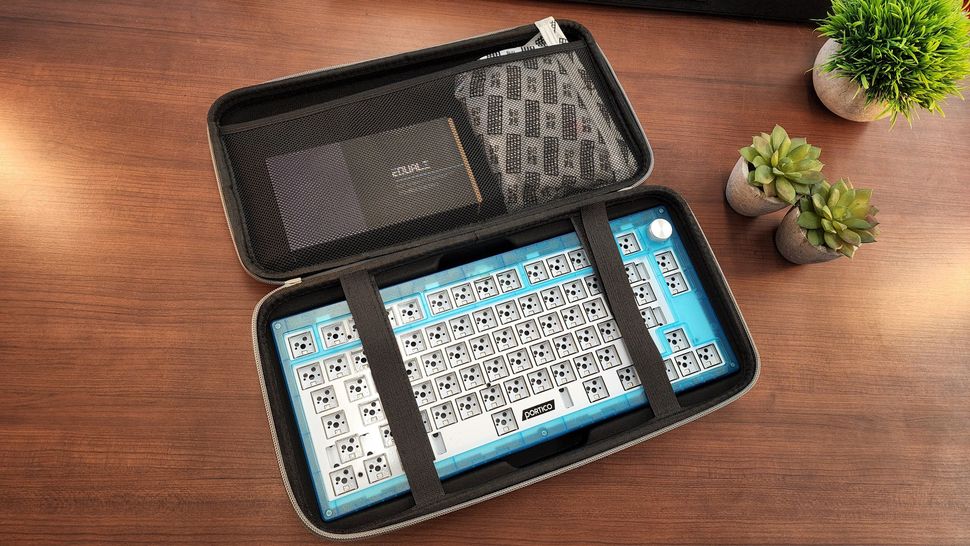 The Portico75 is the follow-up to TheKey.Company's (TKC) original Portico65. Like that keyboard, it's intended to bring an enthusiast-grade typing experience to users who may never have built a custom keyboard before. It includes features that are usually reserved for more expensive keyboard kits, like a gasket-based mounting structure, screw-in stabilizers, and south-facing switches. It doesn't include switches or keycaps, but does include a set of C3 Equalz stabilizers (plus a set of modding supplies C3 calls the "soulmate kit") and a very nice travel case to keep your keyboard safe on the go. All of this retails for $140, which means with conservative choices for switches and keycaps, the whole keyboard could potentially be built for around $200.
While that's still a lot of money compared to many of the best gaming keyboards, it's quite reasonable in the world of custom mechanical keyboards and not far off from the cost you'd come to if you built a keyboard from separately purchased parts. The Portico75 is also one of the few entry-level keyboards to feature the 75% layout, which includes a full function row, arrow keys, and some navigation and editing buttons. The Novel Keys NK65 Entry Edition and KBDFans KBD67 Lite also come to mind, but both are more compact and don't feature a full function row for productivity and games.
The Portico has a lot of personality. Its case comes in translucent plastic in clear, blue, lavender, or smoke. The blue and lavender in particular stand aout and absolutely pop on a desk. Each of these broadcasts the RGB LEDs underneath each key, as well as another 18 lights that fire downward from the bottom of the PCB. You can also see every piece of the mold and the gaskets along the top and bottom.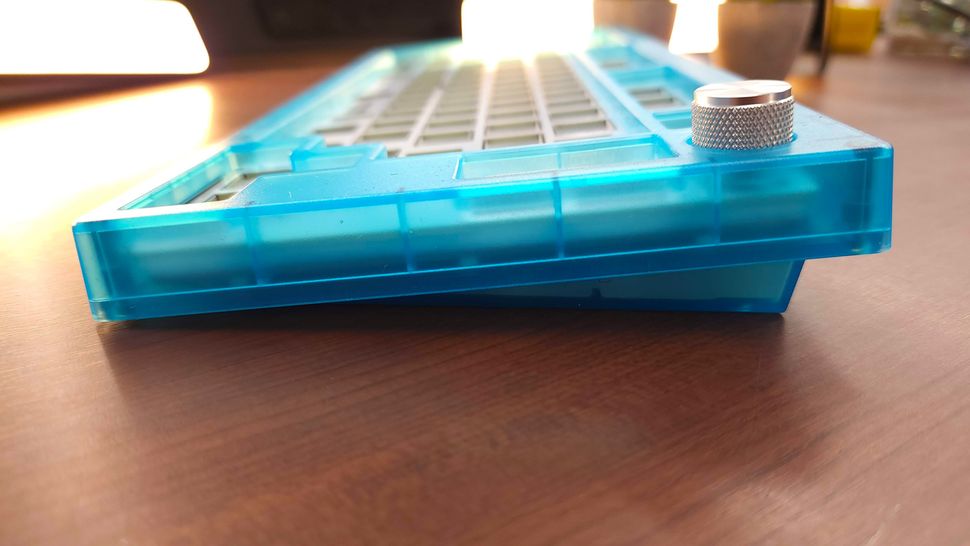 The design here can look great (I really like the blue sample I was sent), but I do think it may vary based on color. In reviewing the different pictures TKC has released, and the several videos posted to YouTube, the different colors aren't equally eye-catching. The smoke color, for example, is almost too translucent and looks more like a washed out gray. None of the colors do a good job of diffusing the underglow LEDs either. You can see exactly where they are in clear hotspots. A little more frosting on the case would have done a better job of evening out the lighting.
TheKey.Company changed up the key layout a little, to create a cleaner overall look. 75% keyboards are sometimes called compact TKLs because they feature most of the same keys in a smaller form factor: a full function row, arrow keys, and a column of navigation and editing buttons along the right side. Traditionally, that right-hand column includes four buttons. The Portico cuts this down to two (I customized mine for Home and End) and offsets the arrow keys down and to the right. The added space reduces key count but looks less busy, which I like.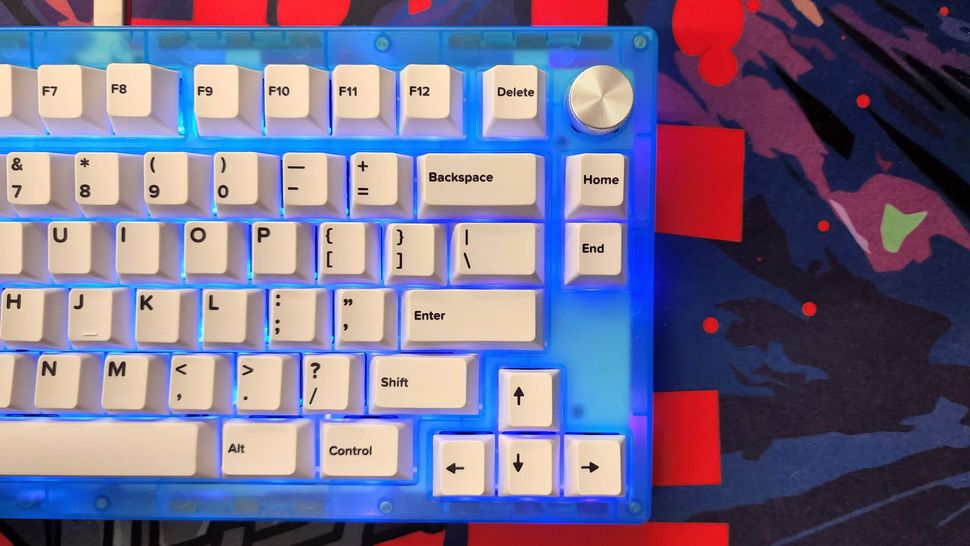 Because the Portico75 is budget-oriented keyboard, there aren't many extra features on the exterior of the case. It features a rotary encoder knob that is mapped to volume by default. The encoder is milled from aluminum and features a knurled surface you can easily grab, but it's very lightweight and clearly not as premium as the knob on, say, the Meletrix Zoom65. The rear edge of the keyboard features a centered USB Type-C port to connect with your PC, and it's positioned low enough to keep the connector out of sight during normal use. There are no additional ports and no tilt feet, but the case is built with an 8-degree typing angle, so it really doesn't need them.
Inside the case, things get more interesting. It uses an FR4 fiberglass plate, which is firm enough to easily install switches in, but less dense than aluminum or steel for a deeper typing sound. The PCB supports south-facing switches for instant compatibility with aftermarket keycaps, though this does mean that keycaps with backlit legends won't be as bright since the LED is positioned on the opposite side. It also has hot-swappable switch sockets so you can try new switches without desoldering, and screw-in stabilizers for improved sound and stability.
The case also comes with two layers of sound dampening material. Between the plate and PCB is a layer of felt to help absorb typing sounds. In the bottom of the case, there's a thick layer of silicone to remove any hollowness and absorb sounds even more. These both work wonderfully and, as I'll discuss in the typing section, drastically reduce the volume of typing sounds. For this build, I used boutique SP-Star Marble Soda switches and their volume level competes with truly silent switches, like Cherry Silent Pinks.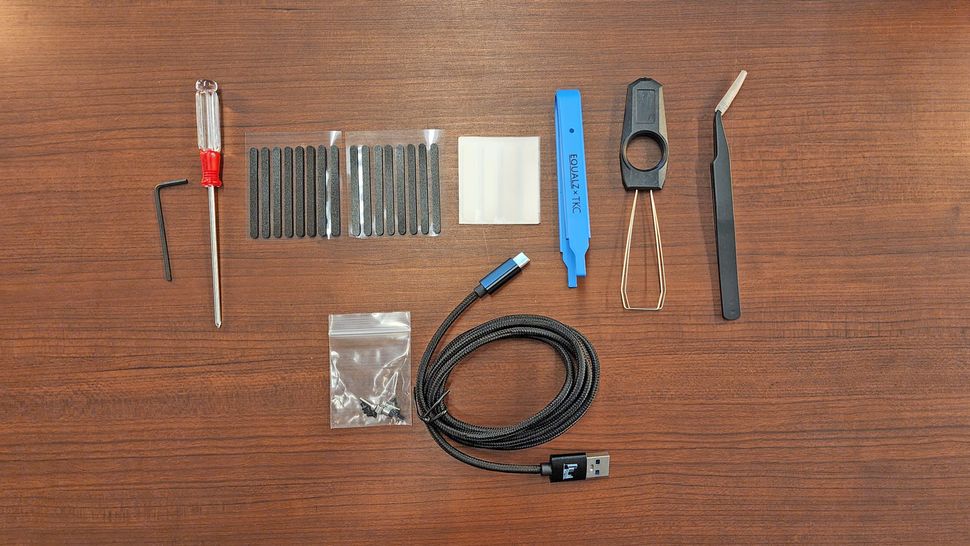 TheKey.Company includes everything you'll need in the boxes. This includes all of the tools, including a nice pair of tweezers and the best switch puller I've ever seen included with a keyboard, as well as some spare parts. In addition, you'll also receive a nice semi-hardback travel case. I like it, but I'd love to see a version of this keyboard sold that didn't include it for $110 or $120 to make it an even better value for people who will leave it sitting on their desk.
Assembling the Portico75
The Portico75 arrives partially assembled, but don't let that fool you. You'll still need to take it apart to install the stabilizers, then piece it back together to install switches and keycaps. This disassembly is an important process because it teaches you how each of its parts come together again. TheKey.Co also provides an assembly guide to walk you through each step of the process, but I appreciate this kind of hands-on learning in a board designed for newcomers to the mechanical keyboard hobby.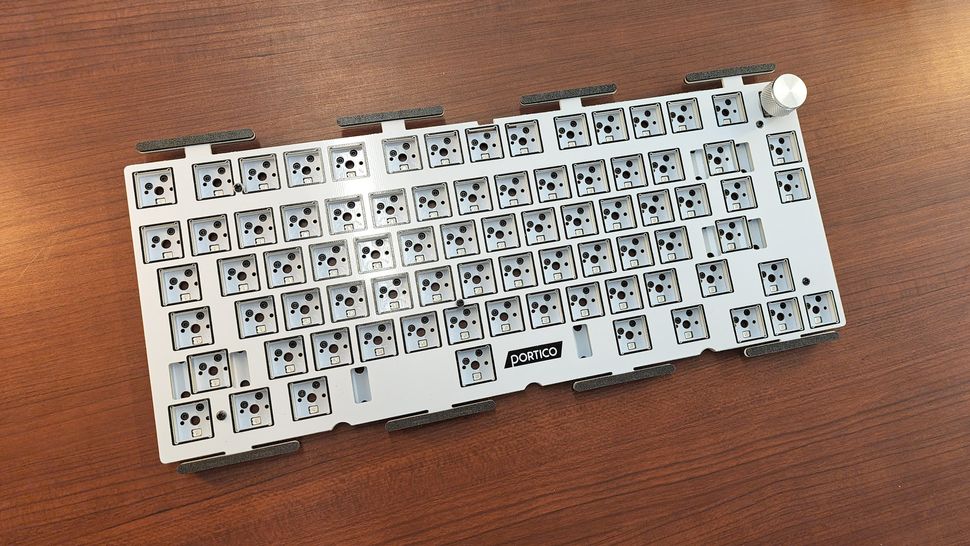 The assembly process is very straightforward. The longest part is preparing and installing the stabilizers. Since the kit comes with modding tools, I opted to use them all. This included installing pads onto the PCB to cushion bottom outs from the stem (band-aid mod, minus actual bandaids), foam support stickers to prop up the wire and negate any imbalance that might cause ticking, installing Teflon strips inside the stem for to holee mod, and then lubing each with Krytox 205G0 and Permatex dielectric grease. You can learn more about all of these mods in our mechanical keyboard tuning guide, as well as how they impact typing performance. But they culminate in a process called "tuning the stabilizers" to sound their best and eliminate all rattle.
With this done, the case can be reassembled. Once the stabilizers are installed, it's time to place the felt plate foam on top of the PCB and screw it together with the plate. This sets into the case with cut-outs for the pre-installed gaskets, so aligning everything is fast and easy. The hardest part of the entire process is plugging in the cable for the USB daughterboard, which is unnecessarily short.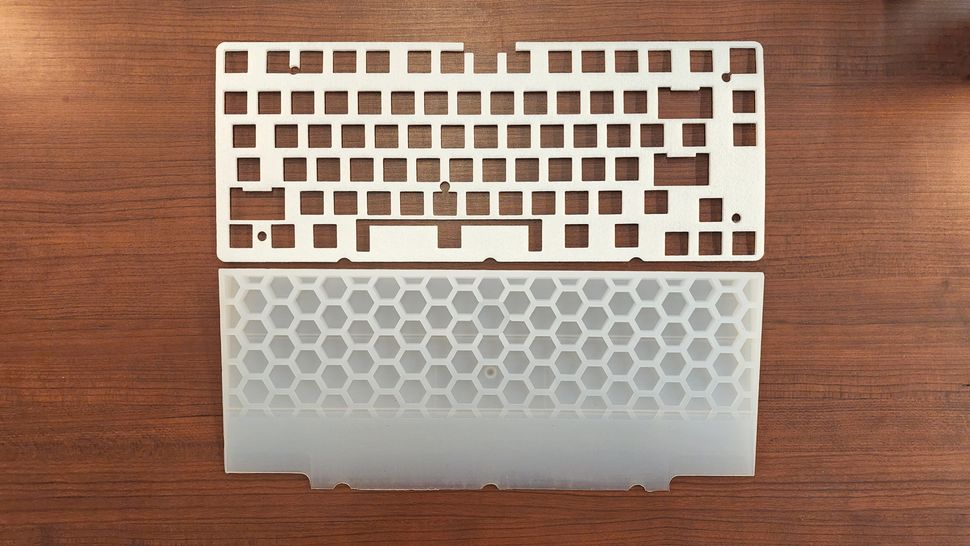 From there, all that's left to do is install switches and keycaps. Both of which are exceptionally easy. The PCB features hot-swappable switch sockets, so switches simply plug and unplug without the need for soldering. Keycaps press onto the top of the switches. With that done, all that's left to do is test that each switch works using VIA or an online key switch tester, like this one from Keyboard Checker. Since the PCB supports 5-pin switches, they're easier to align and avoid bent switches, so I only had to bend two switch pins back to have a fully functional keyboard.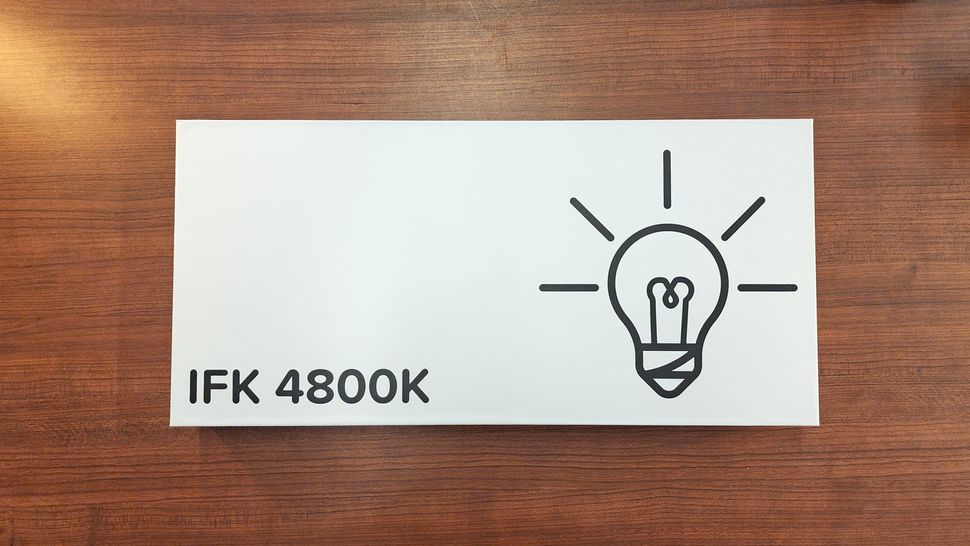 For this build, I used TKC's IFK 4800K keycap set. This is a basic black-on-white keycap set made of thick PBT plastic. The legends are made with dye sublimation, so they won't fade away. The design is minimalist and simple but matches with this build very well. I'm a big fan of the blue and white, and the color scheme came out well here. The switches also sound and feel great to type on.
Sound Test of the Portico75
Typing Experience on the Portico75
Since the Portico75 doesn't come with switches or keycaps, the typing experience will vary based upon how you customize it. Given its construction, there will be some core similarities between builds, however, and some reliable traits you can count on. At its current price, the Portico75 delivers an impressive typing experience that stands apart from several recent competitors due to its plastic case.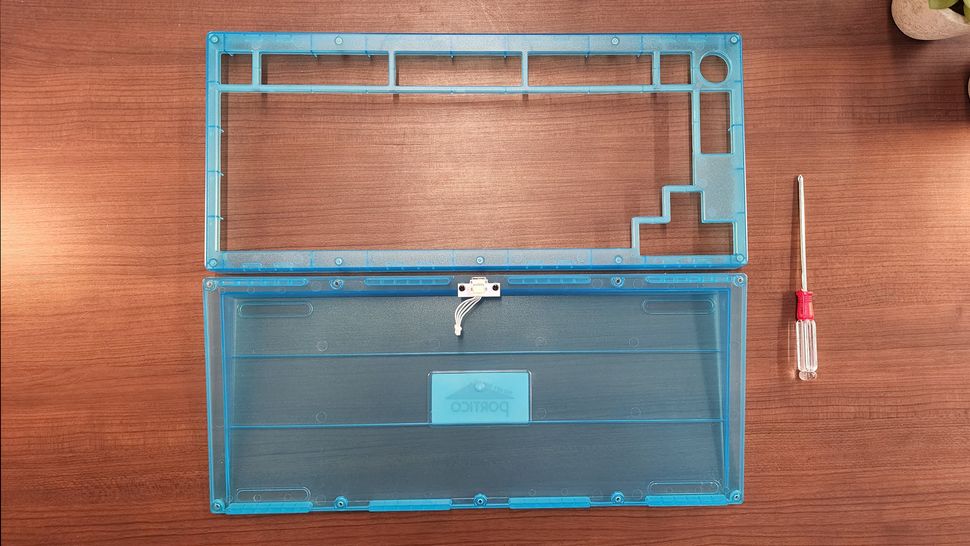 The Portico is a very sound-dampened keyboard that rounds out the sharper typing sounds and makes linear switches sound almost silent. This is because of the thick silicone mat and felt plate. There is no reverberation or hollowness to the case at all. The effect is enhanced due to the gasket-based mounting structure, which isolates the plate from the case and creates a softer sound and feel. This effect can be somewhat divisive as the level of damping can remove some of the more subtle sound characteristics of different brands of switch, but is very pleasant overall.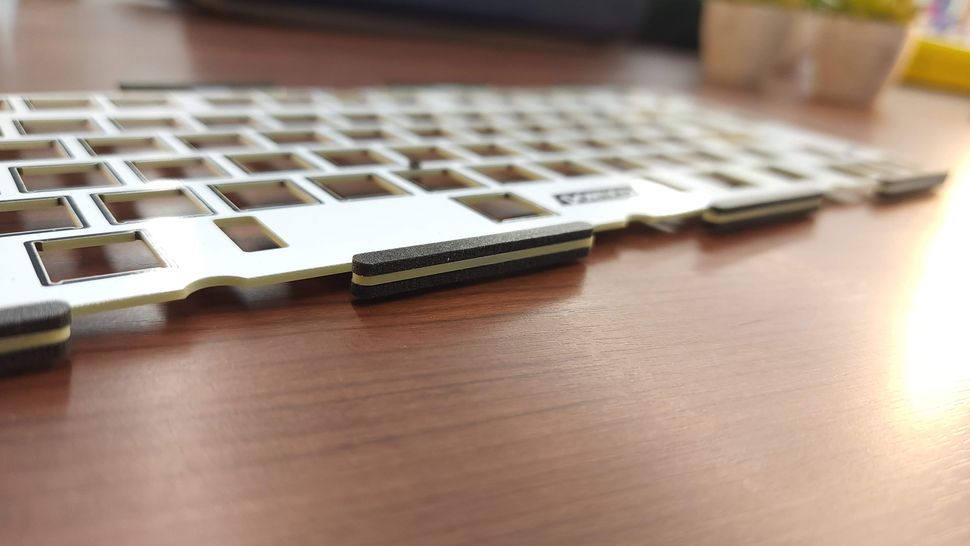 The word that comes to mind when typing here is "gentle." Because of the gaskets, there is no harshness to the typing experience at all. Any of the downward force and vibration from bottoming out hits the gaskets and stops. Those bottom outs also allow the poron gasket strips to depress imperceptibly under each keystroke. You can't feel the plate moving when you type, but you do feel the resulting softness in your fingertips. If you press down, you can see the plate flex, but the silicone mat limits how far, and this isn't something you'll do in normal use.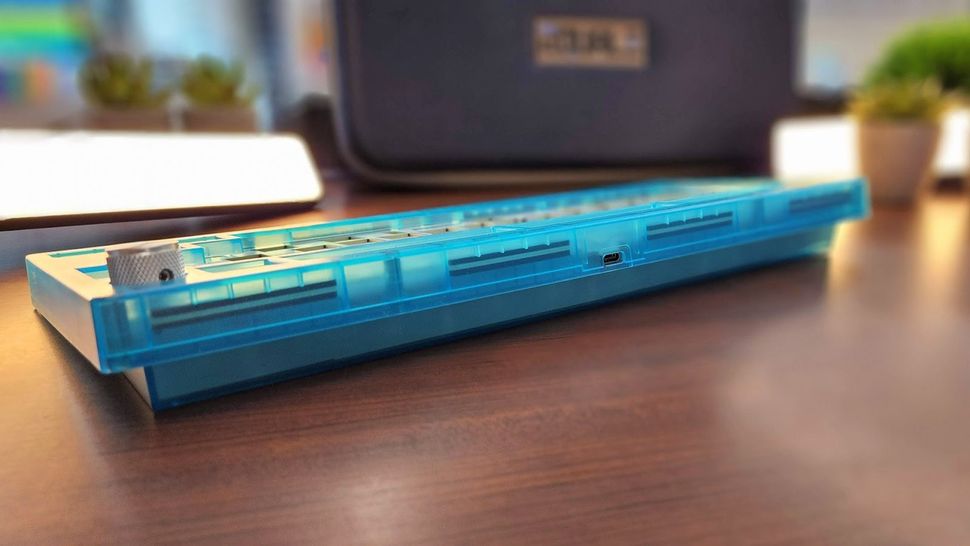 The plastic case also makes a meaningful difference in the typing experience. While some competing keyboards in this space lean toward aluminum cases (see the Meletrix Zoom65 or QwertyKeys QK65), the Portico75 is much closer to the KBDFans KBD67 Lite and NovelKeys NK87 Entry Edition. Neither of those keyboards feature the 75-percent layout, however, and neither features a rotary encoder. The case gives the keyboard a deeper sound than aluminum, though the silicone mat and plate foam do temper this a bit. I applied the Tape Mod (explained here) to counteract this and deepen the sound even further.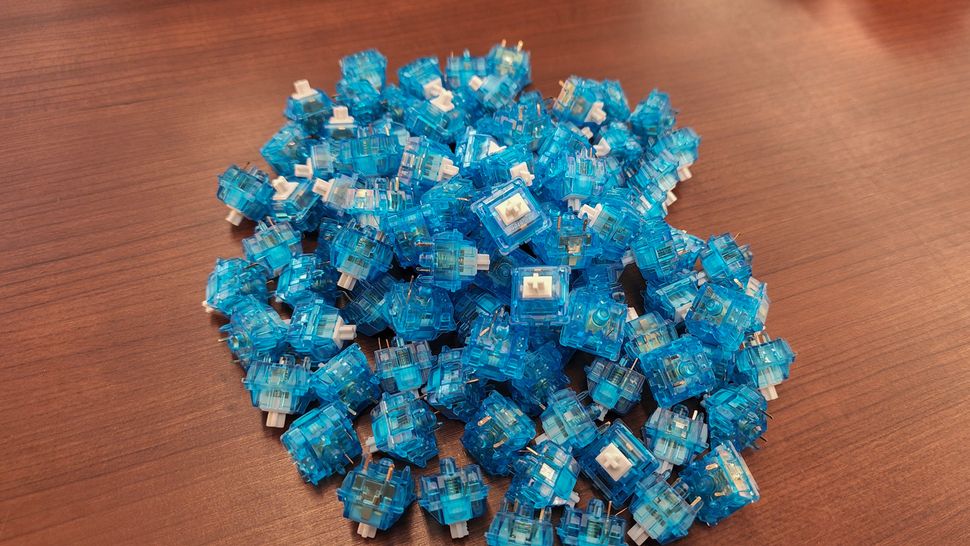 For this build, TKC sent over a set of SP-Star Marble Soda switches. They're a medium-weight linear switch that also happen to match the blue color of the case perfectly. These switches came pre-lubricated and were smooth out of the box and became more so with hand lubing. The eight-degree typing angle is fairly high, and I found it most comfortable with a wrist rest. Even though the keyboard is compact, the spacing between the keys is the same as a full-size TKL. My personal typing speed didn't decrease at all switching over to it and remained steady at about 110 WPM on MonkeyType.
Gaming Experience on the Portico75
The Portico75 isn't a gaming keyboard and doesn't have any dedicated gaming features. That said, it worked very well for the mix of first-person shooters and RPGs I played with it. There was no discernible lag and pressing keys was consistently responsive. The inclusion of arrow keys and a full function row is also a boon for games that require them and leaves the door open for in-game macros and re-binds. Likewise, QMK and VIA support also mean you can have dedicated layouts for individual games if you choose.
The core of the keyboard is really how good it feels to use. There, the Portico is a winner and that feeling transcends any particular use case. I would rather game on its smooth and satisfying keys over a clacky and rattly keyboard with "gaming" in its name any day of the week. But, if you need advanced macros, you'll need to look into a dedicated software solution, like AutoHotKey.
Software for the Portico75
Like most custom keyboards, the Portico75 supports QMK and VIA. QMK is an open-source firmware for keyboards which allows users to completely remap their keys and program multiple layers (additional keysets) for secondary functions. These remaps are programmed at the firmware level, which means they don't require software to run and will work identically on any system you plug it into, regardless of any IT limitations or security programs that might be running.
QMK is powerful software and is quite beloved in the enthusiast community. There are two ways to program the keyboard. You can select all of your keymaps online using the QMK Configurator and then download a firmware file which then needs to be flashed (always a nerve-wracking process) or program your keymaps locally using VIA. VIA is similar to the QMK Configurator but changes are saved automatically, with no need to flash.
There are a couple of differences between these programs. The first is that VIA limits you to four layers of keymaps whereas the Configurator allows you to map up to 16. Typically, I'm able to map all of my macros and secondary functions to a single secondary layer, but if you'd like to have a separate keymap for each game and application, the QMK Configurator will give you more room to work with.
The other major difference is that VIA allows you to program macros while the QMK Configurator does not. Macro programming is much more limited and cumbersome than what's possible in gaming software, so it's not something I found very useful. You can't simply press a record button and type in whatever you would like to be stored. Instead, it's best suited for simple text strings. If you care to use key combinations (Alt+1, Ctrl+2, etc.), you'll need to manually type in keycodes using a special syntax.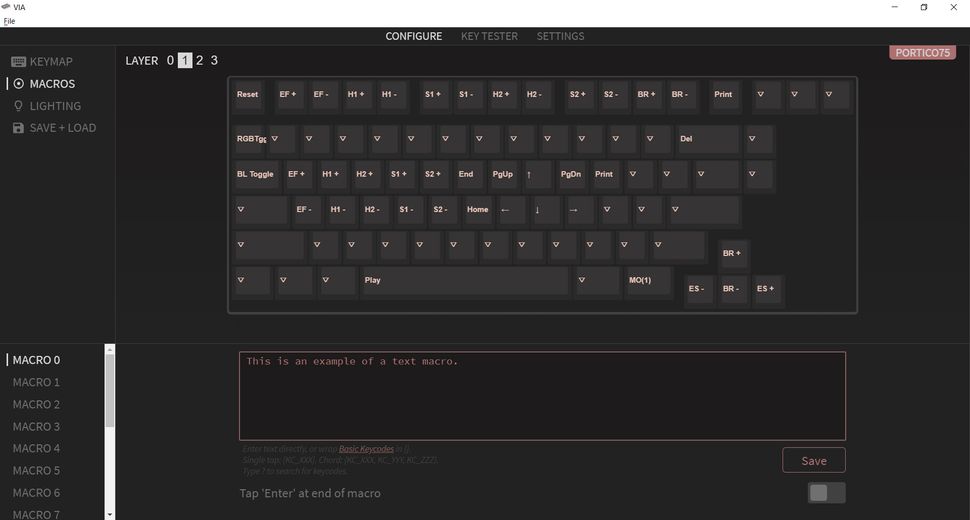 Another area where QMK and VIA differ from traditional software suites is how they handle lighting controls. Instead of being able to click a key and choose its color, lighting is handled on a whole keyboard basis. You can cycle through whatever presets are built into the board (there are ten to choose from on the Portico75) and then customize these with special keys mapped to hue and saturation controls. It's possible to program more unique lighting layouts, but it requires writing your own code and then compiling your own firmware.
Despite those limitations compared to more mainstream gaming software, QMK opens the door to advanced keymaps and dual-function keys. For example, my Caps Lock key is mapped to shift layers when held, giving me access to all of my secondary functions without ever moving my fingers from Home Row. Being able to completely customize your keymaps without limit is freeing, allowing you to make your keyboard your own in a way that's just not possible with most production keyboards.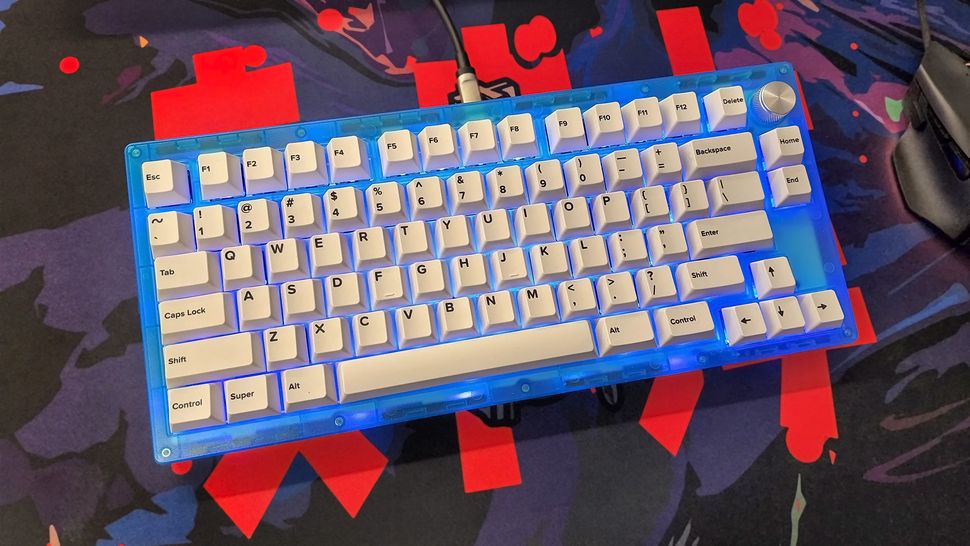 Bottom Line
At $140, the Portico75 from TheKey.Company is a solid choice for a first custom mechanical keyboard. It offers a streamlined build process that provides an effective education on how mechanical keyboards come together. It also acts as a platform to explore the world of modding with included supplies to tune the stabilizers and easy access to the PCB.
Like most custom keyboard kits, it doesn't come with switches or keycaps, so you'll need to budget for those separately. If you'd rather have everything from the start, the Meletrix Zoom65 is a good alternative. The aluminum case does change the sound and feel of the keyboard, however, so if you're looking for a deeper sounding option that also comes ready-made for a great typing experience, the iQunix A80 and L80 are two other excellent options.
Like the Portico65 before it, the Portico75 offers a lot for not very much. It won't compete with some of the higher-end custom keyboards out there, but those kits often cost $100 or even $200 more. If you're looking for a keyboard that looks, feels, and sounds good to use without spending hundreds, this is well worth considering.