OCZ Vector 150 SSD Review: A New Flagship With 19 nm Flash
OCZ is re-launching its flagship consumer SSD as the Vector 150. Armed with 19 nm Toggle-mode flash and new encryption functionality, this new drive is purported to be the pinnacle of of enthusiast-class solid-state storage. Does it live up to the hype?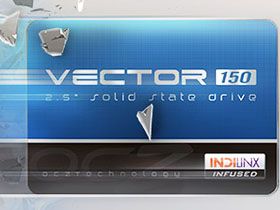 Meet The Vector 150, OCZ's New Flagship SSD
If you're a fan of conference calls, then you probably already know that OCZ isn't in the same rosy position it has been in years past. Fortunately, its enterprise-oriented offerings are really helping the company's bottom line. But the situation is darker on the desktop. It's still in the position of needing to source NAND from the fabs manufacturing it, which means it's paying more for the flash it uses and perhaps unable to ship as many units as it'd like.
But again, if you listen to earnings calls, you might already know all of this. What's important today is that OCZ is revisiting client storage with the Vector 150.
The original Vector employed 25 nm flash, and it proved to be a potent contender based on OCZ's Barefoot 3 platform. As time passes, however, it's not always possible to continue a drive family based on the same components. Like Intel with its SSD 530 and OCZ with the Vertex 3.20, transitioning from 25 nm NAND to newer 20 nm memory was important for economic reasons.
Obviously, Intel doesn't have a problem getting its hands on the latest in solid-state technology. That's one of the benefits of owning a fab. This isn't as easy of a problem for OCZ to address, though. Fortunately, the company has its hands on Toshiba's 19 nm Toggle-mode flash, which we already know to be fast.
How about OCZ's naming? Its Vertex 4 was superseded by the Vertex 450. The added 50 indicated a half-node step up on the evolutionary ladder. When we apply the same logic to the Vector (let's call the original Vector 1, for simplicity's sake), the Vector 150 is our result.
Ideally, we'll see this latest generation enjoy wider availability and a more attractive price, triggered by 19 nm NAND. Of course, because the drive launched last week, we can compare the original Vector to OCZ's Vector 150. At least right out of the gate, you'll find last generation's 128 GB model selling for less than its successor at the same capacity point. Naturally, then, you're going to see us compare old to new in an effort to assess the advantages baked into Vector 150.
Inside OCZ's Vector 150
Because this is a product refresh, it isn't surprising that OCZ is shipping its Vector 150 in the same capacities as the original. Or at least they're close, since the 150 employs some additional over-provisioning. There's the 240 GB model we're testing today, a 120 GB variant, and a 480 GB flavor. Here's the breakdown of their specifications:
Swipe to scroll horizontally
OCZ Vector 150
120 GB
240 GB
480 GB
Max Sequential Reads/Writes
550 MB/s, 450 MB/s
550 MB/s, 530 MB/s
550 MB/s, 530 MB/s
Max Random 4 KB Read (IOPS)
80,000
90,000
100,000
Max Random 4 KB Write (IOPS)
95,000
95,000
95,000
Controller
Indilinx Barefoot 3 IDX500M00-BC
Warranty
Five Years
NAND
19 nm Toshiba Toggle
Price (Newegg)
$135
$240
$490
Those are the basics. In addition, OCZ's retail box includes a 3.5" adapter sled for desktop installations, along with a product key for Acronis True Image to facilitate drive cloning (this is the same software we use in our lab to replicate a standardized benchmark image). Acronis offers oodles of other features too, including some solid backup options.
Before we pop the top on this SSD, it's worth mentioning that OCZ's higher-end offerings sport the best chassis in the business. Some of its lower-end drives ship with simple plastic enclosures on a metal base, but the Vector 150 is just awesome. Its seven-millimeter-tall housing is both good-looking and heavy enough to inspire confidence. That's not great for super-light laptops, but it's what we enjoy for an enthusiast-oriented desktop. Crack the case open and we're granted access to the SSD's PCB.
The biggest change you see in going from the Vector to the Vector 150 is the latter's 19 nm ABL Toshiba Toggle-mode flash replacing 25 nm NAND. Our sample ships with eight dual-die packages per side, totaling 256 GB. Each die is manufactured at 64 Gb density.
Another tweak is extra over-provisioning. The 25 nm-equipped Vector was rated for 20 GB of host writes per day for five years. OCZ's Vector 150 is rated for no less than 50 GB per day. That's primarily due to a reduction in write amplification. It does throw off the price per gigabyte comparison, making Vector 150 more expensive per addressable gig. But the extra over-provisioning above and beyond ~7% of spare area is a reasonable tradeoff. Just be aware that the 50 GB/day specification isn't a fully random, full-span write. OCZ instead characterizes those 50 GB as "typical client conditions".
At the heart of OCZ's Vector 150 lies the company's own Indilinx Barefoot 3 controller. The IDX500M00-BC is the same silicon found in the original Vector. The Vertex 450 uses a lower-clocked variant, but also boasts features not available from the Vector, like AES-256 encryption. The Vector 150 enables that missing functionality, though it's unclear whether it comes from firmware or enhancements to the processor itself.
Finally, we find 512 MB of Micron DDR3-1600 CL11 DRAM. Each side of the PCB sports 256 MB, giving us 2 MB per gigabyte of on-board flash. The 120 and 480 GB variants will probably come with 128 MB and 1024 MB, respectively.
Join the experts who read Tom's Hardware for the inside track on enthusiast PC tech news — and have for over 25 years. We'll send breaking news and in-depth reviews of CPUs, GPUs, AI, maker hardware and more straight to your inbox.