If you're in the market for a large-scale UHD monitor, then you should take a closer look at this offer from Best Buy on the LG 32UN650-W. This is a 32-inch IPS monitor with a dense UHD resolution. It usually goes for around $400 but right now it's discounted to just $349. That is its best price to date.
This isn't exactly a gaming monitor but it has plenty of good specs that would work out well in that regard. That said, we've got a list of the best computer monitors on the market today that you should absolutely check out to get an idea of what's leading the way.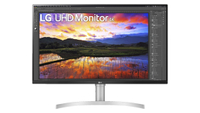 LG 32-Inch UltraFine IPS UHD Monitor with FreeSync: was $400, now $349 at Best Buy
This LG 32-inch 32UN650-W is $50 off its going rate. It has a 32-inch IPS panel with a UHD resolution and 60Hz refresh rate. There are two HDMI ports and one DisplayPort input to take advantage of.
The LG 32UN650-W features a 32-inch IPS panel with a resolution of 3840 x 2160. It can reach a refresh rate of 60Hz and has a response time of 5ms. It covers 95% of the DCI-P3 color gamut, illuminated by a brightness of 350 nits.
Users have a few video input options to take advantage of including two HDMI ports and one DisplayPort input. Audio-wise, it has two integrated 5W speakers as well as a 3.5mm audio jack for external audio peripherals. The LG 32UN650-W is supported by a one-year manufacturer's warranty.
Visit the LG 32UN650-W product page at Best Buy for more details and purchase options. As of writing, it's not clear for how long the discount will be made available.