Nvidia GeForce GTX 1060 Remains Top Dog in Steam Hardware Survey
The midrange Pascal GPU clawed back some market share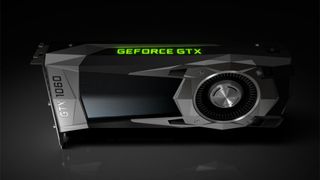 (Image credit: Nvidia)
Nvidia's GeForce GTX 1060 has certainly had a good run, and proved to be a very popular product for Nvidia. It launched in July 2016 at $249, which helped it to quickly gain market share. It's been the leading graphics card for Steam gamers since 2017. In the latest Steam Hardware Survey, it the GTX 1060 even clawed back some ground lost over the preceding few months, even though our GPU benchmarks put it at roughly the same level of performance as the GTX 1650 Super.

The GeForce GTX 1060 was a well established leader with 13.62% market share in March 2018. It still holds firm, albeit with a reduced lead and its Steam market share is now 7.99%. It's interesting to see it enjoyed a bit of a rise compared to last month, though that could just be margin of error with the sampling.
Nvidia's xx60 cards traditionally rank high in the Steam Hardware Survey, so we've gathered some data from the past year showing how things have changed. We're using the Steam Video Card Usage page for the following table.
Swipe to scroll horizontally
Nvidia GeForce xx60 Share Over Time

| Header Cell - Column 0 | Feb 21 | Aug 21 | Jan 22 | Feb 22 |
| --- | --- | --- | --- | --- |
| GTX 1060 | 9.75% | 10.46% | 7.79% | 7.99% |
| RTX 2060 | 3.93% | 6.87% | 5.17% | 5.38% |
| RTX 3060 | N/A | 1.09% | 1.66% | 1.92% |
The RTX 3060 was released in February 2021, so in August it had been available for six months. The Jan and Feb 2022 dates show the latest market undulations and continued progress of the RTX 3060 — as well as strengthening RTX 2060 and GTX 1060 numbers. Again, some of the changes are likely differences in the sampling, but Valve has never revealed the statistics behind the numbers.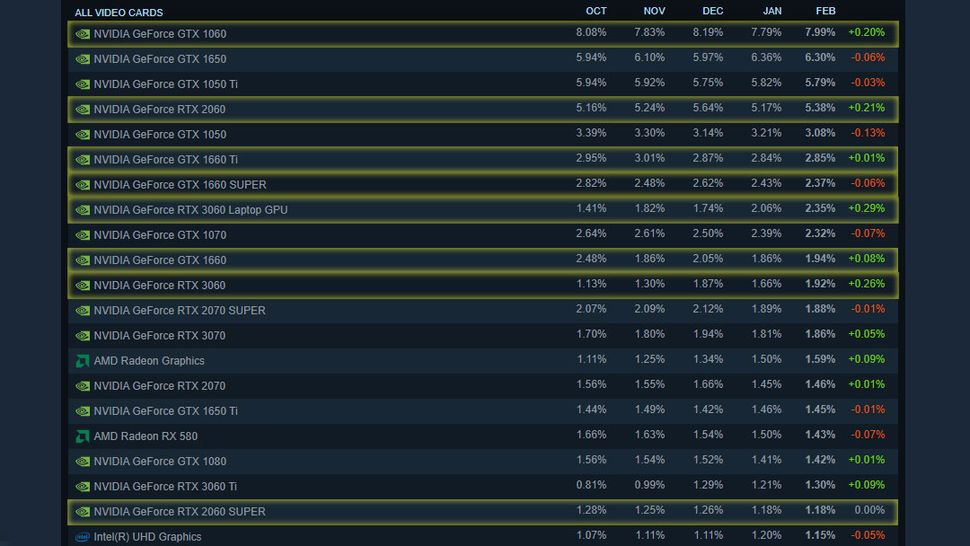 The GTX 1060 perhaps continues to maintain its lead thanks to its popularity with internet cafes, and with the current inflated GPU prices, many people and companies are likely holding off upgrading. Other xx60 cards have done well, but none have really enjoyed the price/performance attractions of their ancestor. It's also possible that used 1060 cards are showing up in "new" builds as people search for any reasonably priced GPU that doesn't suck.

Important dates in the Nvidia GeForce X060 timeline
GTX 1060 launched in July 2016 at $249
RTX 2060 launched in January 2019 at $349
GTX 1660 / Ti / Super cards were launched starting Feb 2019, priced from $219
RTX 3060 launched in February 2021 at $329

It's also interesting to see the surge in adoption of the GeForce RTX 3060 Laptop GPU in the charts. Quite likely strongly influenced by the desktop GPU shortage, many PC gamers may have jumped ship to laptops. While the current survey reports 1.92% of Steam gamers are desktop RTX 3060 users, 2.35% of users are gaming on a portable with an RTX 3060 Laptop GPU.
Other Steam Hardware Survey Highlights
Picking through the rest of the Steam Hardware Survey data for Feb 2022, a couple of other interesting morsels stand out.
During the last month, we see that the most popular RAM configuration for Steam gamers, 16GB, is now installed in over 50% of machines. The next most popular RAM quota is 8GB, in nearly 25% of user machines.
Finally, Windows 11 continues to make steady process with Steam gamers. In the last month it grew to 15.59% user share (up over 2%). Meanwhile, Windows 10 slipped by over 2%, to 75.89% user share. It was also interesting to see a slight uplift in Windows 7 users last month, which perhaps coincides with the variability in sampling and the apparent increase in GTX 1060 users.
Join the experts who read Tom's Hardware for the inside track on enthusiast PC tech news — and have for over 25 years. We'll send breaking news and in-depth reviews of CPUs, GPUs, AI, maker hardware and more straight to your inbox.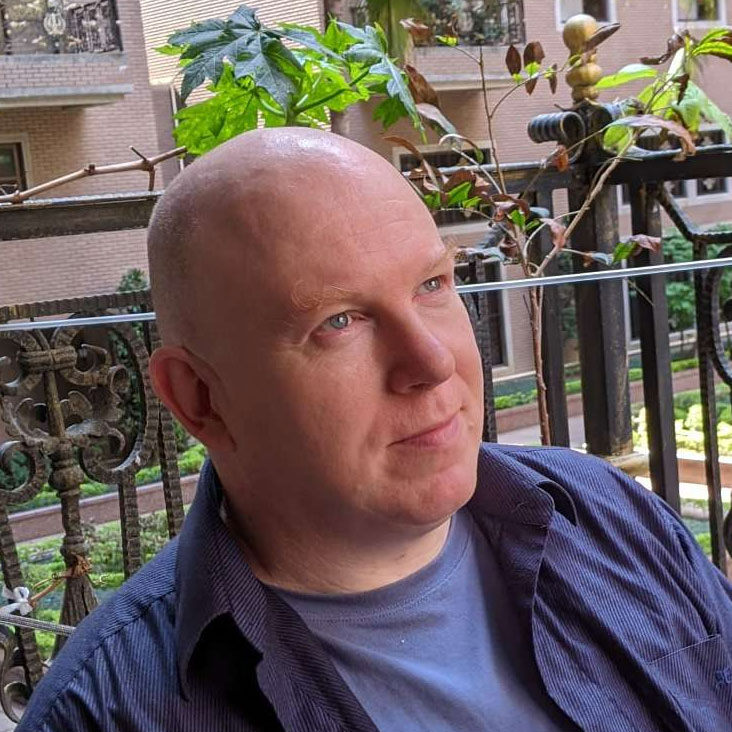 Mark Tyson is a Freelance News Writer at Tom's Hardware US. He enjoys covering the full breadth of PC tech; from business and semiconductor design to products approaching the edge of reason.
Well most new cards were really expensive compared to the 1060 and the 1660 was not a upgrade from it on the same price range, and finally most of the new GPUs are probably mining and they dont install steam in the rigs.

Reply

I have my doubts about these Steam surveys. I've been on Steam for a very long time. Honestly hard to say how long but probably 20 years or so. I've also had many different computers, and many times a gaming PC as well as a laptop. I generally install Steam on my laptops, even when I don't use them for gaming, because if I get a notification about a game on my wish list goes on sale, I generally open the email on my laptop, and then go buy it on Steam.
Whenever these Steam surveys come up, they always pop up at me when I'm on my laptop. I can't remember if it's ever asked me while I was on my gaming PC. And I think a lot of others do the same, having more than one PC/laptop.

Reply