AMD Phenom II X4: 45nm Benchmarked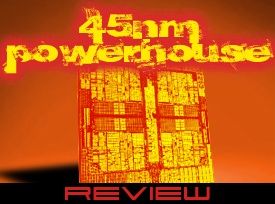 The Phenom II And AMD's Dragon Platform
It's way past high-time that AMD launched a counter-strike to the flurry of compelling Intel CPUs that've been launched since Phenom first got off of the ground. The switch over to 45 nm manufacturing seemingly took a lot longer than the company originally planned, but alongside a new CPU with smaller transistor elements, this release introduces some brand-new technology.
The improvements are manifest in a revised transistor count. Phenom II boasts roughly 758 million transistors, up from right around 450 million. As with its predecessor, the original Phenom, Phenom II drops into nearly every Socket AM2 motherboard. This gives the Phenom II broad appeal to the upgrade crowd, many of whom have long sought improved performance for their AMD systems.
How do Phenom II configurations look to the enthusiast crowd? As it happens, the Phenom II starts right where the previous generation left off. The incoming flagship—the Phenom II X4 940—employs a naming convention that goes straight after the company's principle competitor, running at 3.0 GHz. The fastest Phenom, the X4 9950 Black Edition, was set to operate with a 2.6 GHz clock. Overclockers soon learned that this also represented something near the upper limit of the chips range, and could only get more out of it with the introduction of Advanced Clock Calibration (ACC) on the SB750 southbridge, which helped extend scalability up another few hundred megahertz. The Phenom II represents an end to such limits: even at 3 GHz this chip still has lots of headroom, as we will show with the results from our Munich lab.
AMD fired its first 45 nm salvo a few weeks back with its server-oriented Opteron models, which enjoy a much larger market share than the company's desktop processors. In the interim, 45 nm chip yields have increased enough to permit AMD to supply the desktop market as well. With is new, smaller core re-design (code-named "Deneb"), AMD not only pulled off a die-shrink maneuver, but it also achieved some drastic improvements in energy consumption and module switching tactics.
Since the introduction of the first-generation Phenoms (alongside the Spider platform), graphics card performance has also experienced a sharp spike upwards. The platform AMD is replacing Spider with consists of the Phenom II and the latest Radeon HD 4800-series graphics cards. The mascot for the so-called "Dragon" platform is, naturally, an aggressive-looking, red-eyed silver dragon.
The original Phenom processors quickly ran into performance limitations because of high energy consumption. Simply by switching from 65 nm to 45 nm, energy consumption at the individual transistor level decreases sharply. To pump a first-generation 2.5 GHz Phenom up to 2.6 GHz, AMD also had to raise its maximum power consumption rating from 125 W (TDP) to 140 W. By itself, this was enough to disqualify that chip from use in many favorite AM2 motherboards. But with its 45 nm technology, AMD gives Phenom II a fresh start and bolsters the chip's attractiveness with improvements in several other important areas. Here's the bottom line: in terms of speed, energy consumption, clock rates and overclockability, AMD has taken a huge step with the Phenom II.
Swipe to scroll horizontally
| Model | Clock Speed | L3 Cache | Code Name | Manufacturing Node |
| --- | --- | --- | --- | --- |
| Phenom II X4 940 Black Edition | 3.00 GHz | 6 MB | Deneb | 45 nm |
| Phenom II X4 920 | 2.80 GHz | 6 MB | Deneb | 45 nm |
| Phenom X4 9950 Black Edition | 2.60 GHz | 2 MB | Agena | 65 nm |
| Phenom X4 9850 Black Edition | 2.50 GHz | 2 MB | Agena | 65 nm |
| Phenom X4 9850 | 2.50 GHz | 2 MB | Agena | 65 nm |
| Phenom X4 9750 | 2.40 GHz | 2 MB | Agena | 65 nm |
| Phenom X4 9650 | 2.30 GHz | 2 MB | Agena | 65 nm |
| Phenom X4 9550 | 2.20 GHz | 2 MB | Agena | 65 nm |
| Phenom X4 9350 | 2.00 GHz | 2 MB | Agena | 65 nm |
To start, AMD is offering two 45 nm Desktop CPUs: the Phenom II X4 920 at 2.8 GHz, and the Phenom II X4 940 at 3.0 GHz.
Join the experts who read Tom's Hardware for the inside track on enthusiast PC tech news — and have for over 25 years. We'll send breaking news and in-depth reviews of CPUs, GPUs, AI, maker hardware and more straight to your inbox.