We witnessed Cooler Master's unveiling of the love it or loathe it Sneaker X PC system at CES earlier this year. Finally, the firm has announced the release of this unique premium PC design. It will be arriving in July, priced from $5,999. Meanwhile, Cooling X, a much more traditional PC tower design featuring a fully integrated liquid cooling system, will be released in June, with pricing from $6,999.
"I am thrilled the Cooling X and Sneaker X, two groundbreaking desktop PCs that showcase our commitment to pushing the boundaries of innovation and design are becoming widely available," said Jimmy Sha, CEO of Cooler Master. Sha went on to waffle about the diverse needs of the market and individuality.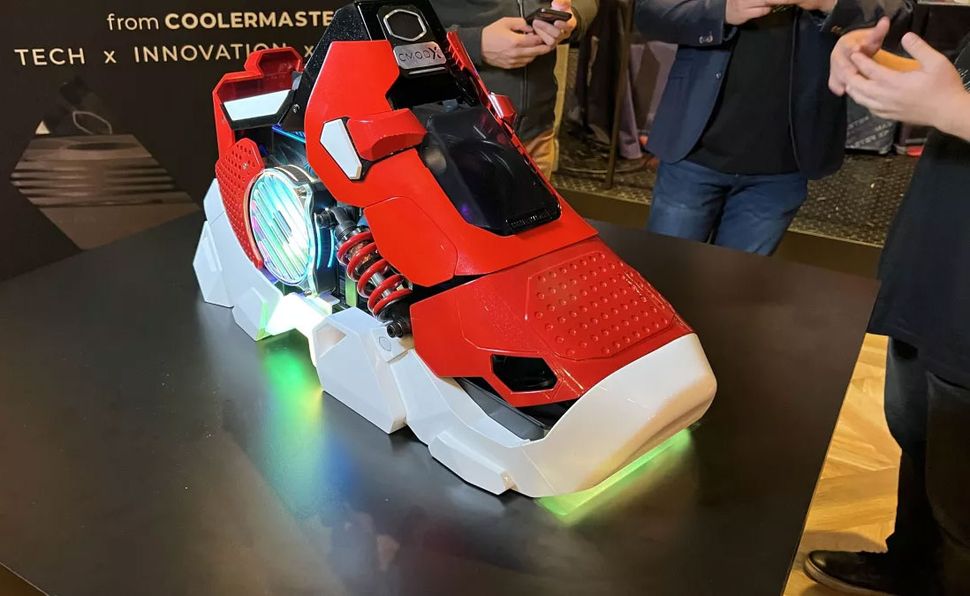 Sneaker X is headlined as a stylish PC offering a fusion of luxury and performance. It is certainly styled, but whether it is stylish is open to debate. Also, the physical size (the footprint) of this PC means it isn't going to be easy to conceal on or under a desk if you get tired of its presence. It's literal footprint is 25.6 x 12.0 x 25.6 inches (650 x 306 x 651 mm). You can get a feel for how big this Sneaker X design is from our CES 2023 photos, where people are present (above).
Though physically quite bulky, the Sneaker X uses some of the most compact standard PC components, such as: a mini ITX motherboard platform, a SFX power supply, and has room for just one 2.5-inch drive, but its potent components require a cooling system with a 360mm radiator. Moreover, Cooler Master has made sure there is a decent amount of room for GPU upgrades (support up to 304 x 137 x 61mm GPUs).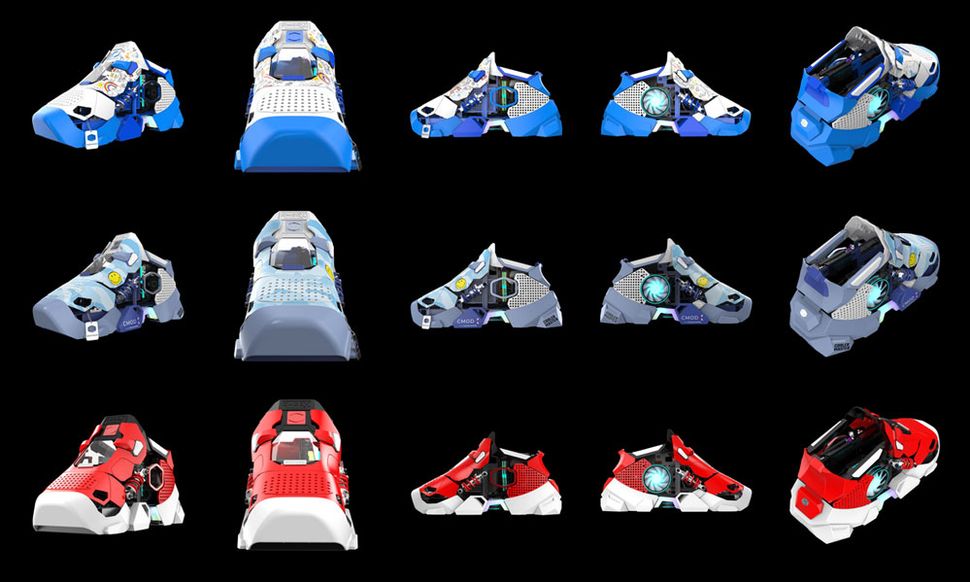 Cooler Master will be producing Sneaker X systems in three colorways. At CES 2023 we saw the red version, but there will also be blue and pink versions.
Despite now having a release date and price for the Sneaker X, cold CPU and GPU specifications aren't provided, yet (and the same is true for the Cooler X). There will have to be some potent components in these machines to justify the asking prices, both well over $5,000.
Swipe to scroll horizontally
| | | |
| --- | --- | --- |
| Row 0 - Cell 0 | Sneaker X | Cooling X |
| Row 1 - Cell 0 | Distinctive Style, Uncompromised Power: A unique design that challenges traditional PC aesthetics | Unrivaled Cooling Technology: Innovative use of side panels as liquid cooling chambers for superior heat dissipation |
| Row 2 - Cell 0 | Optimized Performance and Compatibility: Supports the latest generations of Intel and AMD CPUs | Compact and Portable: Sleek handgrips for easy transport |
| Row 3 - Cell 0 | Superior Cooling for Ultimate Gaming: Unique water-cooling system for peak functionality | High-End Components: Liquid-cooled CPU and GPU for top performance |
| Row 4 - Cell 0 | Pricing and Availability: US$ 5,999, available in early July | Pricing and Availability: US$ 6,999, available in end of June |
At CES 2023 we were concerned that the Cooling X will feature components from AMD that have become 'last-gen' with their Zen 3 and RDNA 2 architectures. The AMD Ryzen 9 5950X and AMD Radeon 6800XT are difficult to characterize as underpowered, but for the asking price Cooler Master has had to upgrade these previously mentioned components. The latest press release says that the system has been upgraded to the Zen 4 AMD Ryzen 9 7950X CPU and Ada Lovelace Nvidia GeForce RTX 4080. Other key specs of the Cooling X we were told about were that it features up to 64GB of DDR5-5600 RAM, up to 4TB of PCIe Gen4 NVMe M.2 storage, and a Cooler Master V850 SFX Gold PSU.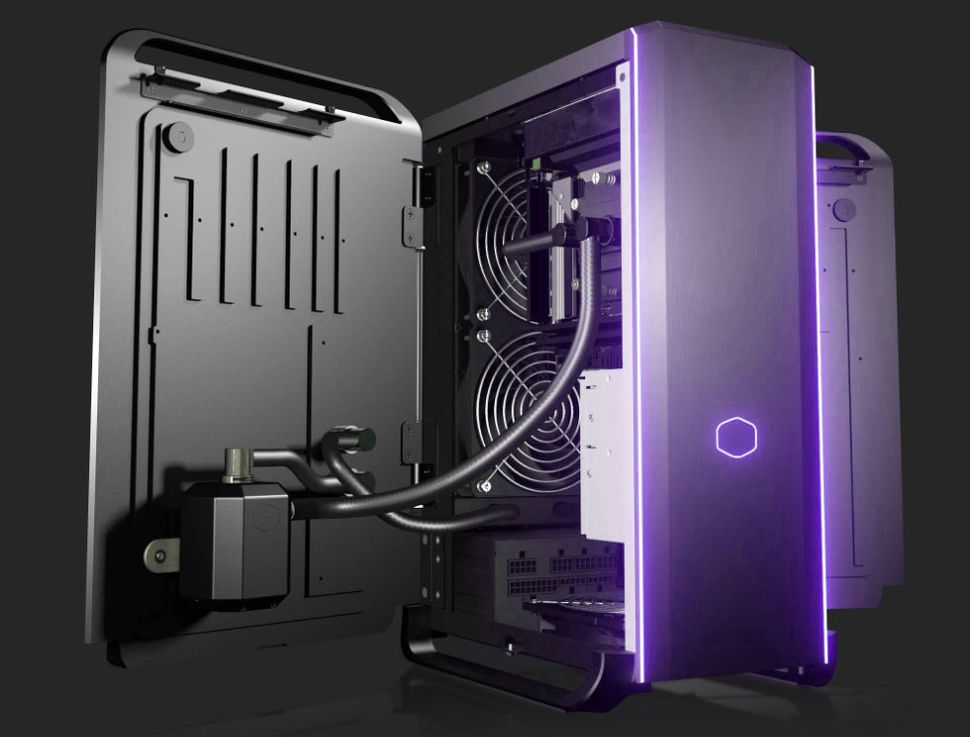 Fittingly, the Cooler Master Cooling X's raison d'être is the liquid cooling system, which is designed to tame both the CPU and GPU. The coolant runs through both the ridged side panels. This case / cooler integration will have helped Cooler Master engineers make the Cooling X quite a compact PC, at 14.63 x 10.47 x 5.88 inches (266 x 149.4 x 371.6 mm, 14.8 liters). However, if you are thinking about lugging it around, it is rather dense and weighs in at 38.1 pounds.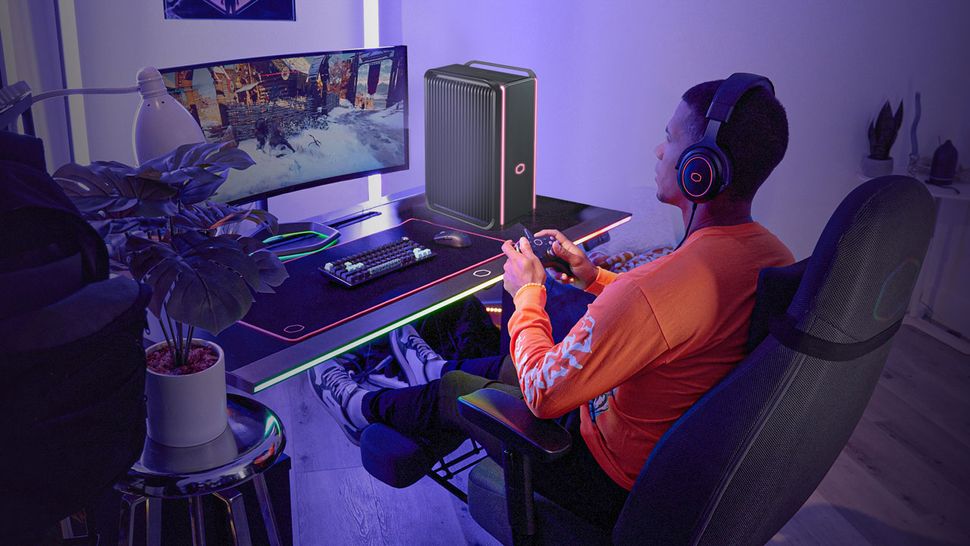 While it is good that Cooler Master has gotten around to arranging a release date for the above two pre-built PCs, those with a taste for the bold and outlandish might be keeping their powder dry for the Shark X. This leaping fierce piscine tribute was probably the most impressive of Cooler Master's CES 2023 PC lineup, and we are still waiting for it.