Corsair just teased the latest entry in its Xeneon family of gaming monitors, and it looks like it could be a hit with eSports gamers. The new Xeneon 27QHD240 features a 27-inch OLED panel with a 2560 x 1440 resolution and a 240 Hz refresh rate.
In essence, this is the little brother of Corsair's first OLED gaming monitor: the 45-inch Xeneon Flex 45WQHD240 we reviewed earlier this year. Corsair uses an LG panel with the Xeneon 27QHD240, which is likely similar to the one used in the LG UltraGear 27GR95QE. In addition, the monitor will employ META Technology to help boost peak brightness, which is often a sore point for OLED monitors. In this case, the company claims that peak brightness can hit 1,000 nits while the contrast ratio hits 1,500,000:1.
The 240Hz refresh rate is joined by a 0.03ms response time and support for AMD FreeSync Premium and Nvidia G-Sync technologies; this would be an excellent monitor to pair with a high-end GeForce RTX 4090 graphics card. Corsair also claims 98.5 percent coverage of the DCI-P3 color space.
Regarding ports, the Xeneon 27QHD240 features two HDMI 2.1, one DisplayPort 1.4, and one USB-C (DisplayPort Alt-Mode). In addition, Corsair includes one USB 3.1 Type-C and four USB 3.1 Type-A ports for connecting peripherals. In other words, Corsair has thrown in everything but the kitchen sink when it comes to connectivity, so we doubt any gamer will be left wanting on this front.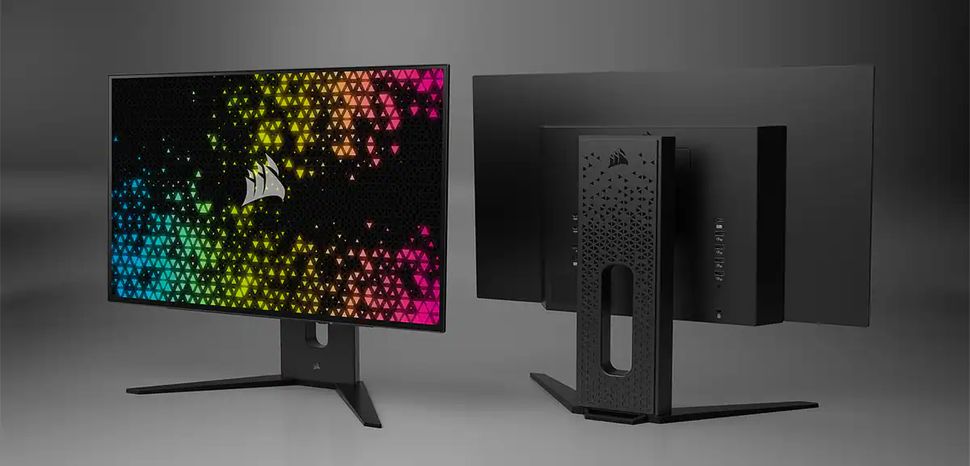 Given that the Xeneon 27QHD240 uses an OLED panel, some people will have concerns about pixel burn-in and overall panel longevity. Corsair attempts to assuage those fears with active burn-in protection technology and a three-year "Zero Dead Pixel and Zero Burn In" warranty for the monitor.
The Xeneon Flex 45WQHD240, with its trick, folding OLED panel, is priced at $1,799 at Amazon and Best Buy. Corsair hasn't announced pricing for the Xeneon 27QHD240, but given its smaller size and more traditional flat panel design, we imagine that it will be closer to the $999 price tag of the LG UltraGear 27GR95QE.
Corsair says that the Xeneon 27QHD24 will be available starting in May 2023 directly from its web store and "select channel partners." Stay tuned, as we'll have a review sample lined up to see if it will earn a spot among the best gaming monitors.