The Intel Core i7-12700K is one of the best CPUs you can buy right now, and while it did see a sizable discount on Black Friday, this surprise deal takes the price even lower than what we found during the biggest sales event of the year!
Right now at Newegg, the 12700K is $50 off — taking it down to just $399 with the help of a discount code. This is the lowest price we've ever seen on this CPU.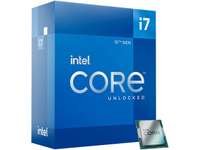 Intel Core i7-12700K: was $449, now $399 at Newegg with code 93XSF52
The Core i7-12700K wields Intel's latest hybrid microarchitecture with a combination of 8 Performance-cores and 4 Efficiency-cores. The Alder Lake chip flaunts boost clocks of up to 5 GHz and nearly matches the gaming prowess of the 12900K.
In the past, Zen architecture arguably had a better price-to-power ratio than Intel CPUs, thanks in particular to its multi-threaded performance. However, the Core i7-12700K storms past the Ryzen 7 5800X with 40% greater performance.
This is because of the new hybrid CPU architecture based on Intel's 7 process node, which consists of eight Golden Cove Performance (P) cores and four Gracemont Efficiency (E) cores. Combined, you've got 12 physical cores that are capable of executing 20 threads.
Add it all up, alongside DDR5 and PCIe 5.0 support, and you've got an awesome CPU with a seriously impressive price-to-performance ratio that has many people wondering if it's even worth paying extra for the flagship Core i9-12900K.