Chinese PC case and cooling company Jonsbo isn't afraid of exploring niches and novelty. Its latest move: PC cases with front LCD screens, as it offers up its D31 and D41 cases with front panel screen options. Additionally, it has started selling the DS8 Black 8-inch screen accessory (white version also available) for enthusiasts and DIYers to add to - or augment - their PC experiences.
The Jonsbo D31 and D41 are Micro-ATX and ATX cases, respectively. Both come in black or white finishes, and with mesh or solid panels beneath the signature 8-inch screens. If you aren't interested in the screen, you can also go for full mesh or solid front panel options. That's quite a number of permutations for these cases.
Before we look closer, it is worth highlighting prices. These systems have now started to go up for sale in Europe. In Germany, ComputerBase reports that the models with built-in 8-inch screens are going for €120, but you can get the same case without screen for about half that sum. German Euro prices include 19% VAT, so if these cases hit retail in the US they may not be listed for much more than $100 for the models with LCD screens.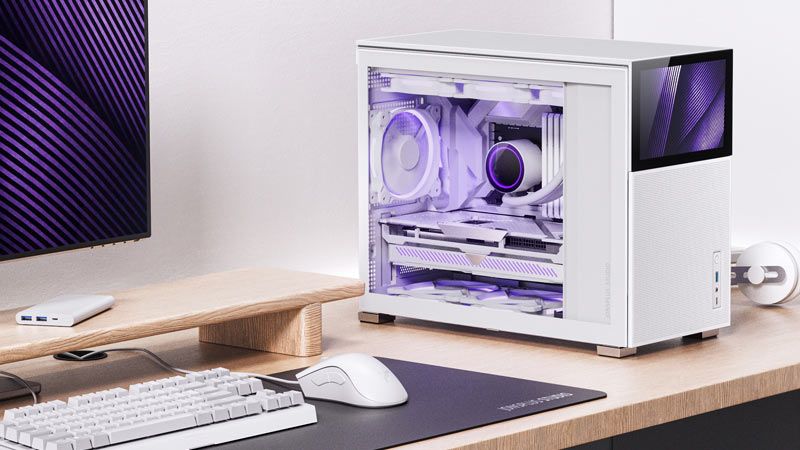 Jonsbo's D31 and D41 aren't that different in size, with the Micro-ATX D31 offering 33.64-liter capacity (452 × 205 × 363 mm), and the ATX D41 offering 35.36 liters (440 × 205 × 392 mm). So, other than max motherboard capacity differences, and the number of expansion slots (4 or 7), there is little else to separate them. Both D31 and D41 have the same fan and max compatibility figures, as follows.
Fans: front 120 mm, rear 120 mm, top 2x 140 or 3 x 120 mm, floor 2x 140 or 3 x 120 mm
Max compatibility: CPU cooler: 168mm, GPU: 330 mm – 400 mm. PSU: 140mm
Front I/O isn't much different, either, with both designs offering a mix of 2x Type-A and 1x Type-C USB ports, plus audio jack. The only other difference worth mentioning is that the D31 offers fewer internal drive mounting choices (1x 3.5 and 2x 2.5-inch mounts), while the D41 can fit one more of each drive size.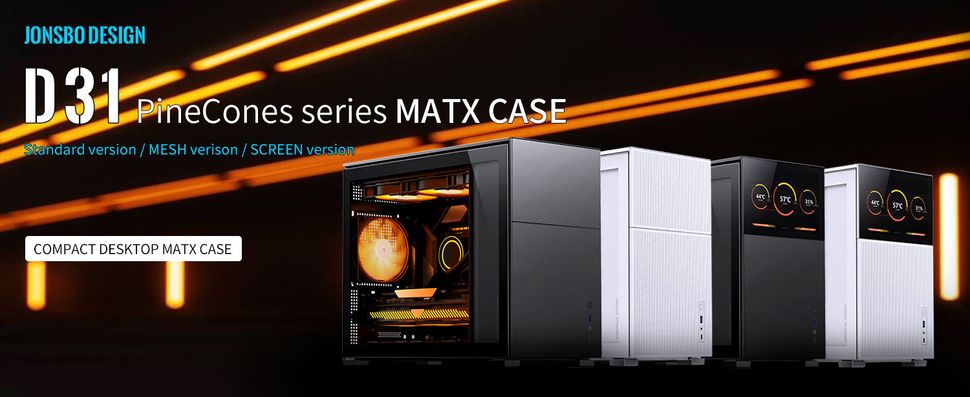 Now let's look closer at the screen. The 8-inch display fits nicely into the top of the case front where, in the days when optical disk drives roamed the earth, you might have found 5.25-inch and 3.5-inch bays. According to Jonsbo, the screen has 1280 x 800 pixels, displays 16.7M colors, with a max brightness of 300 nits and 1000:1 contrast. This TFT LCD has a pretty sluggish response time of 30ms and refreshes at up to 60 Hz, so don't expect to be gaming on it. The screen connects internally via mini-HDMI or USB-C.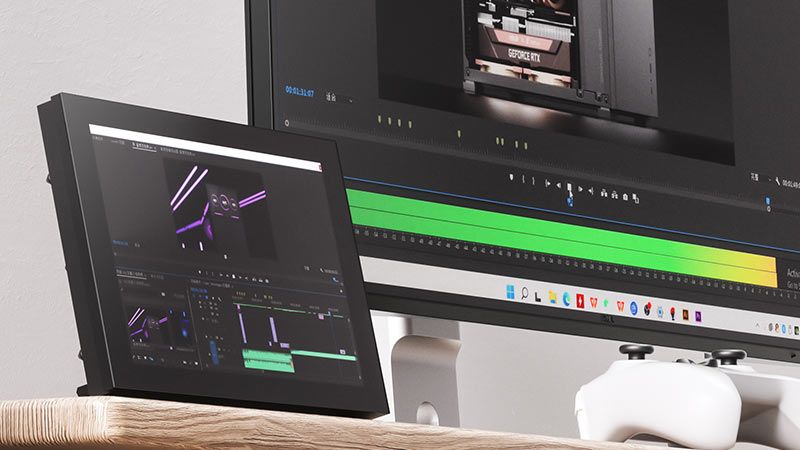 Users could buy the D31 or D41 and upgrade later to this screen. By default it is designed to display output from Jonsbo's live wallpaper app or live sytem info piped out of AIDA 64. If you don't have a D31 or D41 and don't want to fit this screen in your case, it also features a stand mechanism so it can prop itself up anywhere on your desk. Power and brightness adjustment buttons are present on the side of the unit.
Embedding an LCD screen in the chassis now looks like it is an established trend in PC design for the early 2020s. In recent months we have seen the following: