Unit sales of discrete graphics cards for desktop computers hit an all-time low in 2022, according to data released by Jon Peddie Research this week. While shipments of add-in-boards (AIBs) rebounded in the fourth quarter, driven by the introduction of AMD's Radeon RX 7900-series as well as Nvidia's GeForce RTX 4080 and GeForce RTX 4090 products — which are the best graphics cards available today — the whole year was exceptionally weak for graphics cards.
7.3 Million Graphics Cards Sold in Q4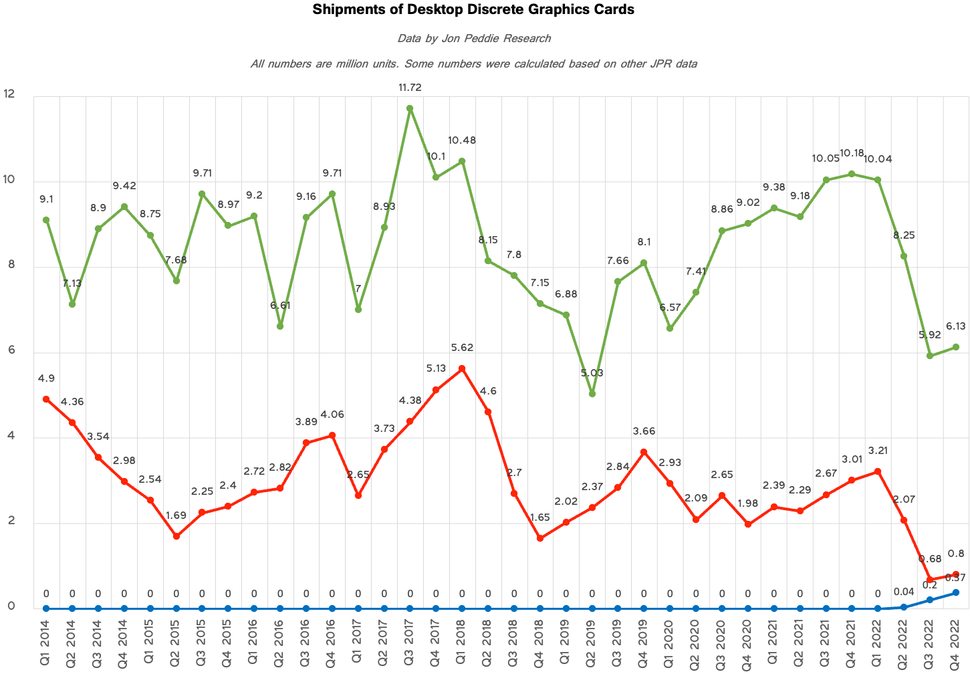 The industry shipped 7.3 million standalone graphics cards for desktop PCs in Q4 2022, up modestly from around 6.81 million in Q3 2022, but down 27.4% from 13.19 million in Q4 2021, based on JPR data. The analysts attribute the increase of AIB unit sales to attractive prices of previous-generation graphics cards, as well as the rollout of new ones.
"The fourth quarter of 2022 was peculiar in terms of AIB shipments, as some last-gen product inventory levels were being run down while new ones were introduced, combined with excess inventory and overhang in the channel," said Dr. Jon Peddie, president of JPR. "Some products like Nvidia's RTX 4090 did exceptionally well despite its high price, so almost everything we thought we knew about economics and market behavior seemed to be turned on its head in Q4."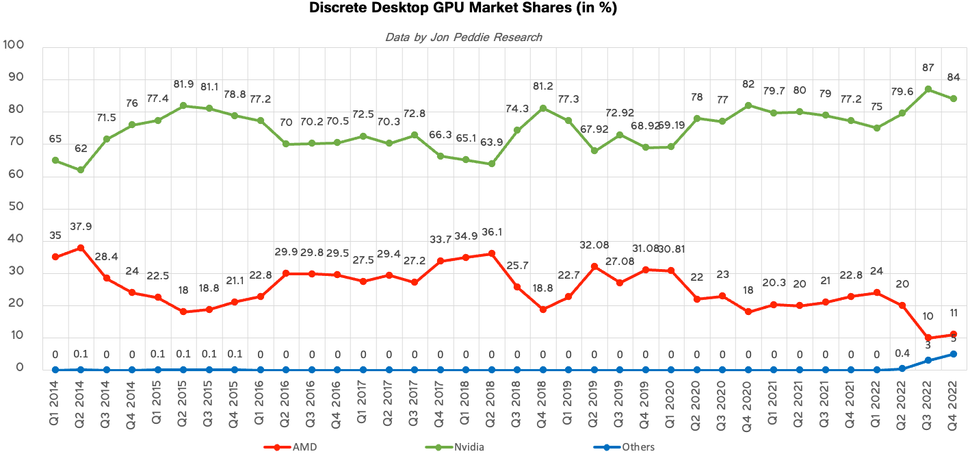 Nvidia maintained its lead with 13 million desktop GPUs and an 84% market share. Also, analysts from JPR mention exceptionally impressive sales of Nvidia's GeForce RTX 4090 product that carries a $1,599 price tag. AMD's market share in Q4 2022 increased modestly to 11% from 10% in the previous quarter, but declined sharply from Q4 2021 as the company only shipped around 0.8 million discrete desktop graphics cards, one of the worst quarterly results ever. Intel controlled about 5% of the market, according to Jon Peddie Research.
"We saw a modest return to growth in Q4 2022 due to the stabilization of AIB prices and the successful rollout of next-generation GPUs from AMD and Nvidia," said C. Robert Dow, an analyst at JPR "The high-end RTX 4090, priced at $1,599 at launch, was particularly successful, with retailers unable to keep the part in stock. The success of these high-end AIBs reflects that first adopters are becoming acclimated to higher prices."
Lowest Unit Sales of Desktop Graphics Cards in History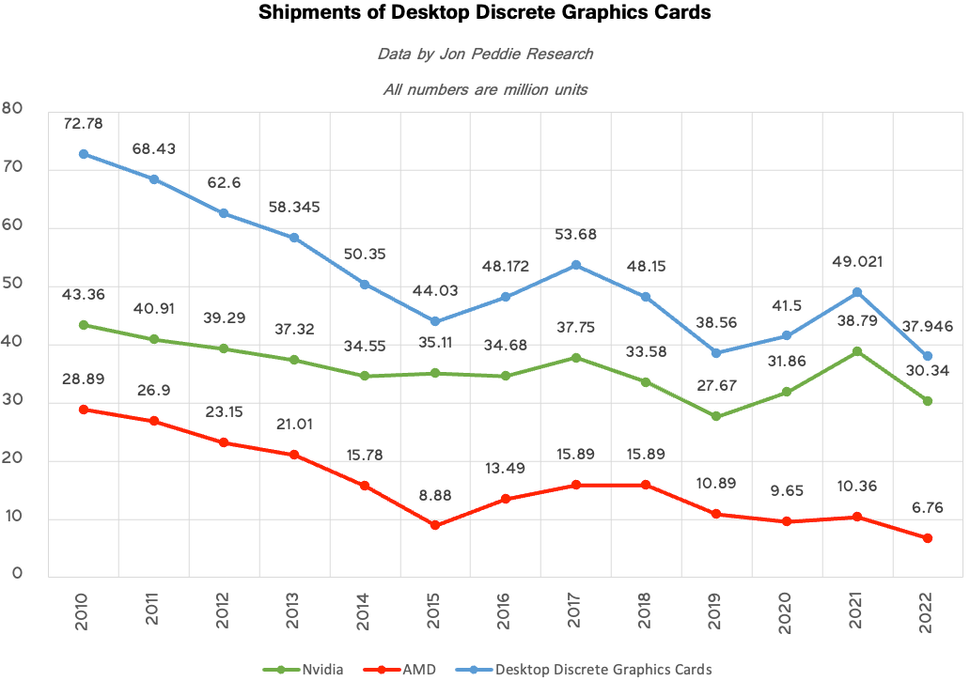 For the whole year 2022, AMD, Intel, and Nvidia sold around 37.86 million graphics processors for desktop AIBs, down sharply from approximately 49.15 million units in 2021, according to Jon Peddie Research. In fact, 37.86 million units is an all-time low for discrete graphics desktop graphics boards. To add some context, sales of standalone graphics cards for desktop PCs peaked at 116 million units in 1998, based on JPR data.
With 30.34 million desktop discrete graphics processors sold in 2022, Nvidia maintained rather strong unit shipments and grabbed market share away from AMD. In fact, the company's desktop GPU unit sales in 2022 exceeded its shipments in pre-pandemic 2019, but 2022 was not a particularly good year from unit shipments point of view.
By contrast, sales of AMD's Radeon add-in-boards dropped to 6.76 million units, their lowest point ever. In 2019 – 2021, the company shipped around 10 million standalone GPUs for desktop graphics cards per year, but 2022 appeared to be particularly bad for AMD's AIB unit shipments. It is hard to mention one particular reason for such performance of AMD's graphics unit, but it is likely that the company's focus on other products was among the factors.

Sharp Decline of Revenues
Unit sales of standalone graphics boards for desktop PCs clearly nosedived in 2022, so the whole market dropped $24.14 billion in the last four quarters, according to JPR. The number suggests that an average selling price (ASP) of a graphics card was $637. By contrast, the desktop AIB market was worth $51.8 billion in 2021 and a graphics board ASP was at $1,056. Still, JPR expects the AIB market to grow by 7% over the next three years.