Grab an Alienware m16 Laptop with RTX 4070 for $1,399
This laptop can play games with ray tracing at 2k.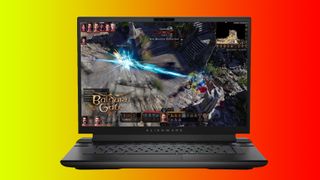 (Image credit: Best Buy)
There's something about an Alienware laptop. While Dell's premium line of gaming systems doesn't produce the cheapest systems on the block, it has dedicated fans who love their excellent build quality, strong performance and UFO aesthetic.
Usually, you'd pay a premium for an Alienware-branded laptop, but today, we're seeing some incredible deals on the m16. For Prime Day, Best Buy has an Alienware m16 with an RTX 4070 GPU, a Core i7 CPU, 16GB of RAM, a 1TB SSD and a 2K display for just $1,399. You'd typically pay closer to $2,000 for this model or $1,499+ for any laptop with RTX 4070 graphics.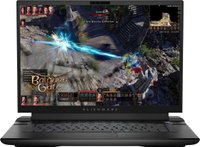 Alienware m16 Laptop with RTX 4070 / 16GB / 1TB: now $1399 at Best Buy (was $1999)
This 16-inch Alienware laptop comes fully loaded with an Intel Core i7-13700HX CPU, RTX 4070 GPU, 16GB of RAM and a 1TB SSD. Even better, it sports a 2560 x 1600 display with a 165 Hz refresh rate.
We haven't tested the Alienware m16, but when we reviewed its sibling, the Alienware m18, earlier this year. We were impressed with the laptop's Legend 3.0 design standard, shared by the m16. The laptop also has several customizable AlienFX RGB lighting zones.
The Alienware m16 isn't light or thin; it tips the scales at 7.2 pounds and measures 14.5 x 11.4 x 1 inches. However, having an RTX 4070 aboard means you can play games at the screen's 2K resolution with ray tracing enabled and still achieve playable frame rates.
For more deals, see our up-to-date Prime Day live blog and list of the best gaming PC deals.
Join the experts who read Tom's Hardware for the inside track on enthusiast PC tech news — and have for over 25 years. We'll send breaking news and in-depth reviews of CPUs, GPUs, AI, maker hardware and more straight to your inbox.
Avram Piltch is Tom's Hardware's editor-in-chief. When he's not playing with the latest gadgets at work or putting on VR helmets at trade shows, you'll find him rooting his phone, taking apart his PC or coding plugins. With his technical knowledge and passion for testing, Avram developed many real-world benchmarks, including our laptop battery test.
Ultrabookreview did a review of this laptop with the RTX 4080, and these are the results they achieved. The 4070 being around 25% slower and having 33% less VRAM you can adjust them down accordingly. They also stated it hit 57dB of noise at high performance full fans, and 84°C CPU temp.


QHD+ Balanced settingsQHD+ – Full SpeedQHD+ – QuietBattlefield V (DX 12, Ultra Preset, Ray-Tracing OFF)181 fps avg, 65 fps 1% low180 fps avg, 68 fps 1% low165 fps avg, 30 fps 1% lowBattlefield V (DX 12, Ultra Preset, Ray-Tracing ON, DLSS Off)84 fps avg, 26 fps 1% low84 fps avg, 28 fps 1% low80 fps avg, 35 fps 1% lowBattlefield V (DX 12, Ultra Preset, Ray-Tracing ON, DLSS On)105 fps avg, 34 fps 1% low104 fps avg, 18 fps 1% low102 fps avg, 25 fps 1% lowThe Witcher 3: Wild Hunt
(DX 11, Ultra Preset, AA: TAAU, Hairworks Off)124 fps avg, 53 fps 1% low121 fps avg, 47 fps 1% low110 fps avg, 40fps 1% lowThe Witcher 3: Wild Hunt
(DX 12, Ultra Preset, AA: TAAU, Hairworks Off)133 fps avg, 29 fps 1% low134 fps avg, 50 fps 1% low127 fps avg, 37fps 1% lowThe Witcher 3: Wild Hunt
(DX 12, Ultra Preset, AA: TAAU, Hairworks Off, RT: Quality, DLSS Off)71 fps avg, 29 fps 1% low72 fps avg, 27 fps 1% low70 fps avg, 19fps 1% lowThe Witcher 3: Wild Hunt
(DX 12, Ultra Preset, AA: TAAU, Hairworks Off, RT: Quality, DLSS On)88 fps avg, 33 fps 1% low88 fps avg, 30 fps 1% low85 fps avg, 35fps 1% lowHorizon Zero Dawn(Ultra), DLSS On144 fps avg, 56 fps 1% low146 fps avg, 59 fps 1% low137 fps avg, 96 fps 1% lowHorizon Zero Dawn(Ultra), DLSS Off124 fps avg, 83 fps 1% low118 fps avg, 66 fps 1% low112 fps avg, 82 fps 1% lowCyberpunk (Ultra, Ray Tracing On) DLSS Off43 fps avg, 27 fps 1% low44 fps avg, 27 fps 1% low40 fps avg, 23fps 1% lowCyberpunk (Ultra, Ray Tracing On) DLSS Auto124 fps avg, 95 fps 1% low126 fps avg, 82 fps 1% low116 fps avg, 90fps 1% lowCyberpunk (Ultra, Ray Tracing Off)92 fps avg, 63 fps 1% low92 fps avg, 61f ps 1% low84 fps avg, 52fps 1% lowValheim (High preset)130 fps avg, 36 fps 1% low134 fps avg, 37 fps 1% low123 fps avg, 34fps 1% lowElden Ring(Max settings, QHD, borderless, RT max60 fps avg, 39 fps 1% low60 fps avg, 41fps 1% low60 fps avg, 23fps 1% lowFinal Fantasy 7 remake(Max settings, QHD)120 fps avg, 93 fps 1% low122 fps avg, 82 fps 1% low119 fps avg, 66fps 1% low

Reply

The specs as shown are essentially a lame duck. Good to see however Alienware and or Dell is now starting in putting their premium laptops on sale. Now I wonder what the soon 'Black Friday' pricing may look like! If I however could even remotely afford to buy any type of premium laptop, I would opt for a much higher spec than this and most certainly get a 18-inch screen format, so gaming on the fly is much more immersive. There is also much marketing talk that premium laptops are considered a fair desktop replacement. I think that this is rubbish and not a enthusiast reality. Based on the virtually unlimited upgradeability of desktops and now much less expensive high quality large 34-inch curved PC monitors hitting the market for less than $500!

Reply