When AMD's chief executive Lisa Su said last week that the company was on track to release its mainstream Radeon RX 7000-series graphics cards this quarter, she never said exactly when this would happen. But it appears that AMD's Radeon RX 7600-series graphics cards may be closer than we think as boards are already being listed in Asia. Soon, the RX 7600 will face off against the best graphics cards.

Right now, someone in Singapore is selling Sapphire's Radeon RX 7600 Pulse 8GB GDDR6 graphics card for S$545 (around $410, though it is unclear whether the price includes taxes) on Carousell, an online marketplace, as discovered by @Komachi_Ensaka. The advertisement claims that the stock arrives on May 26, 2023, which suggests that the seller expects to have multiple boards in a little more than a couple of weeks from now.

VideoCardz has received images of Sapphire's Radeon RX 7600 Pulse 8GB GDDR6 graphics board on a store shelf. The package reveals that the GPU features 32 RDNA 3 compute units (2048 stream processors) and 32MB of Infinity Cache. There is no word about the availability date of the product, but the card will reportedly cost $249, which contradicts to information from Carousell — but that could just be an attempt to capitalize on early demand.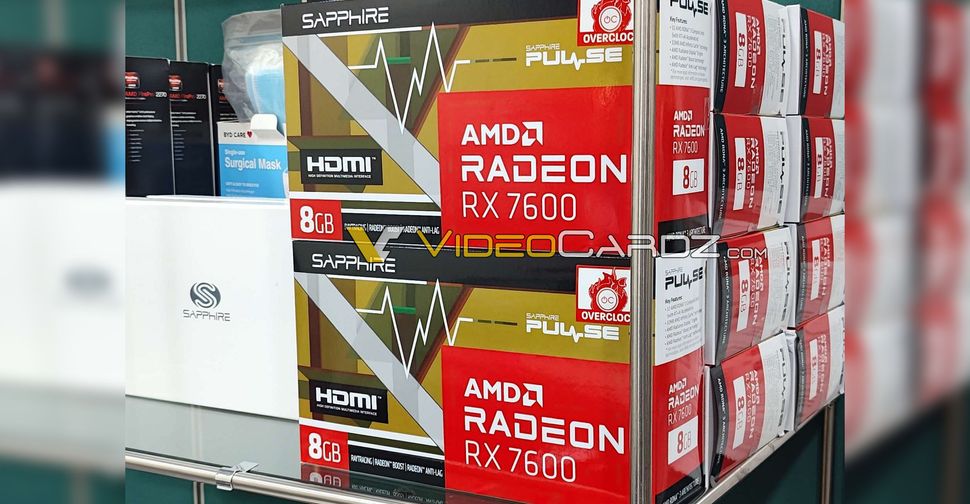 In any case, the picture itself points to the fact that Sapphire, which is one of AMD's closest partners, has already started to ship its boards to retailers and it is only a matter of time before these parts are available worldwide.

AMD's Radeon RX 7600-series graphics cards are expected to be based on the Navi 33 GPU. It's hard to estimate performance of the vanilla Radeon RX 7600 and compare it to that of Nvidia's yet-to-be-released GeForce RTX 4060-series graphics boards, but we certainly expect these product families to compete against each other. Based on what we've seen from the RX 7900 XT versus the RX 6900 XT, if the RX 7600 sees a similar improvement in performance, it would only be around 25% faster than the existing RX 6600. We'll find out in the next month or so it seems.

We're dealing with unofficial information about Radeon RX 7600 availability date and contradictory information when it comes to its pricing, so obviously take all of this with a grain of salt. Still, it's evident that at least some of Sapphire's retail partners have already gotten their Radeon RX 7600 products, so it's logical to expect boards to hit the market rather sooner than later.