Blender 4.0 Released and Tested: New Features, More Demanding
Testing the latest open-source 3D rendering application.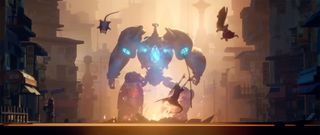 (Image credit: Blender / Koala OK)
The open-source Blender 3D rendering application has been a staple of our professional GPU benchmarks for a while now. Earlier this week, Blender 4.0 was released to the public. Alongside the main application, Blender Benchmark was also updated. Curious to see if there were any changes, we grabbed the new version and set about testing on some of the best graphics cards from Nvidia, AMD, and Intel.

Before we get to the performance results, let's quickly note that there are a host of changes. Most of these are for people that actually do 3D rendering for real work, whereas I only use it to measure performance on GPUs. Changes to the Cycles engine may result in lower performance in some cases, though it's also possible that future updates could include optimizations that would restore any lost performance.

If you're a professional who uses Blender already, and the new features are something you need, it may not matter too much whether Blender 4.0 runs slower or faster than previous releases. However, we use the benchmark application for comparing GPUs, so it's important to look at what has or hasn't changed in terms of performance. Note that the benchmark scores, as far as we're aware, are not supposed to be directly comparable either. Using the default rendering in Blender 4.0 will look slightly different in a variety of ways to Blender 3.x.

Our test PC uses a Core i9-12900K and is running the latest AMD, Intel, and Nvidia graphics drivers — 23.11.1, 4953, and 546.17, respectively. We are using the standard drivers in all cases, meaning "Game Ready" rather than "Studio" in the case of Nvidia — the same as we've done in previous testing. However, we also checked the latest 546.01 Nvidia Studio drivers with the RTX 4070 to check if there was any difference in performance; the Studio drivers were 0.5% slower than the non-Studio drivers, which is within the margin of error.
Image 1 of 4
Image 1 of 4
Swipe to scroll horizontally
Blender GPU Performance — Old Versus New

| Header Cell - Column 0 | Blender v3.6.0 Geomean | Blender v4.0.0 Geomean | Percent Change |
| --- | --- | --- | --- |
| RTX 4090 | 4213.9 | 3685.5 | -12.5% |
| RTX 4080 | 3119.6 | 2790.2 | -10.6% |
| RTX 4070 | 1943.2 | 1743.5 | -10.3% |
| RTX 4060 | 1160.3 | 1036.1 | -10.7% |
| RTX 3090 Ti | 2228.0 | 1943.2 | -12.8% |
| RX 7900 XTX | 1252.9 | 1260.7 | 0.6% |
| RX 7900 XT | 1144.1 | 1094.9 | -4.3% |
| RX 7800 XT | 752.6 | 720.8 | -4.2% |
| RX 7600 | 422.5 | 394.3 | -6.7% |
| Arc A770 16GB | 696.5 | 679.0 | -2.5% |
| Arc A750 | 693.7 | 672.7 | -3.0% |
We've created two separate galleries showing performance with Blender 4.0 and Blender 3.6. In general, the rankings are nearly the same, but it can be hard to sort out the changes just by looking at the bar charts. We've also included a table of the geometric mean results to better highlight the differences.

The short summary is that, of the three GPU vendors, Nvidia shows the biggest delta right now, to the tune of a 10~13 percent loss in performance with Blender 4.0 compared to our previous testing. The 3.6 results are a couple of months old, so I'm not even sure which drivers were used in most cases, but I do know that I've seen fluctuations in performance in the past.

AMD's GPUs did comparatively better, with a 4~7% drop on three of the four cards we tested, and a slight 1% improvement in performance from the RX 7900 XTX. Perhaps that's because it had more room for improvement to begin with, though Nvidia still clearly wins on the raw performance front: The RTX 4070, for example, is still 38% faster than the RX 7900 XTX using Blender 4.0.

Finally, the two Intel Arc GPUs I tested ended up losing around 3% of their performance. What's odd about the A770 16GB and A750 is that performance is virtually identical on the two GPUs. The A770 was less than 1% faster overall, which doesn't really make sense. It has double the VRAM, and the memory is clocked 9% higher as well (17.5 Gbps versus 16 Gbps). If bandwidth was the bottleneck, we'd expect the A770 to win by around 9%. Conversely, if the Arc GPUs are compute bound, the A770 should still be about 14% faster — it has 32 Xe-Cores versus 28 Xe-cores, or 4096 GPU shaders versus 3584 shaders.
We're not going to fully switch to Blender 4.0 for testing of GPUs right now, simply because it's not clear whether it's fully optimized and performing as expected. We'll probably update to version 4.x some time next year, once things have settled down a bit more — running the initial release of most software usually means more bugs and room for optimizations.

As to whether the new features in Blender 4.0 are worth the potential loss in performance that we measured, we'll leave that debate to the artists. Certainly, there are a lot of changes and additions that should help create better visuals. The above official Blender video covers the major changes from this release. Just be forewarned that things may take longer to render compared to the previous release, though they should also look better as well.
Join the experts who read Tom's Hardware for the inside track on enthusiast PC tech news — and have for over 25 years. We'll send breaking news and in-depth reviews of CPUs, GPUs, AI, maker hardware and more straight to your inbox.
Jarred Walton is a senior editor at Tom's Hardware focusing on everything GPU. He has been working as a tech journalist since 2004, writing for AnandTech, Maximum PC, and PC Gamer. From the first S3 Virge '3D decelerators' to today's GPUs, Jarred keeps up with all the latest graphics trends and is the one to ask about game performance.