Graphics card prices at the start of August 2022 are once again lower than the prior month, though the rate of decrease has slowed down. We've pulled together the data for the current prices, both at retail and on eBay, for the best graphics cards and all the latest GPUs in our GPU benchmarks hierarchy. eBay prices fell by 6% on average since July 1, and prices on previous-gen cards dropped by 8% on average. Perhaps more interestingly, retail prices also dropped by 7% on average, with several GPUs showing double-digit decreases.

There's a strong correlation between graphics card prices and mining profitability, and there's some minor concern with the slow rebound in cryptocurrency prices over the past month. Mining profitability improved somewhat, though even the RTX 3090 and RTX 3090 Ti only average about $2.50 per day. Bitcoin bottomed out at just under $18,000 in mid-June, and now sits at just over $23,000. Ethereum likewise hit a low of less than $900 on June 18, and has since rebounded to roughly $1,700. Will they maintain those levels? That's the billion-dollar question.
Graphics Card 2022 Price Change
eBay Price on August 1
eBay Price on Jan 1
Retail Price on August 1
GPU MSRP
eBay YTD Change
Retail vs eBay Price
Retail vs MSRP
GeForce RTX 3090 Ti

(opens in new tab)

$1,330
—
$1,400
$2,000
—
5%
-30%
GeForce RTX 3090

(opens in new tab)

$959
$2,918
$1,204
$1,500
-67%
26%
-20%
GeForce RTX 3080 Ti

(opens in new tab)

$850
$1,992
$950
$1,200
-57%
12%
-21%
GeForce RTX 3080 12GB

(opens in new tab)

$700
—
$799
N/A ($800?)
—
14%
0%
GeForce RTX 3080

(opens in new tab)

$638
$1,783
$800
$700
-64%
25%
14%
GeForce RTX 3070 Ti

(opens in new tab)

$550
$1,244
$674
$600
-56%
23%
12%
GeForce RTX 3070

(opens in new tab)

$475
$1,179
$550
$500
-60%
16%
10%
GeForce RTX 3060 Ti

(opens in new tab)

$429
$1,007
$471
$400
-57%
10%
18%
GeForce RTX 3060

(opens in new tab)

$345
$761
$390
$330
-55%
13%
18%
GeForce RTX 3050

(opens in new tab)

$300
—
$300
$250
—
0%
20%
Radeon RX 6950 XT

(opens in new tab)

$895
—
$1,000
$1,100
—
12%
-9%
Radeon RX 6900 XT

(opens in new tab)

$750
$1,527
$749
$1,000
-51%
0%
-25%
Radeon RX 6800 XT

(opens in new tab)

$575
$1,387
$670
$650
-59%
17%
3%
Radeon RX 6800

(opens in new tab)

$510
$1,282
$580
$580
-60%
14%
0%
Radeon RX 6750 XT

(opens in new tab)

$509
—
$500
$550
—
-2%
-9%
Radeon RX 6700 XT

(opens in new tab)

$400
$898
$449
$480
-55%
12%
-6%
Radeon RX 6650 XT

(opens in new tab)

$350
—
$340
$400
—
-3%
-15%
Radeon RX 6600 XT

(opens in new tab)

$300
$659
$310
$380
-54%
3%
-18%
Radeon RX 6600

(opens in new tab)

$240
$578
$260
$330
-56%
9%
-17%
Radeon RX 6500 XT

(opens in new tab)

$160
—
$168
$200
—
5%
-16%
Radeon RX 6400

(opens in new tab)

$140
—
$140
$160
—
0%
-13%
If you're willing to take a chance on eBay, nearly every GPU now sells below its official MSRP. There are only three exceptions, Nvidia's RTX 3060 Ti, RTX 3060, and RTX 3050. The most expensive GPUs are even selling 20–35% below MSRP, joined by the RX 6600 XT, RX 6600 and RX 6500 XT.

Retail prices aren't significantly worse, either, and you get the peace of mind that comes with purchasing a brand-new GPU. Only the RTX 3080 down to the RTX 3050 are selling above MSRP, with about a 10% markup on the RTX 3080 and RTX 3070 Ti, and a 20% markup on the other three GPUs. The RTX 3080 12GB incidentally can actually be had for less than the 10GB card and generally delivers 5–10% higher performance.

While Nvidia still has a few cards sticking above MSRP, AMD's GPUs are all well below MSRP if you go through eBay, and only the RX 6800 XT and RX 6800 are selling at MSRP if you want to buy a new card at retail. You could argue that some of AMD's GPUs had a higher than warranted MSRP to begin with, but the same goes for certain Nvidia cards. Still, AMD's eBay prices are typically around 20% below MSRP right now, or 10% below MSRP at retail.
In terms of best value, looking at FPS per dollar spent and using eBay prices, it's hard to beat the RX 6600 and RX 6600 XT. Those sit at about 0.28 FPS/$, and the next closest GPU is the RX 6700 XT at 0.24 FPS/$. Nvidia's best values are the RTX 3060, RTX 3060 Ti, and RTX 3070, all of which land in the 0.20–0.21 range. Or if you're okay with a previous generation card, the RX 5600 XT currently takes top honors at 0.30 FPS/$ — and most of Nvidia's RTX 20-series GPUs are a better value than the RTX 30-series.

If you want more performance than the GPUs offer, you'll end up with diminishing returns, though factoring in the cost of the rest of your gaming PC changes the dynamics a bit. We used an estimated price of $750 for the rest of the PC, which means on a system level your best value would come from a more expensive GPU, with the RX 6800 XT taking top honors, followed closely by the RX 6900 XT, RX 6800, RX 6950 XT, and RX 6700 XT. Food for thought.

Looking just at eBay pricing, GPU prices dropped by 6% compared to last month, which means the rate of decrease has slowed down. (July vs. June prices showed a 14% drop.) The RX 6400 is the only card that went up in eBay pricing, but it's almost $20 cheaper at retail right now so it hardly counts — plus there were only seven such cards sold on eBay throughout July.

The average GPU price for all cards sold on eBay last month is $575, compared to $614 in June. Nvidia's average GPU price on eBay was slightly higher at $623 ($658 in June), with AMD's average price sitting at $399 (versus $435 in June). Despite the higher prices, Nvidia outsold AMD by a 3.68 to 1 ratio. We'd expect somewhat similar margins at retail, but unfortunately, we don't have direct access to such data.
The previous generation Turing and RDNA1 GPUs showed a similar 7% drop in prices compared to the prior month. The biggest losers were GTX 1650 Super, RX 5700 XT, and RX 5700, all of which showed double-digit percentage drops.

If you're running a GPU that's older than the previous generation, it's also worth noting that the relative value (FPS/$) tends to be higher on these last-gen cards. The GTX 1650 Super through RTX 2080 Super all deliver 0.21–0.24 FPS/$. AMD's GPUs also compare favorably, at 0.22–0.30 FPS/$ on the RX 5000 generation. If you're looking at a complete PC upgrade, however, the newer GPUs win out.

Total card sales for both previous- and current-generation GPUs were down compared to May, which isn't particularly surprising, as the lower prices mean there's less enticement for people to try to offload older hardware. That doesn't mean there aren't a lot of old graphics cards waiting to be sold, though.
The Used Card Deluge Begins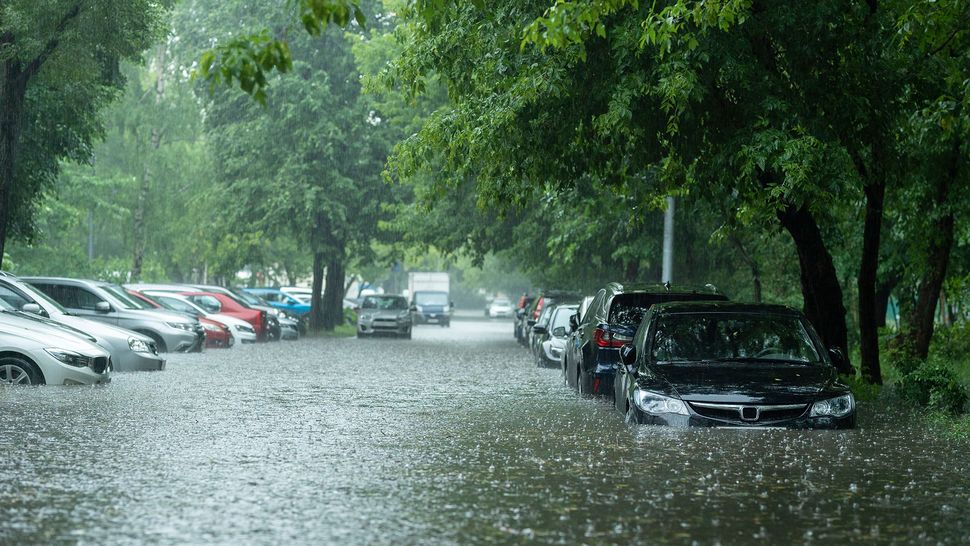 As we've been predicting, there are a lot of used graphics cards now coming to secondhand markets. We used eBay pricing for the above tables, but bulk buyers are typically able to get even better deals.

For example, here's a lot of 42 RX 5700 GPUs (opens in new tab) that sold for $9,500 on eBay, or just $226 per card. That's 12% lower than the average eBay price, though obviously there's no question of whether these GPUs have been down in the Ethereum mines or not. That's a far cry from this lot of 100 RTX 3070 cards (opens in new tab) that apparently went for $1,600 each in April 2021.

As always, we urge caution before buying a used graphics card, as there are lots of potential concerns if a card was mining 24/7 for the past year or more. And regardless of what the seller says, we'd assume any GPU with 6GB or more VRAM was mining. If you take the chance on a used card, be sure to thoroughly test it ASAP, and buy from someone that offers returns.

Looking forward, we're hearing more rumblings about the upcoming RTX 40-series Nvidia Ada GPUs, which could land in the next month or two. The latest suggests that the RTX 4070 Ti will match or exceed the RTX 3090 Ti in performance. That seems reasonable since the RTX 3070 did the same to the RTX 2080 Ti. AMD's RDNA 3 still looks to be a bit further out, probably launching in the November time frame, but we could also see some massive performance boosts there.

The real question will be pricing and availability of the next-gen GPUs. Hopefully, we won't see a repeat of Scalpergate 2020, but that's probably wishful thinking.