If you're looking for an alternative to either team red (AMD) or team green (Nvidia), then the only other real option is the entries from team blue (Intel), and in this specific case we have Acer's take on the Intel Arc A770 — the Acer Predator BiFrost Intel Arc A770 that's down to $349 (opens in new tab) having had $50 knocked off of its price on Amazon.
With a speedy 18Gbps of memory speed, thanks to a large 16GBs GDDR6 VRAM running on a 256bit of memory bandwidth, the Arc A770 can utilize the most out of its 2.2 GHz clock speed, and even boost to 2.4 GHz thanks to its OC setting. Cooling is provided by a thin vapor chamber and two fans, one a 92mm static pressure Frostblade fan and the other an all metal ultra-thin densely packed bladed fan for helping to dissipate the heat from the vapor chamber.
The Intel Arc A770 works in conjunction with Xe Super Sampling to enhance AI-upscaling and frame generation in your favorite games to help improve the framerate and resolution of whatever title you're wanting to play. The Arc A770 also supports AV1 encoding, with is a very fast and accurate way of encoding footage to platforms like Twitch and Youtube, and other platforms that support this fledging technology.
A negative of this card however is its drivers, which at launch didn't have great support for DX9 titles and even now have had some inconsistent performance issues on older games. We reviewed the Intel Arc A770 and noted some of the performance issues in certain titles, but you will have to check on currently supported games as Intel is continually updating driver support for the Arc -series GPUs.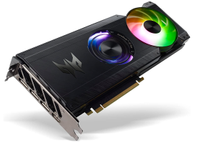 (opens in new tab)
Acer Predator BiFrost Intel Arc A770 Graphics Card: now $349 at Amazon (opens in new tab) (was $399)
With a 2.2 GHz clock speed that can boost to 2.4 GHz, the Intel Arc A770 has the power to play the latest games, and with its 16GB of GDDR6 VRAM, it offers some longevity as newer RAM-hungry titles are released.
This isn't the most powerful or best graphics card for gaming, but according to our testing it does compare favorably to an Nvidia RTX 3060 or an AMD 6650XT, and if you can get your hands on one for a similar price to these cards, then there is a bargain to be had. Have a look at our GPU Hierarchy for an idea of where the Intel Arc A770 sits overall against its competition.
Along with Acer's Predator BiFrost Intel Arc A770 comes its namesake Predator BiFrost utility app which allows you to monitor the performance of your GPU as well as configure the fan speed and lighting, and specify some of the graphical settings for your card.
Looking for more deals on an Intel Arc A770?