Best PC Gaming Headsets 2023
The list in brief
1. Best Overall
2. Best Wireless
3. Best Splurge
4. Best Budget
5. Best Lifestyle
6. Best Bluetooth
7. Best Bluetooth Splurge
8. Best Virtual Surround
9. Best Mic
10. Shopping Tips
11. Discounts
A great gaming headset is arguably as important as a great gaming keyboard, monitor, or even graphics card. The sounds of your favorite virtual world and how you communicate with your teammates all hinges on the device you wear on your head (unless you have one of the best PC speakers instead) and chances are you'll be taking work calls, listening to music, and streaming your favorite shows with it, too.
Choosing a great gaming headset isn't as easy as it sounds — thanks in part to the staggering number of available options. Gamers have more headset choices than ever, thanks to the ever-rising popularity of esports and streaming, as well as better wireless tech, as well as several audio- and microphone-makers joining the scene.
A quick search of popular retailers yields hundreds of headset options across dozens of companies, ranging from less than $10 (£8) to over $600 (£460). You've probably already got a budget in mind, but there are still several other factors to consider.
We've been testing gaming headsets for years (to see every model we've tested, check out our gaming headset reviews page). These are the best of the best, no matter your wants or needs.
The quick list
The Best Gaming Headsets You Can Buy Today
Why you can trust Tom's Hardware Our expert reviewers spend hours testing and comparing products and services so you can choose the best for you. Find out more about how we test.
Best Gaming Headset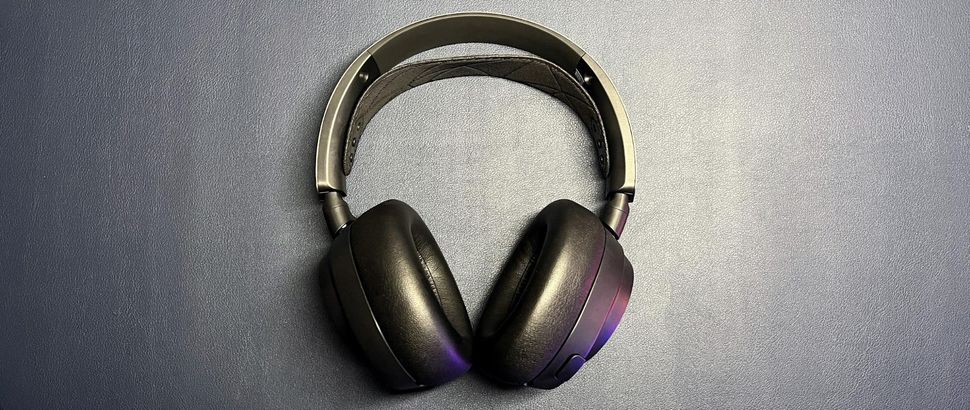 SteelSeries' Arctis Nova Pro Wireless headset isn't cheap, but it's absolutely worth it. This stylish headset is packed with so many features it's hard to figure out where to begin, but we'll start with gaming: Multi-system connectivity via the headset's wireless base station, technically 'infinite' battery life thanks to a swappable battery system, and a highly-adjustable design that's so lightweight and comfortable you'll forget it's on your head.
The Nova Pro Wireless delivers excellent audio and sports hi-fi-capable, custom-designed 40mm drivers (though you'll need a wired connection and a DAC to experience the headset's 10 - 40,000 Hz frequency response). It's not just game audio that sounds immersive and layered; this headset does a great job with all types of audio. Oh, and there's more: A fully-retractable bidirectional noise-canceling mic, active noise canceling (with an optional transparency mode), and simultaneous 2.4GHz wireless and Bluetooth 5.0 connectivity with audio mixing capabilities.
This headset not only does it all, it does it all well — from PC gaming to console gaming to video chatting to audiophile listening. The Nova Pro Wireless is ambitious, but it delivers. But if these aren't in your budget, the Kingston HyperX Cloud Alpha is a solid sub-$100 pick offering excellent audio and a comfortable fit.
Read: SteelSeries Arctis Nova Pro Wireless review
Best Wireless Gaming Headset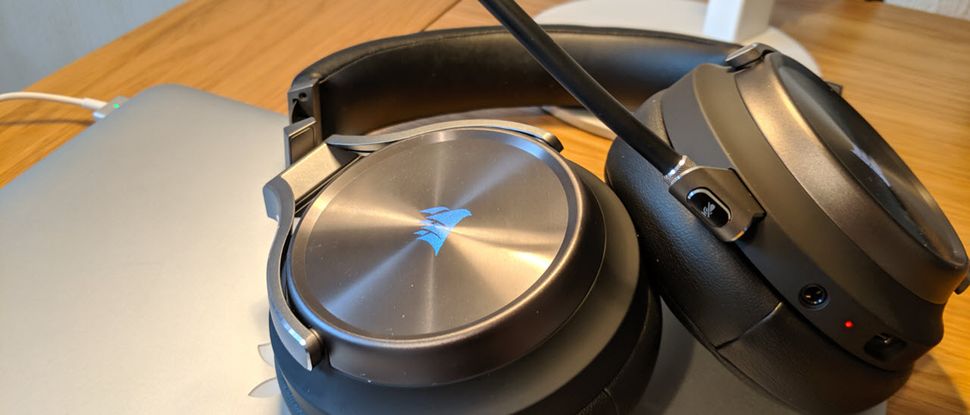 The Corsair Virtuoso RGB Wireless SE is another headset that looks as good as it sounds. This premium wireless gaming headset offers high-quality audio and looks pretty and shiny — instead of clunky and heavy. The SE version of the Virtuoso RGB boasts gunmetal-colored aluminum stamped with a touch of RGB via the Corsair logo. Overall, it looks as expensive as it is.
The Virtuoso RGB SE delivered strong audio, including hi-res support, in our testing. Its 50mm drivers sounded great with gun fights in games such as Borderlands 3, while music reproduction sat in the middle of bass-heavy headphones like the Audio-Technica's ATH-G1 and flatter-sounding ones like the SteelSeris Arctis Pro Wireless.
Topping things off with a 20-hour wireless battery life, Corsair's Virtuoso RGB Wireless SE is a fine pair of cans that both look and sound premium.
Read: Corsair Virtuoso RGB Wireless SE review
Best Gaming Headset Splurge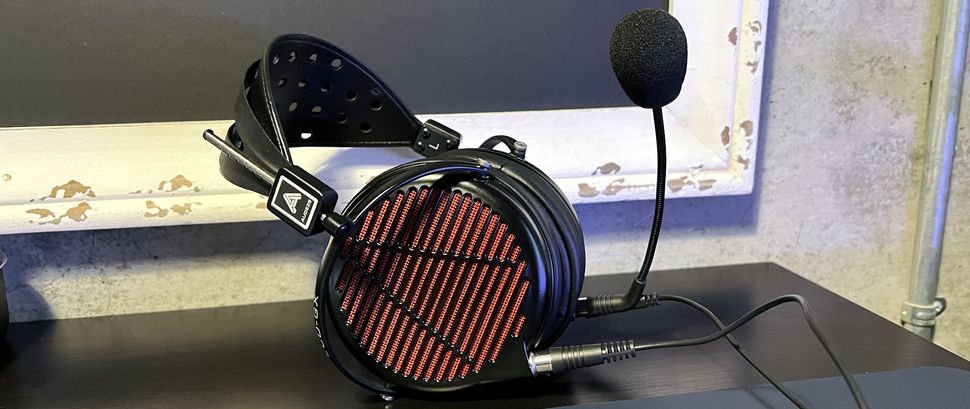 If you're looking for an audiophile experience that will also work as a gaming headset, Audeze's LCD-GX has you covered. This over-ear, open-back planar magnetic gaming headset features a lightweight magnesium frame and a design that mirrors the rest of the company's LCD lineup. But it's far from cheap — priced at $899, it definitely earns its title of 'Best Gaming Headset Splurge.'
The LCD-GX sounds incredible, especially compared to other gaming headsets — it is slightly warm-leaning overall, but it has great dynamics and multi-layered mid-tones that make for a very enjoyable listening experience. While the company does recommend that you use it with a good amp/DAC, it does not require an amp/DAC — you shouldn't have any trouble powering it if you plug it directly into a PC or laptop. It offers an excellent gaming experience, despite lacking the digital processing and effects you might see in other gaming headsets.
The LCD-GX features large, circular over-ear earcups and a comfortable suspension headband design. It comes with both a boom microphone cable and a standard cable, so you can use it as a headset for gaming or as a pair of headphones for listening. It also comes with a heavy-duty, locking travel case, which fits all of its accessories and is perfect for protecting your $899 investment. It's definitely not for everyone — its open-back design especially means it's not ideal for anyone who's gaming around others — but it's a great pick for audiophiles who also happen to be gamers.
Read: Audeze LCD-GX Review
Best Budget Gaming Headset
SteelSeries has given its entire headset line an Arctis Nova redesign, including its budget-priced $60 Arctis Nova 1. The Arctis Nova 1 sports the same 40mm custom drivers as does its higher-end siblings — the Arctis Nova 3 and 7 — and costs just a fraction of the price.
The Arctis Nova 1 is a wired analog headset with a slim, lightweight plastic frame and large, comfortable over-ear earcups. It has a bidirectional noise-canceling microphone that fully retracts into the left earcup, so it's stylish enough to wear away from your PC as a pair of lifestyle headphones. It comes with both single and dual 3.5mm audio cables, so it can connect to devices with combined and separate headphone/microphone jacks.
At $60, it's a steal considering the excellent audio quality and the versatility of the design. But if $60 is still a little too pricey, the Asus TUF Gaming H3 headset is another excellent budget-friendly choice that can usually be found for around $40 or less.
Read: SteelSeries Arctis Nova 1 Review
Best Lifestyle Gaming Headset
Featuring a (surprisingly) understated all-black design with nary a hint of RGB or external microphone in sight, Razer's new Barracuda Pro Wireless headset looks more like a pair of lifestyle headphones from Sony or Bose than it does a gaming peripheral. And that's kind of the point — Razer calls the Barracuda Pro Wireless a "hybrid gaming & street" headset.
It's got a lot going for it on the lifestyle side. The minimal plastic design is less premium than we'd like, but it does contribute to the headset's light weight and overall comfort — if Razer is looking to compete with Sony and Bose, it's basically there in the comfort department. It's not quite there in the ANC department, though it's not too far off. The Barracuda Pro Wireless has three levels of ANC, as well as a pair of integrated beamforming noise-canceling mics. Audio quality is very good, thanks to 50mm custom drivers, as is microphone quality — the mics do a good job of picking up your voice and minimizing background noise and should be fine for most gamers.
The Barracuda Pro Wireless is designed to be used with multiple devices; it comes with a 2.4GHz wireless USB-C dongle and has built-in Bluetooth, and can connect to both simultaneously. It can't use both connections simultaneously, however — unlike the SteelSeries Arctis Nova Pro, which mixes audio from both connections — you'll need to switch between devices using a dedicated "SmartSwitch" button on the right earcup.
Ultimately this hybrid headset leans a little more lifestyle than gaming — Razer rates its battery life at 40+ hours, and it even comes with a sturdy carrying case — which makes it a great option for those who are torn between dropping cash on lifestyle headphones or a gaming headset.
Read: Razer Barracuda Pro Wireless Headset review
Best Bluetooth Gaming Headset
The Creative SXFI Air Gamer offers a lot of functionality of the Corsair Virtuoso RGB Wireless XT but at a much cheaper price. If you want cans that you can connect to your PC via a reliable cable and switch to or add a Bluetooth connection simultaneously, this is the best headset for you.
Creative's offering differs from the Virtuoso RGB Wireless XT in appearance and its lack of a wireless dongle. If you're okay with that, you get a headset that can use a 3.5mm or USB connection and pair with your phone or other Bluetooth device at the same time. The best part is that the audio quality is on a premium level, including superior bass reproduction, and is fit for your favorite games as well as watching movies or listening to music. Just remember that with Bluetooth comes latency, so for competitive PC gaming you'll want to plug this headset in.
The SXFI Air Gamer also goes a step further by offering not one, not two, but three microphones. You get a small, detachable, bidirectional mic and a larger one, plus the integrated omnidirectional mic on the earcup. This lets you prioritize quality or portability, depending on your situation.
Read: Creative SXFI Air Gamer review
Best Bluetooth Gaming Headset Splurge
Many gamers prefer gaming with a dongle connection rather than Bluetooth for speed and reliability, but if you're looking for the option to save a port or connect to two devices at once, the Corsair Virtuoso RGB Wireless XT is the best gaming headset for you. The Virtuoso RGB Wireless XT lets you connect via 3.5mm, the included USB Type-A cable, a wireless dongle or Bluetooth with aptX. And like the Creative SFXI Air Gamer above, with these cans you can connect to two different devices simultaneously via dongle and Bluetooth. This is a boon for productivity, and will let you hear your game with the dongle as well as music or notifications from your phone, so you'll never miss a thing.
Out of the box, the headset is geared toward gaming, with sounds like zombie wails and enemy wingbeats standing out. For music, you'll probably want to download Corsair's software and switch the EQ. Once we found our preferred setting, we enjoyed more natural mids and punchy, but not overpowering, low-ends.
But with comfort that makes the headset feel lighter than cans with less weight to them and a mature, versatile and stylish design, including 10 headband adjustments, the Virtuoso RGB Wireless XT is a premium, wireless option for gamers.
Want a cheaper wireless gaming headset? Consider the dongle-only SteelSeries Arctis 7.
Read: Corsair Virtuoso RGB Wireless XT review
Best Gaming Headset for Virtual Surround Sound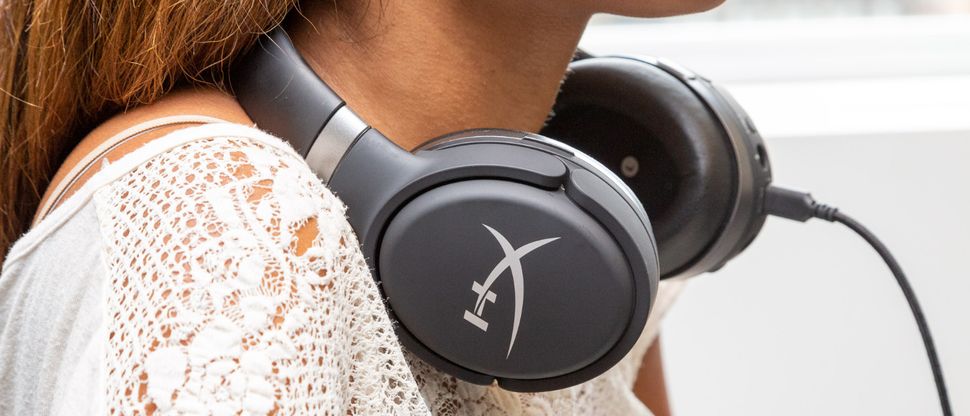 The HyperX Cloud Orbit S is, indeed, expensive, but its premium sound quality and featureset makes it the best gaming headset for splurging. The cans give you a discernible gaming advantage, thanks to its customizable 3D mode with head tracking. When you're gaming with head tracking, the location of your enemies is apparent, and the auditory environment moves with you.
You can also use head tracking for your game controls, which frees up your hands for more action. (For another head tracking option with premium features, check out the similarly priced JBL Quantum One).
There are lower-priced headsets with true surround sound (instead of the Orbit S' virtual surround sound) and wireless capability. But the Orbit S, which bears the same cozy memory foam headband and earpads as other headsets in HyperX's Cloud line, offers a gaming edge you'll actually notice.
We also love the versatility of this headset. In addition to supporting hi-res, virtual surround and 3D audio, you can use the headset with a 3.5mm jack, USB Type-A port or USB Type-C port.
Read: HyperX Cloud Orbit S review
Best Gaming Headset Mic
If you really want to sound good, you should probably pick up a standalone gaming microphone — most of the microphones on gaming headsets can't quite compete. But the new "HyperClear Super Wideband Mic" on Razer's BlackShark V2 Pro (2023) can — this 9.9mm condenser mic made us sound "better than we did in real life."

In addition to an upgraded detachable boom mic, the BlackShark V2 Pro (2023) sports 50mm drivers with a frequency response range of 12 - 28,000 Hz, a comfortable, lightweight frame with mesh-covered earcups, and built-in THX Spatial Audio. It's wireless, with both 2.4GHz wireless and Bluetooth connectivity (though it does not feature simultaneous audio-mixing), and boasts an impressive 70+ hour battery.

The BlackShark V2 Pro is fairly single-minded in its design, however — its audio profile is tuned for gaming, its stainless steel sliders, while reinforced, still feel a little flimsy, and it doesn't fold down, so it's not the best headset if you're looking for something travel-friendly. But if you're just looking for something to wear in front of your PC, this headset will make you look and sound great.

Read: Razer BlackShark V2 Pro (2023) review
Quick Gaming Headset Shopping Tips
Wired or wireless: Wired headsets are less expensive and don't need to be charged. If you typically game at your desk, a wired option will keep things cheap and simple — and it won't die on you mid-game. But there's no denying the convenience of a wireless headset, which lets you move around without being tethered to your PC.
2.4GHz or Bluetooth: If you do go with wireless, only a low-latency 2.4GHz wireless connection will be fast enough for competitive gaming. Bluetooth is still convenient for when you're not gaming, and is something to look for if you want your headset to double as a pair of lifestyle headphones.
Headband and earcups: Comfort is more subjective and difficult to measure than audio output/input, but it's probably the most important factor to consider when you choose your headset. Earcup material can make a big difference when it comes to both comfort and acoustic performance — leather/leatherette offers better passive noise isolation, while fabric is cooler.
Audio: In addition to detailed, accurate reproduction and good spatial resolution, the best gaming headsets can also connect to, and mix, multiple audio inputs.
Microphone: An external boom mic isn't strictly necessary, but will help pick up your voice (and only your voice) clearly. Of course, if you're planning on using this headset away from your PC, you'll want to make sure the boom mic tucks away or detaches from the headset.
Discounts on the Best Gaming Headets
Whether you're shopping for one of the best gaming headsets that we listed above or a similar model, you may find savings by checking out our lists of best Razer promo codes, best Corsair coupon codes and best Newegg promo codes.
MORE: Best Wireless Gaming Headsets
MORE: Best Gaming Keyboards
MORE: Best Gaming Mouse