When you spend so much time building PCs and picking out the best gaming monitor, gaming keyboard and gaming mouse, it's easy to overlook the importance of the chair you use to navigate that setup. For PC gamers, sitting in the best gaming chair can add some personality to your gaming den and, more importantly, provide support to key areas like your back and shoulders, which are often neglected by cheaper furniture. When you're sitting for large chunks of the day, your body needs just as much attention as your CPU, so you can focus on gaming and working rather than scheduling your next chiropractor visit.
But the best gaming chair may not necessarily be one that's marketed as a gaming chair. When you're using your computer to work or study, you need to ensure that you're sitting on something that's comfortable and right for you, even when you're not fragging with your friends or listening to Keanu Reeves in Cyberpunk 2077. Whether that means a bright gamer aesthetic, a more subdued look fit for conference calls, or a range of adjustments for when you need to lay back and regroup is all up to you.
Below, we break down the best gaming chairs we've tested, whether they're explicitly targeted at gamers or not. Before we get to the listings, here are some things to consider when shopping for a new gaming chair.
Shopping Tips to Help You Find the Best Gaming Chair
Why you can trust Tom's Hardware Our expert reviewers spend hours testing and comparing products and services so you can choose the best for you. Find out more about how we test.
Check the height and weight specs: If you don't fit the chair's recommendations or if you're a smaller person and notice the chair is geared toward the big and tall crowd, look elsewhere. Many gaming chairs and task chairs come in sizes to suit a range of heights and weights.

Watch shoulder and lumbar support: Chairs without enough backrest height and width to support your shoulders and lumbar region via a dedicated mechanism or pillow may leave you with soreness after a long day's work or play.
Mind your measurements: Some chairs provide measurements for the whole seat, which may be smaller than the measurement for the actual sittable area of the seat. Make sure the seat's point of contact is wide enough for your hips and how you like to sit.

Which adjustments do you need: Height adjustment is pretty standard, but you may also want to recline forward and/or backward, move the armrests in multiple directions or have the ability to rock. Recline may not seem as important for mouse-and-keyboard gamers, but if you ever plan to use a game controller you may find that you'd prefer a less upright, active position.

What material and look do you want? There are a lot of gaming chairs that look like racecar bucket seats and use faux leather (which won't necessarily last a long time). Real leather will be pricier, and mesh chairs can be harder to clean. If you want something that looks more subdued, consider chairs that may not claim "gaming" in their title.

Can it fit under your desk? If pairing your chair with a certain desk, make sure the chair's height and armrests will be able to fit under the desk, so you can push it in when not in use.
Best Gaming Chairs 2023
In 2021, Secretlab discontinued two of its chairs — including our longtime favorite, the Secretlab Omega — in favor of the multi-size option Secretlab Titan Evo 2022. The Titan Evo 2022 comes in three sizes (small, regular, and XL) to fit gamers ranging in height from 4'11" to 6'9" and weighing up to 395 pounds. The Titan Evo 2022 comes in either leatherette or fabric upholstery, and can be purchased in a range of colors and styles, including special editions from Esports, video games, movies, and TV shows.
The Titan Evo 2022 offers a complete range of adjustments, including a backrest that can sit from 85 to 165 degrees and a new 4-way knob-adjustable lumbar support system. Its faux-leather topped armrests move up, down, forward, backward, and turn diagonally inward and outward. They can also be moved to be wider or narrower relative to the seat, though this adjustment requires a screwdriver.
With its assortment of upholstery types and colors, multiple size options, and full range of adjustment options, the Titan Evo 2022 is a great gaming chair for a range of body types — which is why it's at the top of our list.
Read: Secretlab Titan Evo 2022 Review
---
The majority of gaming chairs take their inspiration from car seats — specifically, bucket-style luxury sport seats, which are primarily designed to hold your body in place inside a fast-moving vehicle. If you're looking for a chair that's primarily designed to support your body when it's not inside a moving vehicle and is instead parked in front of a PC, it really makes more sense to look at companies that make office chairs.
The Herman Miller x Logitech G Vantum is the first original collaboration from luxury office furniture maker Herman Miller and Logitech's gaming division. It features an "active, forward-leaning alignment," as well as adjustable lumbar support, passively-adaptive thoracic support, and a suspension backrest for breathability. It originally launched with a price of $995, but that's since been slashed to $795, which is still more expensive than the average bucket-style chair but not nearly as high as Herman Miller's regular line of task chairs.
The Vantum is an excellent gaming chair, especially for PC gamers. It feels sturdy and well-built, despite weighing less than 40 pounds. It's not quite as impressive as Herman Miller's standard line, but it does borrow its PostureFit lumbar support from the Aeron (which might be the most iconic office chair of all time). It's perfect for those who are looking for an ergonomic task chair, but it's not necessarily the best choice if you're looking for a typical gamer — it doesn't really recline (and it certainly doesn't recline flat, like many gaming chairs), and it only comes in one size.
Read: Herman Miller x Logitech G Vantum Review
---
At under $300, the AndaSeat Jungle is the best gaming chair we tested for gamers who don't want to break their back or the bank. A 1.5-inch-thick layer of memory foam prevents your body from sagging into the chair, and the foam lumbar support and neck pillows make it even harder to slouch.
Despite its more budget pricing, the Jungle offers breathable vinyl faux leather and the necessary adjustments for gaming and work. You get height adjustment, a rocking feature, recline from 90-160 degrees and height-adjustable armrests.
Those with wider hips or who just like to spread out, however, will lament the seat's narrowness. Make sure the 14.2-inch width is enough room for you, otherwise you won't last very long in this chair.
More: AndaSeat Jungle review

---
Cooler Master's Hybrid 1 gaming chair is so named because it blends the bucket-style gaming chair with a task chair — it has a wide, foam seat and racing-style wings, but features a breathable, mesh back with adjustable lumbar support. It also costs around half the price of the Herman Miller x Logitech G Vantum.
The Hybrid 1 isn't the most attractive chair on the market — the leatherette/mesh combo in particular makes for a disjointed aesthetic. But it's highly-adjustable and feels sturdier than the Vantum, with a wide, dense, foam-filled seat and an aluminum base. It also reclines to 180 degrees — that's right, completely flat — for those who are looking for a gaming chair they can take a nap in.
The Hybrid 1 offers the extra heft and adjustability of racing-style gaming chairs with the lumbar support and breathability of a task chair. If you're looking for a chair that will offer ergonomic support for both work and play, the Hybrid 1 is one of the more affordable options on the market.
Read: Cooler Master Hybrid 1 Review
---
Supporting gamers up to 441 pounds — or 330.7 pounds if you want to use the rocking feature — and 6 feet 10.7 inches, the AndaSeat T-Pro 2 is the best gaming chair for big and tall gamers who need a little extra room. It has a firm backrest with very little give combined with a seat (22.7 inches wide with the side bumpers, 16.5 inches without) that lets you sink in, making for a durable supportive chair that feels cozy while promoting good posture.
While many gaming chairs opt for faux leather, the Pro 2's linen upholstery feels a little rough but will fight off sweat better. You also get a foam lumbar pillow, plus a neck one that you can strap to the chair's head, but it's best for gamers at least 6-feet-tall.
Adjustments include the ability to rock, set the backrest at a 90-160-degree angle and a 2.8-inch height range. The armrests can also move up/down, forward/back, left/right and turn in 45 degrees. But they're a hard plastic that your elbows won't want to spend much time on.
If you're the right height to make the most of this chair, the T-Pro 2 will easily slide into your gaming room or even office, thanks to a range of color options (grey with black accents, steel blue with black accents or all black).
More: AndaSeat T-Pro 2 review
---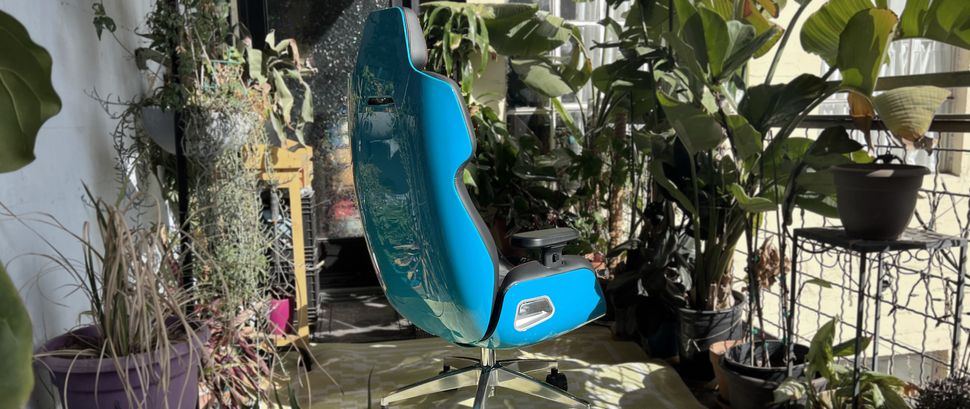 A lot of gaming chairs look very similar (if not basically identical), but not Thermaltake's Argent E700. Designed by Studio F. A. Porsche, the Argent E700 features real leather upholstery with contrast stitching and a shiny, curvy ABS shell that comes in nine colors, including the striking 'ocean blue' we reviewed. If you're looking for a statement piece, this is it. Not only is the Argent E700 beautiful, its glossy shell is highly reflective — guaranteed to distract the eye from any extra clutter on your desk.
This chair looks fantastic, but looks aren't everything. The Argent E700 is definitely less adjustable than many of its competitors (to be fair, gaming chairs often go a little over the top when it comes to adjustments — I don't necessarily think you need a chair that reclines to a lying-flat position). It reclines, but only locks at four positions: 107, 113, 119, and 126 degrees. It has a headrest that slides vertically, and 4d armrests that don't lock in position — and so end up moving around and clacking pretty often. It doesn't have built-in lumbar support, though not many do (many come with pillow, which can be bought separately). The chair also has relatively firm padding, and a seat that, while not overly narrow, has rigid measurements.
The Argent E700's $1300 retail price is very steep, even for the high end of the gaming chair market. This chair is priced more in line with high-end task chairs, which is exactly what describes the other chairs we've reviewed in this price range. But while chairs like the Herman Miller X Logitech G Embody Gaming Chair are zeroed in on ergonomics, the Argent E700 really is mostly about looks — and it looks amazing.
More: Thermaltake Argent E700 Review
---
Yes, the X-Chair X3 ATR Mgmt is expensive, but with configurable options that let you build a chair that fits your body type, it's an investment in comfort. Primarily, the X3 ATR Mgmt blows most other gaming chairs' approaches to lumbar support away by ditching the clunky pillow or adjustable firmness with a tension mechanism that properly adjusts to your size and lower back shape.
The X3 ATR Mgmt comes with a lot of optional features that can add to its price, from the massage/heat features we tested to the headrest and your choice of foam. The configuration we tested lets us work and play for hours without any back or body aches; although, the armrests could be a little softer. Those armrests can move up/down, forward/back and twist in/out. The seat's also movable, as is the height, and the backrest and recline from 90-130 degrees.
Most people don't need the $100 heat and massage feature add-on, which you can power via your PC or a battery pack. It feels nice on the lower back but isn't very strong. You can also consider the X-Chair Elemax, which packs heat, massage and active cooling.
For another splurge-worthy gaming chair with impressive arm rests and office chair ergonomics, check out the Mavix M9.
More: X-Chair X3 ATR Mgmt review
---
Razer's first gaming chair, the Razer Iskur, puts most of its eggs in the lumbar support basket. It's got an extremely unique form factor among gaming chairs, with a hanging pillow attached to the backrest that's supposed to help support you better than other options. It's great for the company, then, that this gamble has mostly paid off.
While the lumbar support pillow can be highly sensitive to screw tightness, it's adjustable, robust and versatile. More than a simple memory foam pillow, it's wide and has the same comfortable yet firm pleather cushioning as the rest of the chair. It also hangs off the backrest so that it can conform to your spine, and you can control the angle it hangs from with a lever.

The lever can be hard to reach, but the mechanism itself works great. Our reviewer appreciated how it helped enforce proper posture over long gaming sessions, something that a lot of gaming chairs, especially those based on bucket seat style racer chairs, don't focus on.

Even in those chairs that do focus on ergonomics, lumbar support is often either an afterthought or an add-on. If you want a chair that puts your spinal health front and center, the Razer Iskur is for you.
More: Razer Iskur review
---
Savings on the Best Gaming Chairs
Whether you're shopping for one of the best gaming chairs on our list above or a similar model, you may find savings by checking out our lists of Razer promo codes, Newegg promo codes or Best Buy promo codes.