Quick List
The list in brief
1. Best Overall
2. Best Customizable
3. Best Budget
4. Best Ergonomic
5. Best Splurge
6. Best Looking
7. Best Mesh
8. Best for Big and Tall
9. Shopping Tips
When you spend a ton of time building a PC and picking out the best gaming monitor, gaming keyboard, and gaming mouse, to go with it, it's easy to overlook the chair you'll be using to navigate your setup.
A great gaming chair does more than just add personality to your battle station: it provides support for your back, hips, and shoulders, which are often neglected by cheaper furniture. Your body needs as much attention as does your CPU (and it's a whole lot easier to replace the latter than it is to replace the former).
That said, the best gaming chair isn't necessarily going to be one that's marketed as a gaming chair. Many gaming chairs feature the heavy, aggressive, bucket-style aesthetic associated with luxury sports cars, but it's task chairs that are ergonomically designed for sitting at a desk for hours at a time — and we're seeing more and more gaming chairs that look like they were ripped from an office building rather than a race track.
Quick List
Best Gaming Chairs 2023
Why you can trust Tom's Hardware Our expert reviewers spend hours testing and comparing products and services so you can choose the best for you. Find out more about how we test.
Best Gaming Chair
The majority of gaming chairs take their inspiration from car seats — specifically, bucket-style luxury sport seats, which are primarily designed to hold your body in place inside a fast-moving vehicle. If you're looking for a chair that's primarily designed to support your body when it's not inside a moving vehicle and is instead parked in front of a PC, it really makes more sense to look at companies that make office chairs.
The Herman Miller x Logitech G Vantum is the first original collaboration from luxury office furniture maker Herman Miller and Logitech's gaming division. It features an "active, forward-leaning alignment," as well as adjustable lumbar support, passively-adaptive thoracic support, and a suspension backrest for breathability. It originally launched with a price of $995, but that's since been slashed to $795, which is still more expensive than the average bucket-style chair but not nearly as high as Herman Miller's regular line of task chairs.
The Vantum is an excellent gaming chair, especially for PC gamers. It feels sturdy and well-built, despite weighing less than 40 pounds. It's not quite as impressive as Herman Miller's standard line, but it does borrow its PostureFit lumbar support from the Aeron (which might be the most iconic office chair of all time). It's perfect for those who are looking for an ergonomic task chair, but it's not necessarily the best choice if you're looking for a typical gamer — it doesn't really recline (and it certainly doesn't recline flat, like many gaming chairs), and it only comes in one size.
Read: Herman Miller x Logitech G Vantum Review
Best Customizable Gaming Chair
In 2021, Secretlab discontinued two of its chairs — including one of our longtime favorites, the Secretlab Omega — in favor of the multi-size option Secretlab Titan Evo 2022. The Titan Evo 2022 comes in three sizes (small, regular, and XL) to fit gamers ranging in height from 4'11" to 6'9" and weighing up to 395 pounds. The Titan Evo 2022 comes in either leatherette or fabric upholstery, and can be purchased in a range of colors and styles, including special editions from Esports, video games, movies, and TV shows.
The Titan Evo 2022 offers a complete range of adjustments, including a backrest that can sit from 85 to 165 degrees and a new 4-way knob-adjustable lumbar support system. Its faux-leather topped armrests move up, down, forward, backward, and turn diagonally inward and outward. They can also be moved to be wider or narrower relative to the seat, though this adjustment requires a screwdriver.
With its assortment of upholstery types and colors, multiple size options, and full range of adjustment options, the Titan Evo 2022 is a great gaming chair for a range of body types — which is why it's at the top of our list.
Read: Secretlab Titan Evo 2022 Review
Best Budget Gaming Chair
The Boulies Master chair is a hybrid of office and gaming chair — heavy on the "office," — which means it won't look out of place in a more professional setup. It comes in either water-repellent fabric (charcoal or ash gray) or leatherette, and costs just under $400 (currently on sale for $359), making it an excellent budget pick for best gaming chair.
Don't be fooled by its relatively affordable price tag or its less gamer-y aesthetic — the Master chair is about as adjustable as they come, with a backrest that reclines a full 90 degrees, a tilt mechanism, adjustable lumbar support, and height- and width-adjustable armrests. It also comes with a neck pillow for extra support.
Perhaps the biggest drawback of the Boulies Master chair is its overall size — we often look at the maximum height/weight a chair is designed to support (the Master supports users up to 6'2" and 298lbs), but not at the minimum height/weight they're designed to support. The Master chair's minimum height is listed at 5'5", so smaller users should stay away.
Read: Boulies Master Chair Review
Best Budget Ergonomic Gaming Chair
Cooler Master's Hybrid 1 gaming chair is so named because it blends the bucket-style gaming chair with a task chair — it has a wide, foam seat and racing-style wings, but features a breathable, mesh back with adjustable lumbar support. It also costs around half the price of the Herman Miller x Logitech G Vantum.
The Hybrid 1 isn't the most attractive chair on the market — the leatherette/mesh combo in particular makes for a disjointed aesthetic. But it's highly-adjustable and feels sturdier than the Vantum, with a wide, dense, foam-filled seat and an aluminum base. It also reclines to 180 degrees — that's right, completely flat — for those who are looking for a gaming chair they can take a nap in.
The Hybrid 1 offers the extra heft and adjustability of racing-style gaming chairs with the lumbar support and breathability of a task chair. If you're looking for a chair that will offer ergonomic support for both work and play, the Hybrid 1 is one of the more affordable options on the market.
Read: Cooler Master Hybrid 1 Review
Best Gaming Chair Splurge
There's no question that the Herman Miller x Logitech G Embody is a splurge — at $1,495, it's one of the most expensive gaming chairs we've ever tested. And if you're wondering if it's really that different from Herman Miller's high-end task chair with the same name, it's not. Sitting in the Embody feels like sitting in a "really nice office chair," because that's what it is.
Herman Miller has made some gamer-friendly adjustments to the chair, including the addition of cooling foam in the seat to keep you from heating up while playing games (though if seat-heat is really a problem, you may want to go with a mesh chair such as the Asus ROG Destrier). The Embody features Herman Miller's BackFit spinal support, height- and width-adjustable armrests, seat depth adjustment, and a tilt limiter, but it doesn't recline the way many racing-style chairs do.
If you're looking for a chair you can take a nap in, this is probably not the chair for you. But if you're looking for a chair that will support your back and feel great while you're gaming (and not napping), the Embody is worth its $1,495 price tag.
Read: Herman Miller x Logitech G Embody Review
Best Looking Gaming Chair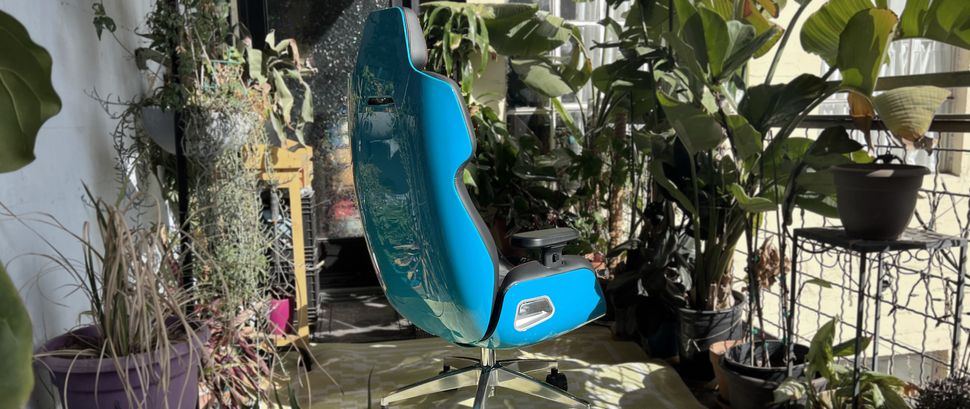 A lot of gaming chairs look very similar (if not basically identical), but not Thermaltake's Argent E700. Designed by Studio F. A. Porsche, the Argent E700 features real leather upholstery with contrast stitching and a shiny, curvy ABS shell that comes in nine colors, including the striking 'ocean blue' we reviewed. If you're looking for a statement piece, this is it. Not only is the Argent E700 beautiful, its glossy shell is highly reflective — guaranteed to distract the eye from any extra clutter on your desk.
This chair looks fantastic, but looks aren't everything. The Argent E700 is definitely less adjustable than many of its competitors (to be fair, gaming chairs often go a little over the top when it comes to adjustments — I don't necessarily think you need a chair that reclines to a lying-flat position). It reclines, but only locks at four positions: 107, 113, 119, and 126 degrees. It has a headrest that slides vertically, and 4d armrests that don't lock in position — and so end up moving around and clacking pretty often. It doesn't have built-in lumbar support, though not many do (many come with pillow, which can be bought separately). The chair also has relatively firm padding, and a seat that, while not overly narrow, has rigid measurements.
The Argent E700's $1300 retail price is very steep, even for the high end of the gaming chair market. This chair is priced more in line with high-end task chairs, which is exactly what describes the other chairs we've reviewed in this price range. But while chairs like the Herman Miller X Logitech G Embody Gaming Chair are zeroed in on ergonomics, the Argent E700 really is mostly about looks — and it looks amazing.
More: Thermaltake Argent E700 Review
Best Mesh Gaming Chair
The Asus ROG Destrier doesn't look like the typical racing-style gaming chair, nor does it look like an office or task chair. Featuring a "cyborg-inspired" aesthetic, the Destrier is an aggressively-styled all-black chair with a mesh seat, mesh backrest, and adjustable lumbar support. It also has a headrest and an optional "acoustic panel," designed to block distracting noise and keep you in the zone while gaming.
The Destrier's backrest doesn't lie flat, but it does recline to 135 degrees, with four lockable steps (at 90, 105, 120, and 135). It has 3D armrests that can rotate 360 degrees and are height-adjustable, but they don't lock in place — our reviewer found it was too easy to dislodge them by leaning against them, resulting in frustrating clacking and movement. The chair also features tilt, tension, and depth adjustments.
The Destrier definitely has a unique look, and it's not for everyone — but our reviewer loved it. The acoustic panel is a little gimmicky, but the chair's mesh suspension and lumbar support system are perfect for long, heated gaming sessions.
Read: Asus ROG Destrier Review
Best Gaming Chair for Big and Tall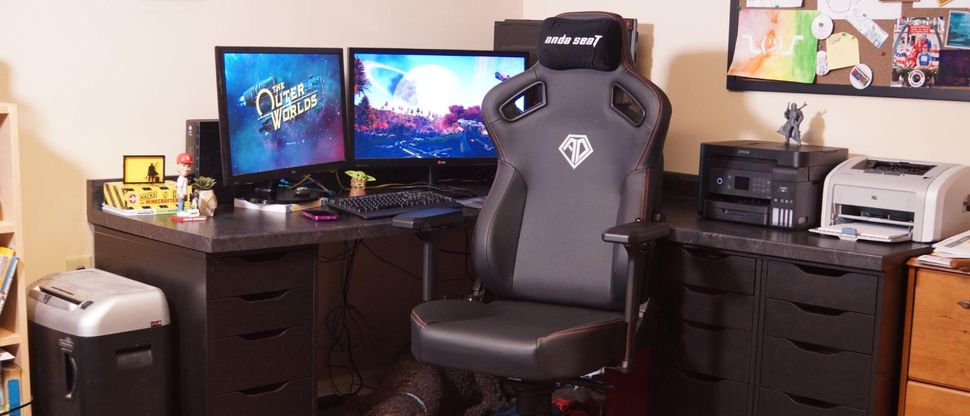 The AndaSeat Kaiser 3 comes in two sizes: large and XL. The large model fits people up to 6'2'' and under 260 pounds, while the XL model can accommodate people up to 6'9" and 395 pounds. We tested the XL version in black leatherette — the chair also comes in maroon, white, pink, teal, orange, and brown leatherette, or in black or gray linen upholstery.
The XL Kaiser 3 has a firm, padded seat that's 20.8 inches wide and 22.4 inches deep, and features a four-way adjustable internal lumbar support system and a backrest that can lie almost completely flat (165 degrees), as well as 3D magnetic armrests. It's highly-adjustable (the large version can accommodate people as short as 4'11") and comes with a magnetic neck pillow made of memory foam covered in a layer of cooling gel.
If you're looking for something just a little bigger, the AndaSeat T-Pro 2 is another excellent big-and-tall chair that accommodates frames up to 6'10.7" and 441 pounds (up to 330.7 pounds if you want to rock), but stock fluctuates.
Read: AndaSeat XL Kaiser 3 Review
Shopping Tips for Best Gaming Chairs
Shopping Tips to Help You Find the Best Gaming Chair
✅ Check the height and weight specs: If you don't fit the chair's recommendations or if you're a smaller person and notice the chair is geared toward the big and tall crowd, look elsewhere. Many gaming chairs and task chairs come in sizes to suit a range of heights and weights.
✅ Watch shoulder and lumbar support: Chairs without enough backrest height and width to support your shoulders and lumbar region via a dedicated mechanism or pillow may leave you with soreness after a long day's work or play.
✅ Mind your measurements: Some chairs provide measurements for the whole seat, which may be smaller than the measurement for the actual sittable area of the seat. Make sure the seat's point of contact is wide enough for your hips and how you like to sit.
✅ Which adjustments do you need: Height adjustment is pretty standard, but you may also want to recline forward and/or backward, move the armrests in multiple directions, or have the ability to rock. Recline may not seem as important for mouse-and-keyboard gamers, but if you ever plan to use a game controller you may find that you prefer a less upright, active position.
✅ Find the right aesthetic: There are a lot of gaming chairs that look like racecar bucket seats, use faux leather, and come in a variety of colors and themes. Faux leather won't last as long, but real leather is pricier. Mesh or fabric is more breathable, but can be harder to clean. If you want something that looks more subdued, consider non-gamer-oriented task chairs.
✅ Measure the rest of your furniture: If you're pairing your chair with a specific desk, make sure the chair's height and armrests will fit under the desk, so you can push it in when you're not using it. If you have a smaller space, it's also a good idea to make sure the chair's wheelbase will be able to fit through any narrow passages.
Savings on the Best Gaming Chairs
Whether you're shopping for one of the best gaming chairs on our list above or a similar model, you may find savings by checking out our lists of Razer promo codes, Newegg promo codes or Best Buy promo codes.