A mouse pad might seem unnecessary these days, especially when optical mice will (allegedly) work on just about any desk surface. But for gamers, a good mouse pad can be critical: a level, consistent surface that's optimized for smooth, accurate gliding might be just what you need to stay ahead of the enemy (or the competition).
Gaming mouse pads come in a variety of shapes and sizes. Some are pretty standard: designed to fit under your best gaming mouse — and that's it. But others are enormous, and can easily pad the space under your best gaming keyboard and more (some might be bigger than your desk, so double-check those measurements).
Many gaming mouse pads also feature RGB lighting, which might seem a little frivolous, but you're adding a peripheral anyway — it doesn't hurt to have it coordinate with the rest of your rig, right? And all RGB isn't the same, so if lighting is a priority you'll want something with bright, consistent colors and plenty of RGB zones.
We've come up with a list of the best gaming mouse pads worth giving up a USB port and moving everything on your desk for.
Quick Shopping Tips
Why you can trust Tom's Hardware Our expert reviewers spend hours testing and comparing products and services so you can choose the best for you. Find out more about how we test.
Mouse pads aren't that complicated, but there are some variables to keep in mind while you shop:
Material: Hard, plastic surfaces are more slippery, so your mouse will glide rapidly with little force from your hand. These are best reserved for more competitive gamers (or at least players with a mouse featuring DPI control). Soft, cloth mouse pads offer more precise pointer control, but may not be as quick as you'd like. You can also find hybrids, which are, well, hybrids. Hard and hybrid mouse pads will wear down skates more quickly than soft mouse pads.
Size: Mouse pads start small but come in a few sizes — the largest ones will take up your entire desk. Do you need a gigantic mouse pad? If you play games that require extreme precision and control — such as first-person shooters — you might want to consider a larger pad; precision is generally attained with a lower DPI, and a lower DPI means bigger hand/arm movements. You definitely don't want to run out of room when you're lining up a headshot.
RGB: RGB mouse pads are pretty, but they're powered via USB. This doesn't necessarily need to plug into your PC, unless you want to customize the pad's RGB with software (or have it coordinate with your other peripherals). Also, not all RGB is created equal. The number of RGB zones (not the same as the number of LEDs) will determine how complex the light show can get.
Cleaning: If you do more than just occasional snacking at your desk, make sure any mouse pad you choose is easy to clean. Smooth, slippery surfaces are easy to wipe down, while cloth pads usually need more care (although some are treated to be spill-resistant). You'll need to take extra care with RGB mouse pads.
The Best Mouse Pads You Can Buy Today
SteelSeries' QCK Prism is the overall best RGB mouse pad. Currently $40 (opens in new tab), it's not just a light show; the QCK Prism is well-fitted for serious playing. The square within the RGB border easily peels off, so you can swap between its hard polymer side for speedy gaming or micro-textured soft cloth surface for increased control. It's like two mouse pads in one.
When playing, the mouse pad felt solid and reliable, thanks to its heavier feel and thick rubber base that didn't move an inch, no matter how aggressive our mouse moved. However, we noticed the peel-off area sticking up slightly in the upper-right corner, which slightly cut into our view of that area's RGB. Additionally, the plastic side easily attracted fingerprints. Still, the dignified, rubber black border that frames the 12 RGB zones provides a clean look, proving you can have colorful lighting without sacrificing class.
The SteelSeries Engine (opens in new tab) software opens up waves of RGB customization options, but you can easily get a mesmerizing look without spending much time in the app. There are eight well-designed presets, including the sunrise-like 8:00 or the pink, orange and purple-themed Disco Mode. You also get reactive lighting around gaming scenarios, like low ammo or health with Dota 2, CS:GO and Utopia 9. There's also the ability to sync lighting with other SteelSeries RGB products. SteelSeries also makes an XL version of this mouse pad that's also on this page and a cloth-only version (opens in new tab).
---
The SteelSeries QCK Heavy offers many of the same benefits as the QCK Prism, minus the RGB and the reversible surface. In exchange, though, it's far more affordable and has a seamless border. SteelSeries also makes a standard QCK mouse pad that's a 1/3rd as thick, although we feel that the slight extra cost is worth the durability and stable surface you get with the Heavy.
Both the regular QCK mouse pad and the QCK heavy come with a micro-woven cloth that makes for easy but precise sliding and is hand washable. Decoration is light, with a small SteelSeries logo in the bottom left corner being the only thing to distract you from your game. A non-slip rubber base also keeps this mouse pad firmly rooted to your desk, and it didn't budge no matter how hard I moved my mouse during testing.

Our only gripe is that, because this mouse pad is so thick, it can take a bit of extra time to flatten out when you take it out of the box. That's not too much of an issue if you don't plan to move it a lot, but be careful not to keep it rolled up too long when travelling. We suggest placing a heavy weight on top of it overnight before you first use it.
A nice benefit to this mouse pad is that it should fit most desks, thanks to its various size options. We opted for the large size, which in practice is more of a medium. The square shape and reasonable height made it an easy addition to our test desk.
---
The Razer Firefly V2 is the most colorful RGB mouse pad we've tested. It has a whopping 19 customizable zones, and despite the thin lighting strips, the LEDs' brightness visibly outshined competitors.
The mouse pad is fit for competitive gaming with what Razer calls a "micro-textured" plastic surface that feels slightly rough and enables speedy mouse movements but easily gathers fingerprints and smudges. Razer's Firefly V2 is only 3mm thick, but its rubber base prevented any movement during gaming. Its cable catch, while a small detail, successfully kept our mouse's wire in check.
Razer Synapse 3 (opens in new tab), the detailed accompanying software, gives RGB tweakers full rein over all those lighting zones. You get brightness controls, seven presets, including a Reactive one that works with supporting Razer mice, and can sync the lighting with other Razer RGB devices. We also appreciate the toggle to "Switch off lighting when the display is turned off." The software's Chroma Studio (pictured above) function is where the more advanced customization occurs, with numerous effects layers and the ability to control the effects' cycling speed, duration and intensity. But its complexity means it'll take a longer to master than simpler apps.
---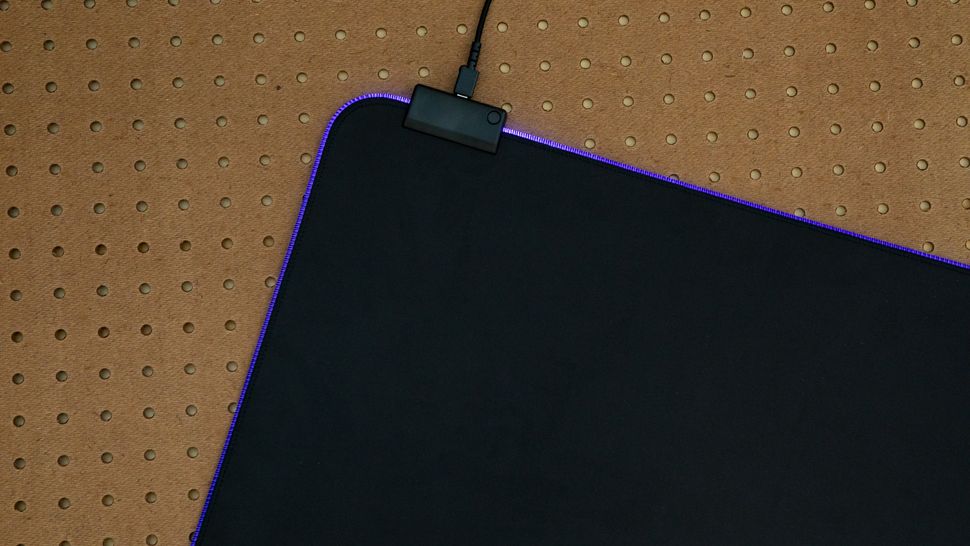 If you don't want to spend much on a mouse pad, the Cooler Master MP750 (M) features RGB lighting and is usually $25-$35, (though the price fluctuates (opens in new tab)). Cooler Master claims the finely textured cloth offers a "slick texture and smooth maneuverability." It was sufficient for the average game session during our testing, but didn't otherwise feel particularly special. It does have a spill-resistant coating: we spilled water on it and the large droplet rolled off and was easy to clean up with a tissue. It also features a detachable cable for when you don't need RGB.
The MP750 (M)'s RGB border shines pretty brightly. A handy button lets you cycle through static colors without opening software. Unfortunately, black stitching interrupts the RGB frame, and we're a little worried about getting things (such as jewelry) caught between the loops and causing damage.
Since there's only one RGB zone, there's not that much to do in the Cooler Master Master Plus (opens in new tab) software. There are four lighting modes — Color Cycle, Static, Breathing or off — and five speed settings via a toggle. Static and Breathing modes offer a color picker, but it wasn't always accurate. For example, we tried to make a peach/white breathing effect, and ended up with a white-ish purple flickering. The MP750 also comes in large (opens in new tab) and extra large (opens in new tab) versions.
---
The Razer Strider Chroma has a hybrid surface — harder and slicker than a cloth mouse pad, but with enough texture for controlled, precise movements. It's the best of both worlds, perfect for gamers who need both speed and control, and it's water-resistant and easier to keep clean than most cloth mouse pads.
The Razer Strider Chroma only comes in one size — extended, which is large enough to hold both your keyboard and mouse without covering your entire desk. The Strider Chroma has a thick, no-slip rubber base and looks fantastic on your desk with seamless edges (no visible stitching) and 19 zones of bright, Chroma-infused RGB lighting that can be customized in Razer's Chroma Studio with different colors and effects (including audio-reactive effects).
The main downside to the Strider Chroma is its price — with an MSRP of $130, it's practically like buying a keyboard or a mouse. But it's so beautiful it just might be worth it.
---
The HyperX Pulsefire mouse mat is HyperX's first RGB mouse mat in its rectangular XL size, and is easily the company's best RGB mouse pad for larger desks. At a spacious 35.43 x 16.54 x 0.2 inches, it's a little too big for some setups, but it's also a great way to cover as much of your desk as possible if you have the space. And at $50, it's got a cheaper MSRP than similar rectangular options from the likes of Steelseries and Thermaltake.
Construction is solid across the board here, with a textured cloth surface that gives you plenty of grip without feeling uncomfortable on your wrists and arms. The silicone shielding around the RGB-lit edge also means this mouse pad's corners aren't likely to fray anytime soon. Plus, the textured rubber on the mouse pad's underside means it won't slip around with your sweeping arm movements while you're gaming.
The RGB is a little less robust than we'd like. There are only two zones, and while you can select from a wide variety of patterns and colors, there's no integration with Discord and the list of games with special integration for HyperX's RGB software is pretty sparse. Still, the mouse pad's RGB touch sensor is a nice bonus, allowing you to easily cycle through 3 RGB presets without needing to dive into software.
Make sure to measure your desk before getting this mouse pad so it doesn't end up hanging over the edge!
SteelSeries' QCK Prism Cloth (XL) is the best large RGB mouse pad, coming in with a more reasonable length than the HyperX Pulsefire. Its "micro-woven" cloth surface stays in place thanks to a silicon rubber base, and its RGB lighting can be used as a gaming advantage, as it's programmable to communicate things like game alerts (low ammo or health, for example) and Discord notifications. Its extra-wide surface offers room to keep your best gaming keyboard (opens in new tab) on, but we wouldn't mind a little more height. With our keyboard and wrist rest in place, there's little vertical space remaining. Cooler Master's XL RGB mouse pad (opens in new tab) is 1.6 inches (40mm) taller.
The QCK Prism Cloth (XL)'s two-zone RGB border shines evenly throughout, but also has hard-to-miss clear stitching. Plus, we can easily wiggle the stitches, which isn't promising for repeated, aggressive gaming sessions.
SteelSeries' Engine (opens in new tab) software offers a decent range of customization options for the top and bottom RGB zones but not as many pre-made themes as with the reversible SteelSeries QCK Prism (opens in new tab) (listed above). You can control the speed in seconds and pick between Steady, ColorShift, Multi Color Breath, each with 3-4 pre-selected color schemes and the ability to control brightness. Among the large RGB mouse pads we've tested, none offer greater customization options than the QCK Prism Cloth (XL), which is even cheaper than some rivals.
Want even more mouse pad? We've also tried out the 3XL version of the QcK Prism Cloth, and it offers the same brilliance and functionality at 48 x 23.2 x 0.2 inches and $100 (opens in new tab). There are also 4XL (48 x 30 x 0.2 inches, $120 (opens in new tab)) and 5XL (63 x 31.5 x 0.2 inches, $150 (opens in new tab)) versions. Sadly, no matter the size, you still only get 2 RGB zones.
The Asus ROG Balteus Qi RGB mouse pad's vertical orientation will turn some gamers off. If you can find the space to accommodate it though, you'll get a lot of space to both move your mouse and wirelessly charge your device. The Balteus Qi can charge devices supporting Qi wireless charging at up to 10W. Some rivals, such as the Omen by HP Outpost (opens in new tab), are limited to 5W, meaning your phone will charge more slowly. My phone charged reliably in a vertical position with part of it hanging off the mouse pad's edge. There's so much room on the Balteus Qi, however, that this didn't interfere with gaming. The Armoury II app and indicator light on the mousepad's control hub quickly tells you if your device is charging and if it's filled up.
Speaking of the control hub, a button there lets you toggle through preset RGB effects or control brightness, depending on how you set it in the app. You get 9 preset effects, plus the ability to customize each of the pad's 15 RGB zones with its own separate preset effect. This includes "Static," which lets you pick your own color with a picker. The RGB gets incredibly bright. Even in the middle of the day while sitting perpendicular to a large window, I could easily see the light show on the pad's left and bottom sides, plus faint glowing from the remaining sides. With my curtains closed, the room was still far from dark, but the RGB came through brilliantly. At lower angles, you won't want to stare directly into the RGB for long.
Asus includes a USB 2.0 passthrough port, which requires a chunky, braided cable with 2 USB-A connectors. There's also the Micro USB to USB-A cable needed for Qi charging. All things considered, the Balteus Qi is best reserved for desktop users who can more easily keep all these cables out of sight and have more desk space.
The ROG Balteus Qi's hard plastic surface has a subtle texture to it, adding some sheen. It's extra slippery, which works well for gaming, but makes a scratchy noise during large mouse swipes or rapid movement. The rubber base underneath makes the pad hard to move when it's on a surface. It's also adorned with what Asus describes as an "ROG cyberpunk design" that actually looks pretty cool... except you'll almost never see it.
For a little cheaper, you can get the Asus ROG Balteus (opens in new tab), the same mouse pad but without wireless charging.
With its silver-colored faceplate with a frosted finish and 20 RGB zones, the Thermaltake Argent MP1 RGB is the best RGB mouse pad for those seeking a more stylish setup. It's hard plastic surface is visibly textured, and you'll have to endure a scratchy noise when moving your mouse around fast. But your mouse will still glide easily, probably resulting in you having less DPI. The Argent MP1 RGB takes some getting used to but can ultimately make long gaming sessions less exhausting.
Most of the bottom is generously covered in rubber. The mouse pad is thin but hard, and is surprisingly heavy at 1.7 pounds — it's not going anywhere. We'd like something a bit more durable than the standard rubber cable though, especially at the Argent MP1 RGB's price.
Thermaltake's iTake software lets you control the mouse pad's RGB zones, but the small window and tiny text make this a pain. And no matter how bright you set the RGBs, the top border of lighting is hard to see from a typical seated position, partially thanks to the protrusion of the silver baseplate. But the thick silver top provides a more unique look than more RGB could.
RGB isn't as bright as on the SteelSeries QCK Prism or Razer Firefly V2 but creates a nice glow on all three sides, even next to a very sunny window. In this setup, the furthest side was a little dimmer than the bottom and left side (our tester was right-handed), but there's still some visible color there.
iTake offers 9 preset RGB effects, with some offering a color picker with R, G and B values, preset patterns and speed, brightness and directional control. Like the Thermaltake Level 20 Extended Gaming Mouse Pad, the Argent MP1 RGB can provide CPU temperature information by depicting a specific color for up to 6 different temperatures and react to audio. You can store up to 6 different RGB profiles in the software.
For the RGB aficionados reading this page, you can make the Argent MP1 RGB look even more stylish by syncing it with other Thermaltake products supporting its RGB tech, TT RGB Plus. It's also supposed to sync with products supporting Razer's Chroma RGB, but we couldn't get that feature to work, (despite it previously working on the Thermaltake Level 20 Extended Gaming Mouse Pad).
The Thermaltake Level 20 Extended Gaming Mouse Pad is packed with features if you can stomach the $60 cost (opens in new tab). Our favorite was its ability to communicate CPU temperature range by making the lighting 1 of 6 colors. There's also a music setting, where the bottom left, top right and Thermaltake logo on the left flash respective colors in sync with audio from your PC. And voice assistant dependents will appreciate the ability to control RGB by speaking to an Amazon Alexa device. You can also do this through Thermaltake's well-functioning and thorough software
But besides its flash, there's substance. If you don't like hyper-slippery cloth mouse pads, the textured weave pattern Thermaltake used here is a fantastic balance. Thermaltake's extended mouse pad also provides 4 more inches of roaming room north to south than the SteelSeries QCK Prism Cloth (XL) above. It stays in place but notably takes in moisture from drinking glasses, leaving on a temporary damp mark. Visible stitching, meanwhile, makes damage easier. On the other hand, the mouse pad's surface fights off stains well (which we tested by eating many snacks over it).
If you have any Razer products using Razer Chroma, you can get the colors to sync for a nice touch. We got it to work nicely with a Razer DeathAdder V2 Mini mouse. But if you like customizing, you'll be frustrated with the inconsistency of colors selected in Thermaltake (or Razer Synapse) software. Trying to set it to a static yellow resulted in a multi-color effect that was mostly aqua green. The photo above shows what's supposed to be red on top and orange on the bottom. It still looks beautiful, but if you want accurate software customization, look elsewhere.
With how big mouse mats are, it's important that they don't just provide your mouse with a good surface to slide around on, but also your wrists with a comfortable surface to rest on. The Corsair MM350 knocks this out of the park. While it does come in a smaller, more pad-shaped size, we're recommending the mouse mat-sized, XL Extended version here so you can get the most out of that luxurious feel while not being too bothered by the seams at its edges.

While the mat's surface feels great — almost like a cooling pad — it does come decked out with a battle-damaged gunmetal gray pattern that won't be for everyone. This is a shame, as it's easily our favorite non-RGB mouse mat, and folks who are already avoiding RGB might prefer to have a plain version available.

Still, the slick-but-not-slippery surface and large size make it an excellent buy for function alone.
Why not pair the best gaming keyboard with the best wrist rest, and improve the experience with amplified comfort? Most keyboards come with hard, unpleasant wrist rests — if they come with one at all. If you're looking to give your typing experience a boost, the HyperX Wrist Rest is our favorite in this category.
With the smoothness of cooling gel wrapped around a core of memory foam, HyperX's wrist rest offers the perfect balance between softness and support. It has a subtle but stylish design featuring a black cover with bright red stitching and a nearly invisible HyperX logo. This will upgrade your typing experience no matter which keyboard you have.
Read: HyperX Wrist Rest hands-on (opens in new tab)
Finding Discounts on the Best RGB Mouse Pads
Whether you're shopping for one of the best RGB mouse pads or considering a model that isn't on our list, you may find some savings by checking out our lists of the latest Best Buy promo codes, Newegg promo codes and Micro Center coupons.
MORE: Best Gaming Mice (opens in new tab)
MORE: Gaming Mice Reviews (opens in new tab)