Quick List
The list in brief
1. Best Overall
2. Best RGB
3. Best Budget RGB
4. Best Hybrid Surface
5. Best Hard Surface
6. Best XL
7. Best XL with RGB
8. Best Wrist Rest
9. Shopping Tips
10. Discounts
A mouse pad might seem unnecessary these days, especially when optical mice will work on just about any surface. But if a great mouse is critical for serious gamers — a level, consistent surface optimized for smooth, accurate movements might be just what you need to stay ahead of the competition.
Gaming mouse pads come in a variety of shapes and sizes. Some are pretty standard, designed to fit under your mouse — and that's it. Others are enormous, and can easily pad the space under your best gaming keyboard (and more). Some might even be bigger than your desk, so double-check those dimensions before you buy.
Many gaming mouse pads also feature RGB lighting, which might seem a little frivolous — but if you're adding a peripheral anyway, it doesn't hurt to have it coordinate with the rest of your rig, right? But all RGB isn't the same, so if pretty lights are a priority, look for a mouse pad with bright, consistent colors and enough RGB zones to create seamless effects.
We've tested dozens of mouse pads over the years, and these are the best gaming mouse pads we've found, whether you want something for just your mouse or your entire desk.
The quick list
The Best Mouse Pads You Can Buy Today
Why you can trust Tom's Hardware Our expert reviewers spend hours testing and comparing products and services so you can choose the best for you. Find out more about how we test.
Best Mouse Pad for Most People
If you don't need RGB (does anyone need RGB?), the SteelSeries QCK Heavy is an extra-thick, non-RGB cloth mouse pad that comes in three sizes. SteelSeries also makes a standard QCK mouse pad that's one-third as thick as the QCK Heavy, but we feel the slight extra cost is worth the extra durability and more stable surface you get with the QCK Heavy.
Both the QCK Heavy and the regular QCK feature a micro-woven cloth surface that makes for easy but precise sliding, and are hand-washable. Decoration is light — a small SteelSeries logo in the bottom left corner is the only thing that might distract you from your game. The mouse pad has a non-slip rubber base that keeps it firmly rooted to your desk — it didn't budge no matter how hard our reviewer moved their mouse.
The only minor gripe with the QCK Heavy is that it's so thick that it can take a bit of extra time to flatten out when you first take it out of the box. This isn't too much of an issue if you don't plan on moving it a lot, but be careful not to keep it rolled up too long when traveling. We suggest placing a heavy book or weight on top of it overnight before the first use.
Both the QCK Heavy and the QCK should fit most desks, thanks to the various size options. Our reviewer tested the large size (17.7 x 15.7 x 0.24 inches / 450 x 400 x 6 mm), but the QCK Heavy also comes in medium and XXL, while the regular QCK comes in small, medium, large, 3XL, 4XL, and 5XL.
Best RGB Mouse Pad
If you're looking for RGB, the Razer Firefly V2 has it in spades. This ultra-colorful mouse pad has a whopping 19 customizable zones and its bright LEDs visibly outshine the competitors (despite the relatively thin lighting strips).
The mouse pad has what Razer calls a "micro-textured" plastic surface that's fit for competitive gaming. It feels slightly rough and enables speedy mouse movements, but it easily gathers fingerprints and smudges. The Firefly V2 is only 0.12 inches (3mm) thick, but its rubber base prevented any movement during our tests. It has a cable catch, which might seem like a small detail, but it successfully kept our mouse's wire in check.
RGB tweakers have full reign over the 19 lighting zones through Razer Synapse 3. You get brightness controls, seven presets (including a reactive one that works with supporting Razer mice), and you can sync the lighting with other Razer peripherals and devices. We also appreciated the toggle to "switch off lighting when the display is turned off." The software's Chroma Studio is where the more advanced customization occurs, with numerous effects layers and the ability to control effects' cycling speeds, duration, and intensity — but its complexity means it takes longer to master than simple apps.
Best Budget-Friendly RGB Mouse Pad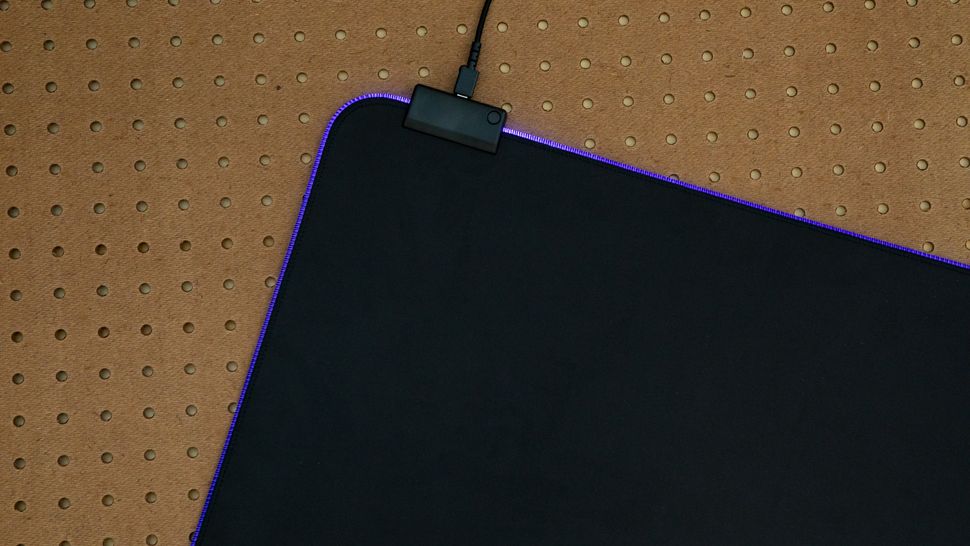 If you don't want to spend much on a mouse pad but you also don't want to give up flashy RGB, the Cooler Master MP750 (M) features RGB lighting and can usually be found for $20 - $35, though the price fluctuates. According to Cooler Master, the finely textured cloth offers a "slick texture and smooth maneuverability," but while it was sufficient for the average game session during our testing, it didn't otherwise feel particularly special. It does, however, have a spill-resistant coating: we spilled water on it and the large droplet rolled off and was easy to clean up with a tissue. It also features a detachable cable for when you don't need RGB.
The MP750 (M)'s RGB border shines pretty brightly. A handy button lets you cycle through static colors without opening software. Unfortunately, black stitching interrupts the RGB frame, and we're a little worried about getting things (such as jewelry) caught between the loops and causing damage.
Since there's only one RGB zone, there's not that much to do in the Cooler Master Master Plus software. There are four lighting modes — Color Cycle, Static, Breathing or off — and five speed settings via a toggle. Static and Breathing modes offer a color picker, but it wasn't always accurate. For example, we tried to make a peach/white breathing effect, and ended up with a white-ish purple flickering. The MP750 also comes in large and extra large versions.
Best Hybrid Surface Mouse Pad
The Razer Strider Chroma has a hybrid surface — harder and slicker than a cloth mouse pad, but with enough texture for controlled, precise movements. It's the best of both worlds, perfect for gamers who need both speed and control, and it's water-resistant and easier to keep clean than most cloth mouse pads.
The Razer Strider Chroma only comes in one size — extended, which is large enough to hold both your keyboard and mouse without covering your entire desk. The Strider Chroma has a thick, no-slip rubber base and looks fantastic on your desk with seamless edges (no visible stitching) and 19 zones of bright, Chroma-infused RGB lighting that can be customized in Razer's Chroma Studio with different colors and effects (including audio-reactive effects).
The main downside to the Strider Chroma is its price — with an MSRP of $130, it's practically like buying a keyboard or a mouse. But it's so beautiful it just might be worth it.
Best Hard Surface Mouse Pad
If speed is your top priority, a soft, cloth mouse pad is not for you — and even a hybrid mouse pad will slow you down. You need a hard, smooth, low-friction surface made of plastic, ceramic, aluminum, or glass, like our favorite hard surface mouse pad, the Razer Atlas.
The Atlas is Razer's first tempered glass mouse pad, and it's entirely analog — no RGB, no Razer Synapse, nothing. Its smooth, matte surface is micro-etched with 2μm texturing that's designed to work with optical sensors, and features an easy-to-clean oleophobic coating. The Atlas felt amazing and tracked perfectly with every laser and optical mouse we threw at it — though Razer recommends using a mouse with a Razer Focus Pro 30K Optical Sensor, such as the DeathAdder V3 Pro, of course. Its oleophobic coating offered just the right amount of friction (read: none) for maximizing speed without sacrificing precision.
Our main issue with the Atlas was its size — at 17.72 x 15.75 x 0.19 inches (450 x 400 x 5mm), and made of rigid glass, it's a little too large to easily fit on the average desk, as it can't be placed on uneven surfaces, nor are you supposed to put heavy, rough, sharp, hot, cold, etc. objects on top of it. Even just a little smaller would make this mouse pad an easier fit for the more deskspace-challenged.
Read: Razer Atlas Hands-On
Best XL Cloth Mouse Pad
With how big mouse mats are, it's important that they don't just provide your mouse with a good surface to slide around on, but also your wrists with a comfortable surface to rest on. The Corsair MM350 knocks this out of the park. While it does come in a smaller, more pad-shaped size, we're recommending the mouse mat-sized, XL Extended version here so you can get the most out of that luxurious feel while not being too bothered by the seams at its edges.

While the mat's surface feels great — almost like a cooling pad — it does come decked out with a battle-damaged gunmetal gray pattern that won't be for everyone. This is a shame, as it's easily our favorite non-RGB mouse mat, and folks who are already avoiding RGB might prefer to have a plain version available.

Still, the slick-but-not-slippery surface and large size make it an excellent buy for function alone.
Best XL Cloth Mouse Pad with RGB
The HyperX Pulsefire mouse mat is HyperX's first RGB mouse mat in its rectangular XL size, and is easily the company's best RGB mouse pad for larger desks. At a spacious 35.43 x 16.54 x 0.2 inches, it's a little too big for some setups, but it's also a great way to cover as much of your desk as possible if you have the space. And at $50, it's got a cheaper MSRP than similar rectangular options from the likes of Steelseries and Thermaltake.
Construction is solid across the board here, with a textured cloth surface that gives you plenty of grip without feeling uncomfortable on your wrists and arms. The silicone shielding around the RGB-lit edge also means this mouse pad's corners aren't likely to fray anytime soon. Plus, the textured rubber on the mouse pad's underside means it won't slip around with your sweeping arm movements while you're gaming.
The RGB is a little less robust than we'd like. There are only two zones, and while you can select from a wide variety of patterns and colors, there's no integration with Discord and the list of games with special integration for HyperX's RGB software is pretty sparse. Still, the mouse pad's RGB touch sensor is a nice bonus, allowing you to easily cycle through 3 RGB presets without needing to dive into software.
Make sure to measure your desk before getting this mouse pad so it doesn't end up hanging over the edge!
Best Mouse Pad Accessory
Quick Shopping Tips
Mouse pads aren't that complicated, but there are some variables to keep in mind while you shop:
Material: Hard, plastic surfaces are more slippery, so your mouse will glide rapidly with little force from your hand. These are best reserved for more competitive gamers (or at least players with a mouse featuring DPI control). Soft, cloth mouse pads offer more precise pointer control, but may not be as quick as you'd like. You can also find hybrids, which are, well, hybrids. Hard and hybrid mouse pads will wear down skates more quickly than soft mouse pads.


Size: Mouse pads start small but come in a few sizes — the largest ones will take up your entire desk. Do you need a gigantic mouse pad? If you play games that require extreme precision and control — such as first-person shooters — you might want to consider a larger pad; precision is generally attained with a lower DPI, and a lower DPI means bigger hand/arm movements. You definitely don't want to run out of room when you're lining up a headshot.


RGB: RGB mouse pads are pretty, but they're powered via USB. This doesn't necessarily need to plug into your PC, unless you want to customize the pad's RGB with software (or have it coordinate with your other peripherals). Also, not all RGB is created equal. The number of RGB zones (not the same as the number of LEDs) will determine how complex the light show can get.


Cleaning: If you do more than just occasional snacking at your desk, make sure any mouse pad you choose is easy to clean. Smooth, slippery surfaces are easy to wipe down, while cloth pads usually need more care (although some are treated to be spill-resistant). You'll need to take extra care with RGB mouse pads.
Finding Discounts on the Best Mouse Pads
Whether you're shopping for one of the best RGB mouse pads or considering a model that isn't on our list, you may find some savings by checking out our lists of the latest Best Buy promo codes, Newegg promo codes and Micro Center coupons.