Update 11/29/2020 07:04 PT:
This deal has now ended but there are more Gaming PC deals on offer.
Original article:
When it comes to Ampere graphics cards, the best deal you can find right now is one that's available. As of writing, it's almost impossible to buy a standalone RTX 30-series graphics card, and pre-builts with RTX largely require you buy directly from the manufacturer. This can be a good option, unless you find during customization that some parts are backordered or priced too high. But this latest offer from Newegg for a pre-built with a GeForce RTX 3070 and Ryzen 7 3700X is only $1,549 right now, making it a good way to get your hands on an Ampere card, plus a whole computer while you're at it.
We've been recommending the ABS Gladiator with a 2070 Super and i7-9700K on our Best Gaming PC Deals page for a while now, but this latest model makes stark improvements for only a couple hundred dollars more. While it does have a last-gen Ryzen 7 3700X CPU, it makes up for it with a GeForce RTX 3070, 16GB of DDR4-3000 RAM and a 1TB Intel NVMe M.2 SSD. Oh, and an RGB case with a transparent side panel, because of course.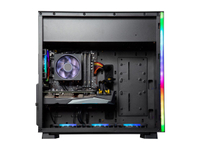 ABS Gladiator Gaming PC: was $1,599, now $1,550 @ Newegg
This model of the ABS Gladiator gaming desktop comes with the rare RTX 3070. It also has a Ryzen 7 3700X, 16GB of RAM and a 1TB M.2 SSD, making it plenty capable for VR too.
The key selling point here is the RTX 3070, which normally goes for $500 but is impossible to find except on the gray market right now, where auctions are ending at up to double that price. The RTX 3070 offers performance slightly ahead of the RTX 2080 Ti for less than half the price. For instance, in Shadow of the Tomb Raider at 1080p resolution at Ultra settings, the RTX 3070's framerates were 1 fps higher than the RTX 2080 Ti. So while there's a performance advantage, the new card isn't worth paying inflated prices.

But at $1,549 and including plenty of other parts, the ABS Gladiator is a strong option. The Ryzen 7 3700X currently sells for about $305, while a 1TB Intel M.2 SSD will run you about $115. Add in fans, memory, a case, motherboard and the labor needed to build a PC, and the price here starts to feel pretty reasonable.

Even pre-builts with RTX cards tend to sell out fast, and this deal's only active for the next 15 hours. So hurry if you're interested, and also be sure to check out our best Cyber Monday deals as we head into Thanksgiving week.
For more savings, check our list of best Cyber Monday deals overall, best Cyber Monday monitor deals, best Cyber Monday SSD deals, best Cyber Monday CPU deals, best Cyber Monday graphics card deals, best Cyber Monday laptop deals, best Cyber Monday gaming PC deals and best Cyber Monday Raspberry Pi deals.