As details about requirements for companies that receive funding enabled by the CHIPS and Science Act emerge, it's becoming clear that the act will not only boost the American semiconductor sector, but will also severely restrict investments in the Chinese chip industry by companies that receive money from the U.S. government. This will have drastic effects on Chinese foundries and memory makers, who will lose significant market share.
Wafer fab equipment makers from the U.S. already cannot supply tools that can be used to produce logic chips with non-planar transistors on 14 / 16nm nodes and below, 3D NAND with 128 or more layers, and DRAM memory chips of 18nm half-pitch or less. But the requirements for companies getting funds under the U.S. CHIPS and Science Act mean that these firms will not be allowed to invest in any of their fabs in China, according to a report by TrendForce. This will have a drastic effect on multinational companies like Samsung, SK Hynix, and TSMC, all of whom have large fabs in China and will likely apply for funding under the U.S. bill.
Currently, only SK Hynix makes DRAM in China, but it is unclear what production node it uses there. Samsung and SK Hynix manufacture 3D NAND in China on their 128-layer process technology, according to TrendForce. While this node is rather competitive today, as makers ramp up 3D NAND on more advanced nodes, 128-layer 3D NAND will be considerably less competitive in terms of costs. These companies have permission to install new tools in their Chinese fabs for now, but they will not be able to upgrade their fabs in China if they receive funding from the U.S. government. That means they will have to scale down production of memory in the People's Republic.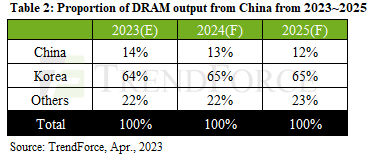 As a consequence, says TrendForce, China's share of the DRAM market will decline from 14% in 2023 to 12% in 2025, whereas the country's share on the 3D NAND market will drop from 31% in 2023 to 18% in 2025.

TSMC has a large fab in China that produces chips on its 28nm-class technologies. The company cannot upgrade this fab to make 16nm FinFET chips. Furthermore, it will not be able to expand the production capacity of its Fab 16 if it gets funding under the CHIPS and Science Act.

Meanwhile, the U.S. government plans to further tighten its restrictions against the Chinese semiconductor sector and intends to ban imports of equipment that can be used to make chips on 28nm nodes. This will hit not only TSMC, but also SMIC.
Furthermore, TrendForce claims that some fabless chip designers will move existing and new orders to Taiwanese foundries due to client pressure and risk minimization. Foundries like VIS and PSMC, which focus on mature production nodes, have greatly benefited from this trend already, according to TrendForce. The market research firm predicts that this shift will result in significant recovery for affected foundries that are currently affected by inventory adjustments of IC designers.
TrendForce claims that to avoid geopolitical issues, numerous U.S. firms are limiting the production areas for memory and storage products and are asking foundries to relocate their manufacturing plants away from China. TrendForce anticipates a scenario where two different production areas emerge: one consisting of Chinese fabs that mainly fulfill local demand and another consisting of fabs situated outside China that serve other markets.