Why you can trust Tom's Hardware Our expert reviewers spend hours testing and comparing products and services so you can choose the best for you. Find out more about how we test.
The AG276QZD lines up with Corsair's 27QHD240 and Asus' PG27AQDM in a direct comparison of 27-inch QHD 240 Hz OLEDs. I've also included Philips' 34M2C8600 and 42M2N89 plus Samsung's OLED G8.
Pixel Response and Input Lag
Click here to read up on our pixel response and input lag testing procedures.
Image 1 of 2
Pixel response takes on a different tone when comparing OLEDs to LCD. The OLED will be smoother for a given draw time because its image persistence, the length of time a pixel stays on, is much shorter than LCD. It's instantly clear when observing motion test patterns like the Blur Buster's UFO that the motion resolution of a typical OLED gaming monitor is much higher than an LCD running at the same refresh rate. So, though the OLEDs above have the same screen draw time as their LCD counterparts, the resulting moving image is far smoother. It is also free of trail artifacts, the telltale sign of overdrive in LCDs. The AG276QZD drew a full white field in 1ms more time than the Corsair and Asus monitors. But that difference is not visually apparent.
The AG276QZD had no problem keeping up in the input lag test where it beat the Corsair. The Asus has a slight processing speed advantage at 19ms of total lag. The AOC is, however, completely qualified for competition, professional or otherwise.
Test Takeaway: I have yet to see any OLED gaming monitor that didn't elevate the experience far beyond what other displays are capable of. Only 360 and 500 Hz LCDs can play in this arena, and they are currently limited to FHD resolution and 25-inch sizes. If you want super smooth and responsive play, the AG276QZD is a more than worthy addition to your gaming rig.
Viewing Angles
The AG276QZD has typical OLED viewing angles, which are excellent. At 45 degrees off-center, the picture is nearly unchanged. You can see a slight coolness in the photo, but this will be hard to spot in real-world content. The top view is also free of change. It's just as bright and detailed as the head-on view. Though 27-inch monitors are not often shared, an OLED is the way to do that if you must.
Screen Uniformity
To learn how we measure screen uniformity, click here.
My AG276QZD sample showed visually perfect uniformity when I measured a 10% full field pattern. There were no hotspots or glow. Color was also even-toned from edge to edge. As you can see, OLED excels in this area with far more consistent results than LCDs, in my experience. The Philips can be forgiven for its 10.9% score because it is much larger than the others.
MORE: Best Gaming Monitors
MORE: How We Test PC Monitors
MORE: How to Buy a PC Monitor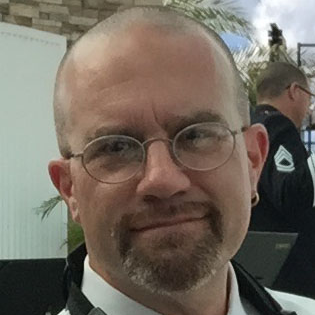 Christian Eberle is a Contributing Editor for Tom's Hardware US. He's a veteran reviewer of A/V equipment, specializing in monitors.
I love my LG CX OLED mounted about my two monitors for pretty much everything. Not even the faintest bit of burn in on it after 2+ years of use either. I set my desktop background to black with a taskbar that hides, and no shortcuts or folders displayed on it seems to do the trick. If i were ever to replace my 27 inch gaming monitor below my CX it would be with something like this.

Reply