The Philips Evnia 42M2N89 is nearly flawless as a gaming, entertainment and general use display. With reference-level color accuracy and stunning picture, it's sure to please anyone looking for a jumbo monitor.
Pros
+

Stunning image with deep contrast and vivid color

+

Reference-level grayscale, gamma and accuracy

+

Smooth and responsive video processing

+

Ambiglow lighting feature

+

Truly useful and flexible stand

+

Excellent audio quality
Cons
-

Under-saturated sRGB mode
Why you can trust Tom's Hardware Our expert reviewers spend hours testing and comparing products and services so you can choose the best for you. Find out more about how we test.
Undoubtedly, we are in the midst of an invasion, and it's a good one because it means more OLED monitors are appearing on desktops and in gaming rooms. Regarding ultimate picture quality, OLED panels deliver super-low black levels, tremendous contrast and saturated color. The self-emissive nature of OLED means there is no trickery involved, like with LCDs and their modulating backlights. While Mini LED has made significant strides with its many dimming zones, OLED remains the contrast king.
I've looked at a few smaller OLEDS recently, but Philips offered its 42-inch Evnia 42M2N89 for review. It's a full-fledged gaming screen with 4K resolution, 138 Hz, Adaptive-Sync, wide-gamut color and HDR. It isn't super bright but will top 485 nits in HDR mode. It also covers nearly all of the DCI-P3 gamut and has some of the most accurate out-of-box color I've ever seen. Let's take a look.
Philips Evnia 42M2N89 Specs
Swipe to scroll horizontally
| | |
| --- | --- |
| Panel Type / Backlight | Organic Light-Emitting Diode (OLED) |
| Screen Size / Aspect Ratio | 42 inches / 16:9 |
| Max Resolution & Refresh Rate | 3840x2160 @ 138 Hz |
| | FreeSync: 48-138 Hz |
| | G-Sync Compatible |
| Native Color Depth & Gamut | 10-bit / DCI-P3 |
| | HDR10 |
| Response Time (GTG) | 0.1ms |
| Brightness (mfr) | 135 nits SDR |
| | 450 nits HDR |
| Contrast (mfr) | 15,000,000:1 |
| Speakers | 2x 10w, DTS Sound |
| Video Inputs | 1x DisplayPort 1.4 |
| | 2x HDMI 2.1, 1x USB-C |
| Audio | 3.5mm headphone output |
| USB 3.2 | 1x up, 4x down |
| Power Consumption | 79w, brightness @ 200 nits |
| Panel Dimensions | 36.7 x 22.4-27 x 14.1 inches |
| WxHxD w/base | (932 x 569-689 x 240mm) |
| Panel Thickness | 3.1 inches (79mm) |
| Bezel Width | Top/sides: 0.2 inch (6mm) |
| | Bottom: 0.4 inch (11mm) |
| Weight | 38.1 pounds (17.3kg) |
| Warranty | 3 years |
The 42M2N89 is an RGB/W panel which means in addition to red, green and blue sub-pixels, there is an extra white pixel to help increase brightness. That is only somewhat effective as it is not the brightest OLED I've seen. The current field of 27-inch OLEDS from Corsair and Asus peak at around 1,000 nits in HDR mode, while this jumbo Philips managed 485 nits in my tests. So, it's not super bright, but it is bright enough. With incredibly low black levels, its contrast is tremendous.
Color is the 42M2N89's finest attribute. Philips claims 95% coverage of DCI-P3, and that's exactly what I measured. Straight out of the box, it delivers nearly perfect numbers with only tiny and invisible errors measured during testing. This is truly a unpack and go product with no tweaking required.
Philips' usual set of gaming and convenience features are all included. You get aiming points, a sniper mode, Adaptive-Sync and a reliable 138Hz refresh rate. The 42M2N89 is certified FreeSync Premium by AMD, but has not been certified by Nvidia. However, it runs G-Sync just fine over the DisplayPort 1.4 input. And it delivers the same smoothness I've observed from other OLED monitors. With no need for overdrive, it maintains high motion resolution and makes more of a given frame rate than a comparable LCD panel.
Philips' Ambiglow lighting feature is also included. I've found this useful during Philips monitor reviews because I can use it as a bias light. By setting the color to white and using a low brightness level, the glow reflected from the wall behind the panel closes my pupils enough to improve the perception of sharpness and contrast. This is something no other monitor manufacturer has in their products. Of course, you can also set Ambiglow to follow the sound and/or video, which creates quite the light show.
In addition to a beefy stand, you get a handheld remote that makes control a breeze. A KVM feature uses the many USB ports to provide easy connections for multiple systems controlled by a single keyboard and mouse. The 42M2N89 delivers a full-featured and quality package for $1,400.
Assembly and Accessories
Most monitors this large are packaged like televisions and stand on non-adjustable feet. The 42M2N89 is in every way a super-sized computer monitor, including the design of the stand. After freeing the contents from the crumbly foam, I bolted the base, upright and panel together using the included hardware and miniature Phillips-head screwdriver. The cable bundle has IEC power, USB-A, B & C, HDMI and DisplayPort. They're all finished in a light gray to compliment the white panel and base.
Product 360
Image 1 of 6
The 42M2N89 is an all-screen design with a bezel so thin you barely notice it when the power is on. The panel isn't super-thin like some OLEDs but at only three inches, it can be mounted on the wall using the included adapter bracket. The panel stands off enough to prevent blockage of the Ambiglow LEDs which are arrayed around the component bulge. In the back photo, you can see the OSD joystick and the input panel labels, which are in the traditional up-and-under location.
Inputs include a single DisplayPort 1.4, two HDMI 2.1 and a USB-C, which passes video at 3840x2160 and 138 Hz. There are four downstream and one upstream USB that are supported by KVM options in the OSD. You can bind them to different video inputs to control two systems from a single keyboard, mouse and screen.
The stand is really a jumbo version of the one found with most computer monitors. Typically, large screens like this include fixed feet or legs with perhaps a tilt adjustment. The 42M2N89 has full ergonomics, including a 120mm height adjustment, 5/15 degrees tilt, and 20 degrees swivel. There is no portrait mode.
The remote is handy and includes all necessary controls for OSD navigation, plus audio volume, input selection and picture modes. You'll want to keep it nearby because, ideally, the seating position will be too far away from the 42M2N89 to use the joystick.
In the side view photo, the bit on top of the upright is not a handle. Try to pick up the monitor by this piece of plastic, and you'll likely break it. It is a headphone hook. You can also see the hinged attachment point for the panel. I've seen this in all the Evnia series monitors and it is a weak point. Though it is metal and seems up to holding everything together, it is a little wobbly due to its relatively small size.
OSD Features
The 42M2N89's OSD has a game-oriented look with sub-menus along the top and signal info across the bottom. It includes nearly everything needed for gaming and convenience.
Image 1 of 9
The SmartImage menu has every possible image control except for RGB sliders. You can select from five gamma presets and even choose between DCI-P3 and sRGB gamuts. But the color temperature can only be changed using Kelvin value presets. Normally, I would be unhappy about this, but the 42M2N89 is so good out of the box that I can't complain. The accuracy here is quite impressive.
In GameMode, you can toggle Adaptive-Sync and engage an aiming point. The Smart Crosshair helps change color on the fly to maintain maximum contrast with on-screen content. The change is instantaneous, so you'll always be able to see the reticle. In this menu, you can also boost shadow detail and engage a sniper mode with three possible magnifications for the center of the screen.
The Ambiglow menu has many color and effect options for the LEDs in the back. I use this in Static Mode, color white, minimal brightness, as a bias light. But you can have the show follow audio, video or both for a super-fun light display that will impress your friends.
Philips takes audio seriously with DTS-tuned integrated 10-watt speakers and five different sound modes. Each has a distinct character achieved by variations in frequency response and phase. You can also adjust a five-band EQ if you want to tweak it manually.
The KVM feature can be used with the USB-B upstream port or the USB-C input. It's super easy to configure this for two different video sources like a PC and a console. Then, connect your controllers using the four USB-A ports on the bottom.
The 42M2N89 includes a pixel orbiter, screen saver and refresh functions to prevent burn-in. The refreshers run when the panel is in standby. I left the orbiter on all the time and never saw it working. The screen saver blanks the screen after a time of inactivity. The screen also dims after a few minutes when you aren't doing anything. Though OLED burn-in is possible, it is hard to achieve. I have a nearly three-year-old LG OLED TV showing no signs of image retention whatsoever.
Philips Evnia 42M2N89 Calibration Settings
If you were wondering, you can't calibrate the 42M2N89. But it's completely unnecessary as it hits all the marks right out of the box in the default Standard picture mode. My initial tests showed no visible grayscale, gamma or color errors. The native gamut is DCI-P3, and you can switch to sRGB with almost no effect on the other parameters. HDR is similarly precise and offers four additional picture modes. HDR Game is the default and best choice there. Below, I've listed the brightness settings for commonly used output level targets. Note that these were determined using 25% window patterns rather than full fields. Like all OLEDs, the 42M2N89 dims as the average picture level increases.
Swipe to scroll horizontally
| | |
| --- | --- |
| Picture Mode | Standard |
| Brightness 193 nits | 100 |
| Brightness 120 nits | 85 |
| Brightness 100 nits | 71 |
| Brightness 80 nits | 56 |
| Brightness 50 nits | 35 (min. 1 nit) |
| Contrast | 50 |
| Gamma | 2.2 |
| Color Temp | 6500K |
Gaming and Hands-on
As I review more OLED monitors, I find myself wanting one more and more. When a flat 16:9 4K example appears, I'll likely pull the trigger. The color, contrast and high motion resolution are truly addictive, and the 42M2N89 is no exception.
Its 42-inch size demands that the user make a reality check. You can't realistically sit two or three feet away from such a large screen. But if your space is large enough to let you sit four or five feet back, it's perfect. As compelling as 21:9 ultra-wides are, the extra height afforded by a jumbo monitor is a real enhancement to both work and play. Even up close, the pixel structure is not an issue. The 42M2N89 sports 106ppi which is only a tad lower than the 109ppi of a 27-inch QHD panel.
I never noticed any jaggies or other artifacts. Small text was crystal clear and enhanced by the 42M2N89's tremendous contrast. Blacks are true and deep and add to the sense of depth and dimension. Color is richly saturated and perfectly accurate. It renders a completely natural image that looks right in every respect. Based on my test results, I adjusted the brightness to its maximum and found that it was the right level for both work and entertainment.
A screen as big as the 42M2N89 needs to function as a television. You'd be missing out if you didn't watch movies on it. I was happy that it was compatible with all video frame rates, including 24p, 50p and 60p. That means you can watch movies and other content in their intended cadences with no processing. So, there won't be any judder or artifacts associated with frame rate conversion.
Of course, gaming is the 42M2N89's principal design intent so I spent many hours wading through enemies in Doom Eternal and exploring the lush jungles and ruins of Tomb Raider. Rendered games look incredible with detail and realism that's next level. Not only are highlights truly three-dimensional, but shadows are also deeply foreboding, and motion is super smooth. No matter how fast I moved the mouse, the image never broke up or became blurry. No LCD can match the gaming feel of the 42M2N89 or any other OLED I've tried.
Sound quality is on another level from typical integrated monitor speakers thanks to the extra space afforded by the 42M2N89's large chassis. Though there are only two speakers, sound stretches beyond the perimeter of the image to create a realistic sense of depth. Each sound mode has its own character, and I couldn't pick a favorite. I suggest trying them all to see which one fits your room the best.
I also enjoyed the Ambiglow feature as a bias light and its ability to follow sound and video. It would change speed and intensity as I moved through virtual environments, and it gave the impression that the screen was even larger than its physical size. This is a super-cool feature that only Philips offers.
Of special note is the 42M2N89's stand. Unlike other jumbo screens that just offer non-adjustable feet, the one here is an up-sized version of a traditional monitor stand. That means you can raise the panel up higher to create a centered eyepoint in the vertical position. This meant my peripheral vision was completely covered both horizontally and vertically. With a typical right-on-the-desktop placement, I'd have to sit lower to accomplish the same thing. That's another thing unique to Philips.
MORE: Best Gaming Monitors
MORE: How We Test PC Monitors
MORE: How to Buy a PC Monitor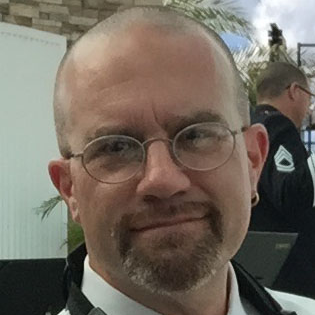 Christian Eberle is a Contributing Editor for Tom's Hardware US. He's a veteran reviewer of A/V equipment, specializing in monitors.