Best of CES 2023: Tech to Look Forward To
Innovative products signal a performant year ahead.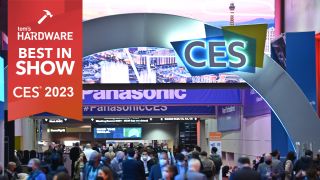 (Image credit: CTA)
CES is back! For the first time since 2020, there was a significant in-person show with lots of important exhibitors and products that our editors got to see with their own eyes. And, good news: not only was it a real show, but there were some really exciting new product announcements that set the tone for the year ahead.
Based on what we've seen, the next 12 months are going to see more advances not just in performance, but in the way we work and play. Faster SSD speeds, coupled with Microsoft's DirectStorage feature, will mean less waiting for levels to load as you proceed through your game. Faster GPUs and higher refresh rate monitors will make games more immersive and precise. A.I. features like Nvidia's video upscaling and Eye Contact will improve conferencing and streaming. And dual-screen laptops may finally be a thing that sticks.
At CES 2023, we saw new CPUs from AMD and Intel, new GPUs from AMD and Nvidia, the first PCIe 5.0 consumer SSDs and a plethora of eye-popping monitors. A number of new laptops were launched, with faster new processors and SSDs inside. There were also some interesting peripherals, accessories, cases and coolers.
These are the best products of CES 2023.
Best CPU: AMD Ryzen 7 7800X3D
After tough competition from Intel in the back half of 2022, AMD whipped the covers off of six new desktop CPUs at CES 2023, designed to bring more users to its AM5 platform. But the three Ryzen 7000X3D chips specifically are the best new chips revealed at CES. These processors leverage AMD's revolutionary 3D V-Cache, which uses cutting-edge chip stacking tech to boost gaming performance by increasing L3 cache to once-unthinkable amounts.
AMD's lone Ryzen 7 5800X3D model, which launched last June on the previous-gen AM4 platform came with only eight cores, had lower clock speeds than the standard chips, and used the company's previous-gen Zen 3 architecture - yet it still propelled the company to the top of our list of Best CPUs for gaming.
AMD's new X3D family brings the more modern Zen 4 architecture and broadens the stack out to 8-, 12- and 16-core models. All three of these models come with higher clock speeds than the previous-gen, which should help alleviate the tradeoffs in productivity apps we saw with the 5800X3D. The higher core count models will also offer up even more performance for the productivity minded.
Despite offering more options this time around, it's the eight-core, 16-thread Ryzen 7 7800X3D that stands out as the go-to model for gamers with this generation. AMD's reps tell us it will offer the lion's share of 3D V-Cache's gaming performance, but at a much more affordable price point than the other X3D models. We'll have to see things pan out in our benchmark testing, but it looks like the Ryzen 7 7800X3D will steal the performance crown back from Intel's Raptor Lake, when it arrives next month.
Read More: AMD Unveils Three Ryzen 7000X3D V-Cache Chips, Three New 65W Non-X CPUs, Too
– Paul Alcorn
Best Gaming Laptop: MSI Titan GT77 HX 13V
At first glance, the MSI Titan GT77 HX 13V isn't an obvious choice to win. Sure, it's powered by the most formidable parts Intel and Nvidia offer, but it doesn't have the 16:10 displays in 16 and 18-inch sizes that proved to be tremendously trendy in offerings from Alienware, Lenovo, Acer and even MSI itself.

But the Titan is chock-full of other cutting-edge technology that we deem more important for gaming than taller screens. It's one of the first gaming laptops we've seen with PCIe Gen 5 SSDs (the other being the MSI Raider). And the 17-inch, 4K display has a 144 Hz refresh rate and Mini LED with support for DisplayHDR 1000. Deputy Managing Editor Paul Alcorn was particularly impressed with the image quality when he saw it in person.

The rest of the Titan's specs read like a kitchen sink pleasing features. You get a Cherry MX keyboard, a 99.9 WHr battery and a claim from MSI that the Titan will run the Core i9-13980HX on all eight P-cores at 5.2 GHz.

This all starts at $4,299.99 and tops out at over $5,299, but at CES we can dream, right?
Read More: MSI Has Some of the First PCI Gen 5 Gaming Laptops
– Andrew E. Freedman
Best SSD: MSI Spatium M570 Pro
PCIe 5.0 SSDs have finally arrived! After months of teases, we finally have a blazing-fast drive that's coming to market for purchase later and appearing in laptops. The MSI Spatium M570 Pro promises squential read and write speeds of 12,000 and 10,000 MBps. And on a test desktop at MSI's suite, we saw it had returned rates of more than 12,000 and 11,000 on CrystalDiskMark.
The Spatium M570 Pro is powered by Phison's E26 controller, which we thoroughly tested on an engineering sample this week, paired with Micron's speedy 232-layer NAND. To keep it performing at its highest possible speeds, MSI uses vapor chamber plate, paired with a finned aluminum heatsink under a snazzy-looking geometric shroud.
MSI will be selling the Spatium M570 Pro in 1TB, 2TB and 4TB capacities, with the first drives due to ship in Q2. The drive will also be a configuration option in MSI's Raider GE78 HX and Titan GT77 HX laptops.
Read More: MSI PCIe 5.0 SSD Debuts with 12 GBps Reads, 10 GBps Writes
– Avram Piltch
Best High-Refresh Rate Gaming Monitor: Asus Swift Pro PG248QP
The monitor wars are getting absolutely outrageous, and Asus is leading the charge with its newly announced Swift Pro PG248QP. While the Alienware AW2524H hits a 500 Hz refresh rate when overclocked (480Hz native), the Swift Pro PG248QP pushes the envelope all the way to 540Hz (OC). That's stepping into new territory for gaming monitors and pushing the boundaries of what current graphics cards can output (not to mention what the human eye can perceive).
To reach these dizzying refresh rates, Asus adopted a TN panel. Of course, viewing angles and color reproduction won't be able to match the best IPS panels on the market, but the Swift Pro PG248QP is clearly aimed at enthusiast gamers that want the absolute best performance. In fact, Asus says that its eSports TN (E-TN) panel offers 60 percent faster response times than traditional TN panels.
In addition, the 24-inch Swift Pro PG248QP features a retractable "claw style" stand to free up space on your desk, Nvidia's Reflex Latency Analyzer, G-Sync support and an integrated ESS Quad DAC with minimal audio latency. Although an exact on-sale date hasn't been announced, the Asus Swift Pro PG248QP is expected to carry an MSRP of $899.
Read More: Asus Announces 540 Hz, 49-inch 5K and 27-inch OLED ROG Gaming Monitors
– Brandon Hill
Best Laptop: Lenovo Yoga Book 9i
With two 13.3-inch OLED screens on a 360-degree hinge, the Yoga Book 9i is exactly the kind of laptop designed for CES. It's a bit out there, but full of potential.

The design is reminiscent of the canceled Surface Neo, with a detachable Bluetooth keyboard and two separate displays, but is larger. This dual-screen device is powered by Intel's 13th Gen Core i7-U15 processor, with up to 16GB of LPDDR5X RAM and either 512GB or 1TB of PCie SSD Gen 4 storage.

An included stand allows the Yoga Book 9i to be used a bit like a desktop with two screens, either placed on top of each other or side-by-side in a vertical orientation. A bunch of specialized gestures to control the screen behavior, including making them act as one, are promising. It's a different take on all-screen laptops than others Lenovo and Asus have made that use a single, folding panel. And likely less prone to display problems over time.
Deputy Managing Editor Paul Alcorn tried the Yoga Book 9i at CES and found the gestures intuitive and helpful, while the hinge felt really sturdy and the screens appeared bright and colorful. However, he noted that both halves were about the same weight, which is unusual compared to a normal laptop where the base is heavier.
It's possible that in long-term use, it will be clunky. But right now, we're intrigued by the possibilities the Yoga Book 9i introduces to our workflows. Lenovo has a true first here, and we're incredibly curious to check it out.
Read More: Lenovo Yoga Book 9i Has Two 13-inch OLED Screens
– Andrew E. Freedman
Best Gaming Monitor: Asus ROG Swift OLED PG27AQDM
OLED panels are slowly finding their way into more gaming monitors, and Asus has brought the high-end panel technology to a smaller, 27-inch monitor. The ROG Swift OLED PG27AQDM (that's quite a mouthful) features a WQHD (2560 x 1440) display with a 240Hz refresh rate and a 0.03 ms response time.
The ROG Swift OLED PG27AQDM promises to cover 99 percent and 135 percent of the DCI-P3 and sRGB color gamuts, respectively, and the OLED panel effectively gives the monitor an infinite contrast ratio. Asus also claims that the monitor offers 1,000 nits of peak HDR brightness.
Senior Editor Sarah Jacobsson Purewal saw the PG27AQDM at Asus's CES demo suite and was impressed by the very deep blacks. When you've got really dark black pixels, it makes the bright pixels on the screen appear so much more prominent and vibrant.
Some rather curious additions to Asus' latest monitor are a custom heatsink and a large cooling vent designed to extract as much heat as possible from the panel. OLED longevity is always a concern with large screens, especially when they are displaying static content like menu bars or the Windows Taskbar. Asus says these design changes reduce temperatures by up to five degrees versus monitors with similar panels.
Finally, we can't discuss the ROG Swift OLED PG27AQDM without mentioning its styling. You won't mistake it for anything else but an Asus product, and you'll find plenty of RGB lighting on the front and back of the monitor. In addition, the monitor can project a ROG logo from its base for to add extra gamer bling to your desk.
Read More: Asus Announces 540 Hz, 49-inch 5K and 27-inch OLED ROG Gaming Monitors
– Brandon Hill
Best Portable Monitor: ViewSonic VX16-OLED
The portable monitor category is rapidly expanding, and we've seen some exciting new entries at CES 2023, like ViewSonic's new VX16-OLED. The portable monitor grabbed our attention due to it cramming a 4K resolution into a 15.6-inch form-factor, but as its name implies, it also uses an OLED panel.
OLED panels are notable for their inky blacks and excellent dynamic range. The VX16-OLED is rated to cover 100 percent of the sRGB and DCI-P3 color gamuts while maxing out at 400 nits (actually pretty good for a portable monitor, but we'll need to get it in-house to test that figure). The VX16-OLED is marketed as a productivity monitor, so the 60Hz refresh rate isn't too surprising.
The monitor features a lightweight metal chassis and a sturdy, built-in kickstand. The stand houses USB-C (DisplayPort Alt-Mode) and mini-HDMI connectivity for connecting to a laptop or desktop, although the sample that we saw at CES also included two USB Type-A ports as well for connecting additional peripherals. ViewSonic says that the VX16-OLED will launch during the second half of 2023, priced at around $400.
Read More: Viewsonic's Portable 4K Monitor is Sharp, Colorful and Stylish
– Brandon Hill
Best PC Case: Hyte Y40
There were lots of new PC cases announced at CES, but many were modular or customizable, with details lacking about what pieces and materials would be available for sale and when. Hyte's Y40, meanwhile, is an attractive case with loads of attention to detail, and it's already on sale for $149, in your choice of white, black or red.
An iteration on the company's wildly popular Y60 case that debuted at the show last year, the Y40 cuts a corner – or rather quite literally adds one, by dropping down to just two glass panels for a right-angled front left corner, rather than the three glass panels on the Y60. You still get a panoramic view of your components, a slightly smaller footprint than its predecessor, and a $50 price cut–which is nice when you consider the fancy PCIe 4.0 GPU riser cable is still included.

Yes, there is still the question of airflow. You aren't going to get great thermals with a glass front and side, but the company includes an intake in the bottom (where one of the 120mm fans is housed), and the right front where you can fit up to two 140mm spinners.
We'd highly suggest adding more fans than the two 120mm that are included – especially if you're planning on adding a high-end GPU. The company says up to an RTX 4090 is supported. And if you can afford a 4090, you can afford a couple extra fans to keep thermals under control while you gaze at your pricey components through those two pretty glass panels.

Read More: Hyte's Y40 PC Case Is More Compact, Still Offers Panoramic Views of Your PC Parts
– Matt Safford

Best Concept: Dell Concept Luna
Dell's Concept Luna was first shown off in late 2021 as a push toward easily repairable, serviceable and recyclable laptops, held together by just four screws. But just a year later at a CES event, the company showed just how far the concept has come.
A representative pushed a pin (like a SIM card eject tool) into a small hole above the keyboard, popped off the top panel and began disassembling the laptop down to its core components in a matter of seconds – no other tools needed. And after a bit of explanation, the process was reversed and the slim, attractive, XPS 13 Plus-like laptop was together again and booting happily into Windows.
Forget screws, there were barely even any wires here, save for the screen's ribbon cable. Everything locked together like Lego blocks, in a way that makes the Framework Laptop's assembly look overly complicated – which it really isn't.

The point of Concept Luna? Dell is envisioning a world where laptops get shipped back to the company and individual parts can be replaced, reused or recycled. Dell even had robots on display scanning and replacing parts in the laptop (albeit slowly). Of course, this could save Dell a lot of money if, say, it could reuse perfectly-fine components like speakers, fans or keyboards in new or serviced laptops–particularly at a corporate scale. But it would also obviously drastically cut e-waste from the corporate product stream, which is good for everyone.

To us though, there's something else great about Concept Luna: It proves the company can make a slim, lightweight and attractive laptop that's insanely easy to service and upgrade. We'd love to see the company bring this impressive engineering to the consumer space and give us a svelte ultrabook that we could take apart in a few minutes and install a new motherboard / CPU, add more RAM or storage, or upgrade the screen–all without reaching for a screwdriver.
Sure, there's no indication that Dell plans to do this. But Concept Luna is proof that it can, and has already done much of the work to make it happen. That makes the company's latest iteration of its once-iconic XPS 13, complete with both soldered RAM and storage, all the more disappointing.
Read More: Dell's Concept Luna Is a Snap-Together Laptop With No Screws, Few Wires
– Matt Safford
Best Webcam: Razer Kiyo Pro Ultra
When you're a game streamer, YouTuber or content creator, you want to look your best. Razer's $299 Kiyo Pro Ultra promises some of the best imaging you can get from a webcam. It can record at up to 4K 30 fps or 1080p 60 fps and even has an HDR mode. The Kiyo Pro Ultra has a Sony 1/1.2-inch Starvis 2 sensor that Razer claims is the largest image sensor ever in a webcam, along with an F/1.7 aperture lens to let in low light.
When we visited Razer's CES suite, we saw really good image quality coming from the camera and we were happy to see its built-in physical privacy shutter. You just twist the round camera and the eye closes.
The Kiyo Pro Ultra also uses AI-powered face tracking to keep your face centered. And it has an onboard processor for transcoding video on the fly.
Read More: Razer Kiyo Pro Ultra has the Biggest Sensor Ever Put in a Webcam
– Avram Piltch
Best Cooling: Thermaltake Swafan EX12 / EX14
Thermaltake's Swafan EX12 and EX14 are the Burger King of case fans. These 120 or 140mm RGB fans come three to a pack and attach to each other magnetically via pins, so you only need to run a data / power cable to the first one. Then the kit lets you have it your way, providing two different blades per fan, one for blowing air into the case and another for expelling it.
In our visit to Thermaltake's suite, we were impressed with how solidly the fans connected and, perhaps more importantly, with how easy it was to snap the blades in and out to change the airflow. These fans also come with 20 addressable RGB lights each, so they can give you quite a light show while keeping your components cool.
Read More: Thermaltake's Magnetic Fans Let You Swap Blades
– Avram Piltch
Best Keyboard: Asus Azoth
At a CES with lots of keyboards, Asus's Azoth with just a little bit extra. The wireless clacker checks all the standard boxes: space-saving 75 percent layout, RGB light show, Bluetooth / 2.4 GHz / USB-C connectivity and a customizable control wheel.
But the Azoth isn't just made for gamers; it's for keyboard enthusiasts as it features a noise-dampening gasket-mount design, prelubed switches and PBT double-shot keycaps with shortened stems to prevent key wobble. It even comes with a switch lubing kit so you can relube the switches to your satisfaction.
On top of all that, the Azoth has a small OLED screen that can show custom images or status information, such as your remaining battery life or wireless connectivity. It almost goes without saying that the Azoth also felt really good when we typed on it.
Read More: Asus Targets Keyboard Modders with Latest Clacker
– Avram Piltch
Join the experts who read Tom's Hardware for the inside track on enthusiast PC tech news — and have for over 25 years. We'll send breaking news and in-depth reviews of CPUs, GPUs, AI, maker hardware and more straight to your inbox.