Nvidia vs AMD vs Intel: Last 12 Months of GPUs Are Disappointing
Looking back now that most of the new generation has launched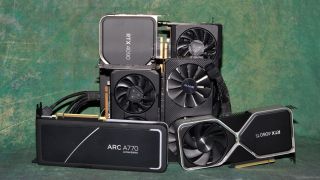 (Image credit: Tom's Hardware)
It's been a busy year for the best graphics cards, as well as cards that don't quite make the cut. Not counting third-party cards, we've had fourteen "latest generation" consumer GPUs launched over the past year from the three big players. (There are also rumblings of various new GPUs from China, but all indications are that those won't be competitive with the incumbents any time soon.) As the dust clears, we wanted to take a look back and provide some thoughts on how things have gone down and revisit the recent launches now that we've seen the full breadth of the product stacks.

To say that this generation has been a disappointment sums up how most people are feeling. There are some great cards, like the RTX 4090, but it's priced out of reach of most gamers. Everything below that generally feels overpriced, underperforming, and/or cut specs too far. There are a few exceptions, GPUs that poke above the crowd for one reason or another, but even then there are caveats.

To quickly recap, Nvidia launched the first of its RTX 40-series Ada Lovelace GPUs on October 12, 2022 with the RTX 4090. Then it followed with the RTX 4080 in November, skipped a month and brought out the RTX 4070 Ti (aka the rechristened RTX 4080 12GB) in January, and more recently, the RTX 4070, RTX 4060 Ti, and RTX 4060. Now we've completed the set with the RTX 4060 Ti 16GB — slightly late to the party, but it's done.

For its part, AMD hasn't filled in all of the gaps with the new RDNA 3 RX 7000-series GPUs yet, though it's widely expected that we'll see the RX 7800-class and RX 7700-class GPUs in the next month or so. (AMD has stated more "enthusiast" GPUs are coming in Q3, which ends in September.) So far, we only have the RX 7900 XTX and RX 7900 XT at the top, and the RX 7600 at the bottom, with the previous generation RX 6000-series holding down the high-end and budget forts.

Finally, Intel started shipping its Arc Alchemist GPUs in the U.S. about a year ago, with the Arc A380 blazing trail and clearing out some major driver issues. The Arc A770 and Arc A750 came next, followed by the Arc A770 8GB variant, but the A580 has quietly disappeared. That's it for the Alchemist generation, but Intel has focused a lot on improving drivers and performance, and we'll hopefully see the next generation Battlemage sooner rather than later — it has a tentative 2024 launch window, but Intel isn't commenting on any precise dates yet.
Every GPU launch ends up being a snapshot in time, often one done under an extreme time crunch. Typically, we'll get briefed on the new GPU about two weeks in advance of the launch, with hardware arriving about ten days ahead of the embargo date. It's hectic, to say the least. The "top-down" approach to new GPUs also muddies the waters, as we can only compare new products to what is currently available.

The RTX 4060 Ti 16GB launch gives you a good idea of why sampling and embargoes happen. Due to supply (and maybe demand), even though the cards officially launched on July 18, we couldn't acquire a card at retail until over ten days later. A previously scheduled vacation further delayed things, and our full review was finally posted a month "late." With no embargo on testing and no hardware sampling, this would become the norm.

But that delayed approach gives us more time to reflect, and with nearly all of the cards now on the table, trends and expectations become much clearer. The latest generation hardware has been pretty weak from a consumer perspective, with only a few exceptions.

We don't change our scores after reviews go live unless there's some major mistake. So when we gave the RTX 4090 a 4.5-star score, that's what we stand by. I actually feel that's still the right score, but going down through the rest of the product stack, plus looking at GPUs from the competition, my feelings have changed and solidified over time, given the new GPU landscape. So let's go through each GPU and provide our thoughts about where it currently sits. We also have performance results from our GPU benchmarks hierarchy, plus retail pricing data, which colors our opinions.
Swipe to scroll horizontally
Nvidia RTX 40-Series Ada Lovelace GPUs
Starting with Nvidia, the RTX 4090 reigns as the fastest graphics card, period. It excels at 4K and starts to hit CPU bottlenecks — even on our Core i9-13900K test PC! — at 1440p and lower. That's also why its average power draw looks so tame: at 1080p, the GPU ends up waiting on the CPU a lot and doesn't come anywhere near its 450W TGP (total graphics power) rating, but focusing just on 4K it averaged 394W across our test suite. It's expensive at $1,599, yes, but if you want the fastest graphics card that doesn't really compromise anywhere, this is the GPU to get.

Stepping down to the RTX 4080, it's not nearly as exciting as its bigger sibling. It's clearly faster than any previous generation GPU, but it costs nearly as much as the 4090 while cutting performance and specs quite a bit. At 4K, for example, the 4090 is 36% faster and costs 33% more — 45% more going by the current lowest-priced retail cards. This felt like a taste of things to come, with lower performance gains and higher pricing compared to the previous generation, and it was. We also would have preferred a 320-bit interface with 20GB of VRAM (double the 3080) rather than 16GB on a 256-bit interface. This now ranks as the second fastest GPU overall, but in our view, it's still priced about $200 higher than it warrants. It's simply too high for what you get.

The RTX 4070 Ti echoes the 4080 story: too expensive for relatively minor generation gains in performance — unless you really love DLSS 3 Frame Generation and want to drink the Kool-Aid. DLSS 3 is okay, but the feel of games, when enabled, doesn't match the supposed performance due to the AI interpolating of frames. It also only has 12GB when we would have liked 16GB, thanks to the 192-bit interface. That's been a recurring theme in RTX 40-series reviews. Priced $200 higher than the previous gen 3070 Ti, the performance uplift was good (around 50% faster), but the price increase mostly wipes out those gains (e.g. it's only 20% faster than a 3080 10GB and costs more).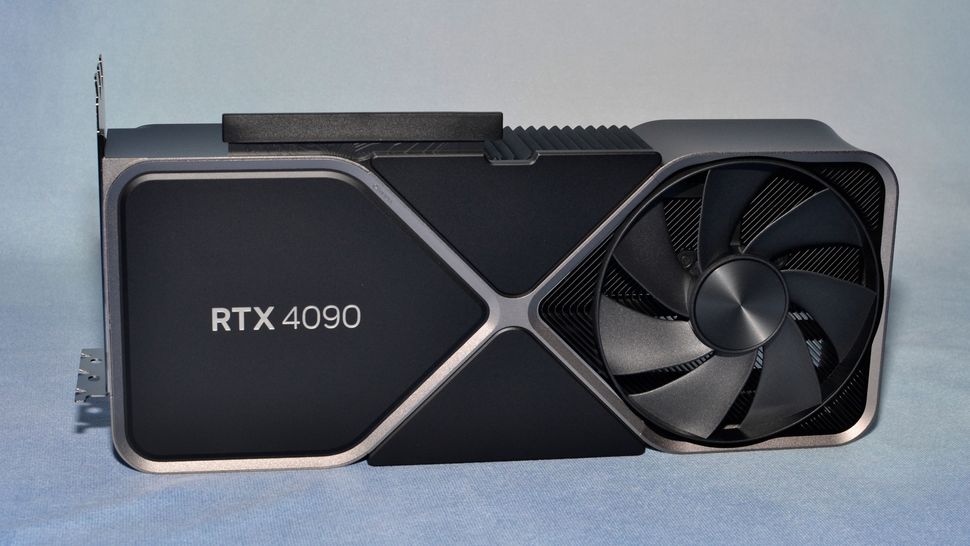 Nvidia's RTX 4070 at least feels like a move in the right direction. The generational price increase is now "only" $100, though performance is also "only" about 30% faster than the RTX 3070, or on par with the 3080. 12GB on a 192-bit interface also makes this more like a $500-class product, at most, but Nvidia opted to keep prices high. It's a better value than the 4070 Ti and 4060 Ti 16GB, but that's not saying much. This was supposed to be the chosen one, as the 970 and 1070 were great cards in their time, but instead of being at the lower end of the high-end price spectrum, it lands in upper high-end territory.

The RTX 4060 Ti 16GB easily ranks as the worst overall prospect for this generation of Nvidia GPUs. Unless you absolutely need VRAM capacity and not bandwidth (or compute), which might help with certain AI workloads, it's generally not much faster than the 8GB model below. It also takes the price point of the previous generation RTX 3070, and basically matches that card on performance. If this had been the standard 4060 Ti, priced at $399, it would have been far more palatable. Getting a 192-bit interface and 12GB of memory would have sealed the deal. As it stands, we don't recommend this card.

Cutting the memory in half and going with 8GB, the regular RTX 4060 Ti again feels like Nvidia tried to push a lower tier product into a higher tier naming and price category. Call this an RTX 4060 and price it at the level of the outgoing RTX 3060 and we could accept that. But the 128-bit interface and relatively minor generational performance gains — it's only 11% faster than the 3060 Ti — leave us wanting a lot more.

Finally, the RTX 4060 might still have some warning signs, like the 128-bit interface and 8GB of memory, but those are far more tolerable at $299 than at $399. Generationally, it's a 19% improvement over the 3060, and it costs $30 less. We don't absolutely love it, and it would have looked far better as an RTX 3050 replacement, but outside of the RTX 4090, this is arguably the best latest generation Nvidia GPU, with the 4070 ranking third.

Overall, nearly every RTX 40-series GPU feels like it's priced $100 to $200 higher than it should have been. That's likely at least partly a result of all the cryptocurrency mining and pandemic induced GPU shortages of 2021 and 2022. Demand has dropped, supply has improved, and pricing isn't terrible — even at the current prices, the 40-series GPUs today are all far better purchases than the 30-series was in mid-2021, where an RTX 3080 was typically going for $1,500! But it could have been better. Nvidia isn't concerned, though, as it's raking in billions from its AI and data center GPUs now.
AMD RX 7000-Series RDNA 3 GPUs
AMD only has three latest generation GPUs (for desktop) currently shipping, though at least two more are expected to land in the relatively near future. The RX 7900 XTX takes the halo spot, with a fully enabled Navi 31 GPU and the full complement of six MCDs (memory cache dies) providing 24GB of memory. That matches the RTX 4090, though performance on average is still 25% lower. The $999 launch price didn't feel too egregious, and now cards are selling for $949 (sometimes on sale for as little as $899), and this is still a compelling alternative from Team Red, but it's not a homerun.

Disabling a few cores and one MCD, the RX 7900 XT felt way too close to the XTX in pricing with its $899 launch price. Things are far better now, with cards starting at around $750. Across our full test suite (which includes a few demanding ray tracing games that heavily favor Nvidia), it goes head to head against the RTX 4070 Ti, but falls behind in the final metric. If you care more about memory capacity (20GB) and rasterization performance, though, this is a great alternative to Nvidia's GPU at a slightly lower price. We can't help but note that AMD managed to provide more VRAM in what is ultimately a similarly sized chip (counting MCDs and the GCD) than Nvidia, on the same 5nm-class process node (TSMC 4N is refined N5), all for a lower price.

The RX 7800 XT and RX 7700 (non-XT) are rumored to be coming in September. Based on what we've seen from the other RDNA 3 GPUs, we expect only moderately improved performance relative to the existing 6800 XT and 6700 XT. Prices remain an unknown, so we'll have to wait and see where these land.

The RX 7600 fills in the bottom of AMD's latest generation GPUs, and we're not sure there's room for a lower tier RX 7500 this round. Performance ends up being just slightly better than the previous generation RX 6650 XT, by about 3%. The current price is also higher, around $260 compared to $235, and power use is only slightly better at 150W versus 170W (those are our measurements, not the specifications). It's basically a lateral move for AMD at the budget-mainstream end of the spectrum and echoes a lot of the trends we saw from Nvidia: not enough bang for the buck.
Intel Arc A-Series Alchemist GPUs
Wrapping things up with Intel, we had hopes that the Arc A770 16GB would provide some much-needed competition to the GPU space. It arrived late to the party, with driver teething pains, but at least the pricing was reasonable. The 16GB cards haven't come down too much, still selling at $330 right now, and while we like the large quantity of VRAM, you'd be better off grabbing a discounted RTX 3060 — only slightly less performance, lower power, and the drivers are still better, all for less money. But we're still rooting for an upset from Battlemage when it arrives next year.

The Arc A770 8GB ended up stuck between the proverbial rock and hard place. Performance is close to the 16GB card, but so is the price — these start at $290 now, just $30 less than the full fat GPU. You still have some driver idiosyncrasies at times, though things have definitely improved, but if you're staring at the A770 8GB, look down to the next card for a much better pick. It's only a bit slower but costs a lot less.

Intel's Arc A750 launched at $289, then got an official price drop to $249, and right now it's selling for just $199 at Newegg. If you're interested in giving an Intel Arc GPU a shot, this one's a no-brainer: The Arc A750 represents the best value among graphics cards, with performance that matches the RTX 3060 and almost catches the RX 6700 10GB, for about $70 less. Yes, power use will be higher, and the drivers still aren't perfect. But with over 30 driver releases since Arc first appeared, the Arc experience today is much better than last year.

Last and perhaps least, we have the Arc A380. It was the scouting party for Arc, and it was poorly equipped when it got shoved out the door. The drivers were frequently broken, and the China-first launch to try and avoid negative publicity didn't help. Even with all the driver updates, performance remains somewhat questionable. But it's very inexpensive at just $100, and if you don't have high graphics requirements, it's worth a thought. The video encoding support is also good, if you're interested in that sort of thing.
Closing Thoughts
With fourteen GPUs launched, and probably at least two more to come — maybe even five if AMD does something below the RX 7600 and Nvidia dares to try making an RTX 4050 — plus all of the previous generation cards that are still readily available at often reasonable prices (at least for the RX 6000-series and a few lower tier RTX 30-series cards), there are a lot of choices for anyone looking to pick up a new graphics card. But most people gravitate toward the latest and "greatest" offerings, assuming they'll be better than what came before, so we've provided our thoughts on every current-generation card.

The GPU industry traditionally catered to gamers, but now supercomputing and AI are taking a lot of the demand and production at the high end. Cryptocurrency mining has died off, for the most part, but the effects of the last surge are still being felt. The result is that prices increased in most cases for the same level of hardware, sometimes without the expected bump in performance. It's been a generally disappointing cycle.

Outside of the top RTX 4090 and bottom RTX 4060 (for now?), Nvidia's latest cards haven't really won any friends among gamers. Sure, they're faster than the previous generation, but they also cost more. AMD hasn't really done any better, and Intel doesn't have a previous generation with which to compete — unless you want to somehow count integrated graphics. It was a similar situation back in 2018 with the RTX 20-series that often underwhelmed relative to their predecessors, but the 30-series attempted to correct that. And it would have succeeded if it hadn't been for those pesky crypto-kids!

Hopefully, history will repeat that pattern, and the next generation RTX 50-series, RX 8000-series, and Arc B-series parts will deliver much more compelling price and performance. For now, with over a dozen new GPUs arriving in the past year, few have managed to rise above the rest. Most aren't awful, but neither are they amazing. They're mostly milling around in the middle ground of mediocrity while we wait for more parts that are clearly better than average.

If you can't wait any longer, in our view, the best current options consist of the RTX 4090, RX 7900 XT, RTX 4070, RTX 4060, and Arc A750. Other new cards might scratch your particular itch, so that's by no means an exclusive list, but we're getting close to the half-way point for this cycle. If you haven't purchased a new GPU within the next few months, you're probably just as well off sitting back and waiting to see how the next generation fares.
Join the experts who read Tom's Hardware for the inside track on enthusiast PC tech news — and have for over 25 years. We'll send breaking news and in-depth reviews of CPUs, GPUs, AI, maker hardware and more straight to your inbox.
Jarred Walton is a senior editor at Tom's Hardware focusing on everything GPU. He has been working as a tech journalist since 2004, writing for AnandTech, Maximum PC, and PC Gamer. From the first S3 Virge '3D decelerators' to today's GPUs, Jarred keeps up with all the latest graphics trends and is the one to ask about game performance.