If $699 for an AMD Ryzen 9 7950X3D makes you balk at the thought of building a new gaming rig, then why not consider AMD's last-generation AM4 CPUs for a gaming build that won't break the bank.
One of the best CPUs for gaming, the AMD Ryzen 7 5800X3D is on sale for only $309 at Amazon (opens in new tab), and if you're lucky enough to live near a Microcenter store, you can get the 5800X3D for just $299.
With its groundbreaking 3D-stacked SRAM technology, the 5800X3D is enabled with a massive 96MB of L3 cache. Having 3D V-Cache allows the 5800X3D to have tremendous gaming performance. The chip still uses eight cores and 16-threads and is based on the same 7nm process and Zen 3 architecture as the rest of the 5000-series, but this chip was the peak for gaming on AMD's outgoing AM4 platform.
Average FPS at 1080p, 1440p, and Single/Multi-Threaded Applications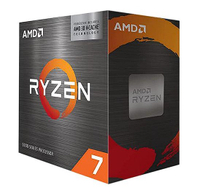 (opens in new tab)
AMD Ryzen 7 5800X3D: now $309 at Amazon (opens in new tab) with coupon (was $323)
The last hurrah for AM4, the 5800X3D is one of the best bang-for-buck CPUs for gaming. With 8-cores and 16-threads as well as its massive 96MB of L3 cache, this CPU is a great upgrade if you're already on the AM4 platform or looking to make a cost-effective build using last-gen hardware.
You can also read our review of the AMD Ryzen 7 5800X3D for more information on its 3D V-Cache and performance metrics in our test bench and on some of our gaming benchmarks. We gave the 5800X3D an Editor's Choice award for its price and performance at the time but still noted that this CPU is best as an out-and-out gaming CPU as it's not as competitive on normal desktop applications.
Looking for more deals?