Tom's Hardware Innovation Awards 2023: Game Changers
News
Contributions from
last updated
From modular laptops to morphing OLED monitors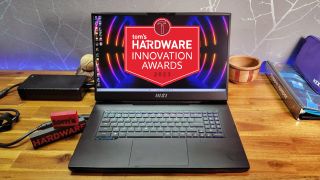 (Image credit: Tom's Hardware)
It's our job and our joy here at Tom's Hardware to test the latest products and tech, while sharing our benchmark results and experiences with our readers. From graphics cards and CPUs to gaming laptops, Raspberry Pi expansion boards, and fast 3D printers, lots of enthusiast hardware passes through our labs throughout the year. And while many of those products deliver great performance and are worth your money, comparatively few actually break new ground.
To recognize the real game-changing devices and the companies that design and build them, we present the second-annual Tom's Hardware Innovation Awards. The 25 products below all disrupt the market in some way and set a standard that others may follow.

In order to be eligible for consideration, products must have been either announced or shipped within the last year. While we tested many of the devices below – and linked to our reviews where available – some have not shipped yet and are included here based on their potential. Whether any untested products are worth your money is a question we'll have to answer in future reviews, but what we can say for all of the products and tech below is that they break out of the box in ways that are likely to shape the tech industry's future.
AMD Ryzen 7000X3D Series of CPUs (7800X3D, 7900X3D, 7950X3D)
Groundbreaking cache, record-breaking speeds
AMD's turbocharged Ryzen 7000X3D series leverages an innovative 3D-stacked slab of L3 cache to deliver unbeatable gaming performance. AMD's sole first-gen 3D V-Cache chip gave it a commanding win over Intel in our list of the best CPUs for gaming, but the tech resulted in significantly lower performance in some productivity workloads due to lower clock speeds, thus confining the chip to systems solely focused on gaming.
AMD circumvented that challenge with the second-gen models by expanding the range of Zen 4 X3D chips to three processors: the eight-core Ryzen 7 7800X3D, the 12-core Ryzen 9 7900X3D, and the 16-core Ryzen 9 7950X3D. These three chips all beat every Intel contender in gaming, but the higher core-count models bring the 3D V-Cache tech to those that want leading-edge gaming performance yet still need strong performance in productivity work.
These models use a single cache chiplet fused atop one of the two compute dies, thus preserving the higher boost clocks of the standard chiplet and adding extra cores to keep performance strong in heavy productivity work. This approach requires some software hand-holding to ensure workloads land in the right place, but AMD's new chipset drivers handle this transparently while also providing customization options.
The dual-chiplet models command a stiff premium, but the eight-core 7800X3D beats Intel's fastest gaming processor, the Core 19-13900K, at a much more affordable price point. This chip might not have quite the horsepower in productivity applications as its more core-heavy brethren, but it is the fastest gaming chip on the planet, bar none.
AMD's second-gen 3D V-Cache architecture takes the key advantage of chiplet-based design methodologies — using an older and less-expensive process node in tandem with expensive new process tech — into the third dimension: The second-gen 3D V-Cache technology leverages the less-expensive 7nm process node as a 3D-stacked cache die to boost the performance of its cutting-edge 5nm compute die, which AMD then places in a package with a 6nm I/O die. That's an innovative trifecta of process node technologies that, paired with cutting-edge packaging tech and transparent software, is simply impossible to beat — at least for now. Intel doesn't have a competing tech, so we expect AMD's Ryzen 7000X3D chips to remain at the top of our rankings for the remainder of the year.
Read: AMD Ryzen 7 7800X3D Review
– Paul Alcorn
Nvidia GeForce RTX 4090 Graphics Card
Incredibly powerful and packed with forward-looking tech
Nvidia's debut of the Ada Lovelace architecture threw down the gauntlet for what we can expect from a top-tier GPU. Yes, it's the fastest graphics card for gaming purposes, leading the next closest offering by 35% at 4K — that's the second-tier RTX 4080, if you're wondering. The RTX 4090 pummels AMD's closest rival, the RX 7900 XTX, by over 50%, and it's also over 60% faster than the previous generation halo part, the RTX 3090 Ti.

That doesn't even factor in DLSS upscaling, or the new DLSS 3 Frame Generation. It does include ray tracing benchmarks, another area Nvidia has upgraded substantially compared to the previous Ampere GPUs, with new technology like Shader Execution Reordering, Opacity Micro-Maps, and Displacement Micro-Meshes. The Cyberpunk 2077 RT Overdrive mode with full path tracing makes use of SER and OMM, and with DLSS 3 enabled the RTX 4090 can still cruise along at a comfortable 103 fps, or 65 fps without Frame Generation. The 7900 XTX with FSR2 upscaling managed just 16 fps.

But it's not just about gaming. For AI workloads like Stable Diffusion, the RTX 4090 can spit out 49 images per minute, compared to less than 13 images per minute with the RX 7900 XTX. That's at 512x512; running the newer 768x768 target with Stable Diffusion 2.1, initial results were 20 images per minute, compared to just three on AMD's card. That's because there doesn't appear to be a fully tuned model for AMD just yet, which is part of the story. Nvidia's GPUs are the de facto standard for most publicly available AI projects, and getting them running on non-Nvidia hardware can be an exercise in frustration. If you're interested in toying around with AI, an Nvidia GPU will be both faster and easier to get running.

The RTX 4090 doesn't come cheap, but considering the features and performance on tap, it remains the best choice for an extreme GPU. It's a no compromise, fast at everything solution. It can also use a lot of power, 450W or more in some workloads — enough that the 16-pin adapters can melt if not plugged in properly. Even so, overall efficiency still shows a large improvement over the competition.

This is the graphics card to beat for the foreseeable future. AMD doesn't have a competing solution, and probably won't even try with this generation of GPUs. The only thing likely to top the RTX 4090 is the rumored Titan Ada Generation and/or RTX 4090 Ti — GPUs that will push even higher power use for likely minimal gains.
Read: Nvidia GeForce RTX 4090 Review
– Jarred Walton
Crucial T700 SSD
Super-speed storage, without the noise
There's a new wave of PCIe 5.0 SSDs coming to market, all powered by Phison's novel E26 SSD controller, but the Crucial T700 sets a high bar with the most advanced flash that delivers the fastest performance of the PCIe 5.0 crowd. In contrast to many competing PCIe 5.0 SSDs, it accomplishes this feat with a passive cooler that doesn't have a built-in noisy fan like we see with many other models.

The PCIe 5.0 era actually began almost two years ago with the arrival of Intel's previous-gen CPUs, but SSDs that support the blazing-fast interface have been elusive due to numerous delays of the blazing-fast NAND flash memory needed to saturate the wider bus. New SSDs are now available at retail, so we can finally, truly say that the era of PCIe 5.0 SSDs has begun, promising to double throughput over prior-gen SSDs while significantly improving performance in random workloads.
The Crucial T700 exemplifies the best of PCIe 5.0 SSDs. The drive delivers an incredible 12.4 / 11.8 GB/s of sequential read/write throughput and 1.5 million random read/write IOPS (who could've even imagined that ten years ago?). This leading performance comes courtesy of Phison's E26 SSD controller paired with Micron's best 232-Layer TLC flash that communicates at 2000 MT/s. Meanwhile, the competition is stuck with slower flash for now.

The Crucial T700 also supports DirectStorage, a boon for next-gen gaming that can deliver one-second loading times, along with the latest in encryption tech. The SSD can absorb 600 TB of write data per 1TB of capacity, so the 2TB model is rated for 1,200 TB of endurance over its five-year warranty period — that's more than enough for most users. The Crucial T700 has a strong warranty from a company that makes its own flash and delivers leading-edge performance, but pricing and availability information isn't available yet. However, we've already put the SSD through its paces in our Crucial T700 SSD Preview and came away impressed. .
Read: Crucial T700 SSD Preview: Fastest Consumer SSD Hits 12.4 GB/s
– Paul Alcorn
Alienware 500Hz Gaming Monitor (AW2524H)
500 Hz finally arrives for desktop monitors.
The Alienware AW2524H is the world's first 500Hz gaming monitor, far outpacing the growing number of 360Hz displays on the market. Dell's latest entry minimizes frame tears and motion blur, allowing today's flagship graphics cards like the Nvidia GeFore RTX 4090 push 400+ frames per second in eSports games.
The AW2524H also boasts a 2ms advantage in control lag over its 360Hz competition. If you're a competitive gamer, the AW2524H is an excellent tool for your arsenal. Throw in Alienware's usual excellent build quality and color performance, the AW2524H is among the best gaming monitors available on the market.
However, be warned that this excellent performance across-the-board comes at a relatively high price. As of this writing, the Alienware AW2524H costs $830, which puts it about $400 more expensive than its 360 Hz peers. But you have to pay to play at 500 Hz, and the AW2524H is worth every penny for the most discerning gamers out there.
Read: Alienware AW2524H 500 Hz Gaming Monitor Review
– Brandon Hill
Corsair Xenon Flex Bendable Gaming Monitor
Image 1 of 2
Flat or curved? You decide.
OLED panels are becoming more popular in the gaming monitor space, with many options appearing at affordable price points. However, Corsair's new 45-inch Xeneon Flex is priced in the premium sphere and with good reason – it has a bendable panel that allows you to choose between a flat panel or an 800R (maximum) curve. You manually bend the screen using two handles that extend from the sides.
In addition to its trick, bending OLED panel, the Xeneon Flex also exhibits good contrast and high color accuracy. You also get a fast 240 Hz refresh rate and low input lag. Of course, Adaptive-Sync is standard, with support for AMD FreeSync Premium and Nvidia G-Sync. And the wide-screen format with a 3440 x 1440 resolution should be appealing to gamers and productivity workers alike.
No product is perfect, and the Xeneon Flex has a couple of dings due to its relatively low pixel density due to the 45-inch panel and slight misses with HDR color. But the biggest hurdle is the $1,999 price tag, which is likely well out of range for most mainstream gamers.
Read: Corsair Xeneon Flex 45WQHD240 Bendable OLED Review
– Brandon Hill
Acer SpatialLabs View Glasses-Free 3D Monitor
4K and glasses-free 3D
It can often be hard to stand out in the portable monitor crowd, but Acer knocked it out of the park with the SpatialLabs View. This 15.6-inch monitor offers up a 4K resolution along with accurate color and contrast from its IPS panel. However, its main party trick is the ability to deliver glasses-free 3D with supports apps and games.
The View makes full use of its 3840 x 2160 resolution to deliver stereoscopic 3D imagery at 1920 x 2160 per eye. The two images are quickly flashed, slightly offset from one another, which does a great job into fooling your eyes (and brain) into seeing a 3D image.
Not only is this 3D technique possible in supported games like God of War and Kena: Bridge of Spirits, but you can use the SpatialLabs Go to convert existing 2D video into 3D with the click of a button. However, remember that the final 3D output is only as good as your 2D source material – in other words, garbage in, garbage out. However, the high-quality videos that we tested were effectively translated into 3D output. Another plus is that the SpatialLabs Model Viewer allows you to import CAD files to view in 3D to help visualize models.
While the View's claim to fame is its 3D functionality, it can also function as a traditional, portable 4K monitor. While its 60 Hz refresh rate limits it from being used as a gaming-centric monitor, its 282 ppi pixel density, accurate color, and built-in battery make it a worthy tool for road warriors.
Read: Acer SpatialLabs View 15.6-inch Glasses-Free 3D Portable Monitor Review
– Brandon Hill
MSI RadiX BE22000 Turbo Wi-Fi Gaming Router
Wi-Fi 7 and rotating antennae
While's eight-antennae arrays are commonplace in today's high-end gaming routers to offer the best reception and performance for connected devices, MSI is going a different route with the RadiX BE22000 Turbo. This new Wi-Fi gaming router instead uses four motorized antennae that sprout from its base.
According to MSI, these antennae dynamically detect the location of clients connecting to the router and "change the antenna pattern for [the] best performance." Given that the RadiX BE22000 Turbo is still in the development phase and Wi-Fi 7 routers won't hit the market until late 2023 at the earliest, MSI didn't elaborate on what criteria it uses to point the antennae at clients. We also don't know how much of a performance increase we'll see with this arrangement over a gaming router with eight fixed antennae.
With that said, it just looks cool in action, which we're assuming will be part of the appeal of such a router. However, the RadiX BE22000 Turbo has more to offer than its motorized antenna pageantry. The router features automatic artificial intelligence-based QoS, 320MHz channel bandwidth to deliver a 4x speed uplift versus Wi-Fi 6 and enables multi-link operation to boost performance for a single client. As for wired connectivity, the RadiX BE22000 Turbo is equipped with two 10 GbE ports and four 2.5 GbE ports.
Pricing and availability haven't been announced at this time, but we expect to hear more from MSI in H2 2023.
Read: Wi-Fi 7 is Coming: Here's What You Need to Know
– Brandon Hill
Lenovo Yoga Book 9i
Two separate displays buck the foldable trend.
We've seen a few foldable laptops — both Lenovo and Asus have released them — but with the Yoga Book 9i, Lenovo is bucking the trend. Instead, this device will have two 13.3-inch screens when it releases in June. When closed, the Yoga Book will look like any other petite clamshell.

In a way, it emulates having multiple screens. A foldable screen may be bigger, but multiple screens 2880 x 1800 displays may keep you more organized. At least, several Tom's Hardware staffers with arguably too many screens seem to believe that.

Lenovo will stack the Yoga Book 9i with the latest specs, including a 13th Gen Intel Core i7 U-series chip, up to 16GB of LPDDR5X RAM and up to 1TB of PCIe SSD Gen 4 storage.

There are some questions we have, like whether or not the origami-style hand to hold up the Yoga Book will be cumbersome. But we're still thinking about its potential a few months after its announcement, and we're looking forward to trying it soon.
Read: Lenovo Yoga Book 9i Has Two 13-inch OLED Screens
– Andrew E. Freedman
Apple MacBook Air (M2)
Cool, collected, and almost perfected
Apple probably could've gone years without redesigning the MacBook Air. Its fanless design with M1 was a hit, but the new M2 redesign feels like it was made for the chip. What's arguably one of the highest regarded laptops has fully left Intel behind.

But beyond the new chip, the MacBook Air's new design brought in a slew of features, including bringing MagSafe back to the Air, a much-needed 1080p webcam and a keyboard with full sized function keys.

Pair all that with a top-class touchpad, a long-lasting battery, new colors and even new charger options, and it's an update to an icon that feels like a major upgrade. The one downside? It's far more expensive than the M1 version, which Apple kept on the market. .
Read: Apple MacBook Air (M2) Review
– Andrew E. Freedman
Framework Laptop 16
If this works, it's a big deal for repairability.
When Framework introduced easily changeable port modules, that was cool. When it made easily replaceable mainboards that it has supported for three generations, that was sweet. When it announced a larger laptop that can also support upgradeable graphics and different keyboard configurations? Well, that made our jaws drop.

It's early days here. Framework hasn't announced pricing or specs for the Framework Laptop 16, nor how much the input modules or expansion pay upgrades are going to cost. But if Framework pulls this off, it will be a feat that shows up many major gaming companies, which have promised upgradeability but repeatedly faltered, especially in graphics. The expansion bay will also let the Framework Laptop 16 change sizes depending on whether it needs to accommodate bigger graphics cards. As a proof of concept, Framework also used the PCIe x8 interface to make a dual M.2 SSD card to add 16TB of storage.

The input modules will allow for people to choose whether they want a second screen, a number pad, or whatever other modules Framework and its partners choose to sell. Me? I wouldn't mind something with tasteful RGB.
Read: Framework Previews 16-inch Laptop With Upgradeable Graphics, Adds Ryzen Mainboards
– Andrew E. Freedman
Sony DualSense Edge
PS5 controller goes pro, but also modular.
Sony didn't invent the idea of a pro controller — Microsoft has been making them for years. But Sony's DualSense Edge is perhaps the most repairable of them. At least, when it comes to the joysticks.

The DualSense Edge's joysticks can be easily popped out of the controller if they start to experience drift. On the one hand, you could argue that it's a tacit admission that yes, the joysticks can fail, it also empowers Edge owners to make their own simple repairs (for $19.99 per module) without any tools. That's one way to keep on gaming without buying new controllers over and over again.

That's not all. The DualSense Edge is more comfortable to hold than the regular model, has a long, braided USB cable, and is better for accessibility with easy button remapping. The battery life isn't amazing, and $200 is a lot for a controller, but it mixes luxury with some neat tricks that PlayStation diehards will appreciate.
Read: Sony DualSense Edge Review
– Andrew E. Freedman
MSI Titan GT77 HX
Bleeding-edge mobile gaming
MSI's 17-inch Titan GT77 HX may lack the taller 18-inch displays of much of its 2023 competition, but its Mini-LED screen blew me away with its deep blacks and bright, vivid colors (looking arguably better than the OLED TV that I use as a monitor every day. And our testing backed up the enjoyment of my eyeballs, with the GT77 HX's screen delivering over 500 nits of brightness and 114.5% of the DCI-P3 color space. This may be the best laptop screen we've ever tested – at the very least it's the best among the handful of Mini-LED-equipped competitors we've tested this year.

And the Titan GT77 HX isn't all about the screen. It gets a lot of other important things right, like top-end performance (with our RTX 4090 review configuration) and a Cherry mechanical keyboard that's about as satisfying as keys get on a laptop. Combine cutting-edge gaming and productivity performance, one of the best keyboards, and one of (if not the) best screens, and MSI's GT77 HX stands tall among the gaming laptops of 2023, even if this Titan is technically a bit smaller than its big-screen competition.
Read: MSI Titan GT77 HX Review
– Matt Safford
Fractal Design North
Wood accents and mid-century design for your PC
After years of tempered glass and RGB everything, Fractal Design's North case wowed the PC builder world last year with its stunning mid-century design, complete with wood slats up front and brass or steel accents on the buttons and feet. Unless you absolutely hate the retro-aesthetic, the North just might be the prettiest PC case ever made. And at about $140, it's surprisingly affordable.

And unlike many design-forward cases, the North doesn't sacrifice performance for its stunning design. Behind the slim wood slats (oak on the white model and walnut for the black variant) the front panel is covered in fine mesh for excellent airflow. And the side panel is available in either tempered glass or perforated metal (for even more ventilation). And up to six 120 mm fans are supported. The mesh side panel model also ships with a fan hub and a bracket to mount two more fans (or a radiator against the side panel.

The North is a breath of fresh air in terms of design and performance. And clearly the competition is taking notice, because Corsair started selling wood panel kits for some of its existing cases early this year. And we'd be shocked if we didn't see some other wood-accent PC cases arrive before the end of the year.
Read: Fractal Design North Review
– Matt Safford
Team Group Siren DUO360 All-in-One ARGB
AIO cooling extends to your SSD.
The Best AIO coolers may be able to keep your CPU cool and quiet while looking good with some tasteful RGB, but Team Group's AIO DUO360 ARGB aims to do all that and keep your bleeding-edge SSD chilled as well. Now, it's debatable how much even a PCIe 5.0 SSD needs active cooling unless you're doing some kind of task that's hammering the drive for several minutes or hours at a time (and that's definitely not what a gaming load is like).
But many speedy SSDs come with heatsinks, and some come with active cooling. The Siren DUO360 gives you extra drive cooling that also matches the CPU cooler in the same loop.
Read: Team Group Launches Dual CPU and SSD Liquid Cooler
– Matt Safford
Buffalo SSD-PUT (2TB)
Yes, 2TB flash drives are real – and surprisingly affordable.
For years, the only pocket-friendly flash drives available in capacities up to two terabytes were either several hundred dollars, or scammy / fake no-name drives available via AliExpress or Amazon. But the 2TB Buffalo SSD-PUT is real and, at $115 when we wrote this, a surprisingly decent deal if you need lots of storage on the go. It's cheaper than most larger 2TB external SSDs, and significantly smaller. Just don't expect the same kind of performance you'd get from a pro-level SSD – although the SSD-PUT is pretty fast for a flash drive.
In our testing, the Buffalo drive wasn't the fastest flash drive we've tested, but its performance was very good overall. On our 10GB DiskBench transfer test, for instance, its read and write speeds were both above 440 MB/S, which was the third-fastest result among the dozens of recent drives we've tested.
Not everything is great about the Buffalo drive though. Its plastic shell is a bit bulky as flash drives go, and feels a little cheap. But it's hard to knock a drive that's this spacious, speedy and affordable while still being small enough to easily slide into your pocket.
Read: Best Flash Drives: Fast, Roomy USB Storage in Your Pocket
– Matt Safford
Corsair RMx Shift
Image 1 of 2
A shift to side-mounted cable connections
Much of the news this year in the power supply realm has revolved around ATX 3.0 and those pesky 16-pin 12VHPWR power connectors. But Corsair turned heads with its RMx Shift line, which turns the modular power cable connections from the rear to the side of the PSU, making for much easier access in some (but not all) PC cases.

Clearly, if your case is extremely narrow and / or has a shroud or panel that blocks access to the rear side of your PSU, then the RMX Shift isn't going to work well for your build. But for most cases moving the connectors to the side of the PSU will make it much easier to add or remove cables after the initial build, and may ease installation and cable routing during the initial setup process.

Corsair even includes both vertically and horizontally mounted connectors, so cables that are more likely to be routed vertically (like the main power connector and CPU/GPU connectors are easier to bend and route up the case, and other power cables can be routed horizontally. While this is a minor tweak, it can help cable routing to not have all your power cables exiting the PSU area in the same direction.

Again, side-mounted cables aren't going to work or be helpful with every case. But for those chassis with an open back and a fair bit of clearance behind the motherboard area, Corsair's RMx Shift might be the most useful design change in PSU design since the SFX form factor made smaller systems possible.
Read: Corsair RMx Shift PSUs Adopt Side-Mounted Modular Connectors
– Matt Safford
Prusa MK4
Awesome prints on any surface
Prusa's MK printers have long been among the most innovative and powerful in the industry, a perennial favorite of makers who can afford their premium prices. Available for $1,099, the new Prusa MK4 features amazing auto bed leveling that automatically sets the z height guarantees a perfect first layer, even if you attempt to print on top of a sheet of cardboard.
The MK4 has a new 32-bit board that allows it to use its custom firmware to print at high speeds. It features a direct drive and an all-metal hot end, yet remains extremely quiet during printing. An optional MMU (multi-material unit) makes it easy to print in different colors at the same time.
Read: Prusa MK4 Review
— Avram Piltch

Bambu Labs P1P
Blazing fast and easy to customize
Arguably, the biggest problem with 3D printing is how long it takes to complete your output. Bambu Lab's P1P has a turbo button that allows it to print at "ludicrous" speed, which is as fast as 300mm per second, about six times a normal 3D printer's speed. A model of a dragon that took 50 minutes to print on a Koba Neo, completed in just 18 minutes on the Bambu P1P. And, even at that speed, the quality is excellent.
Available for the relatively reasonable price of $699, the P1P offers a generous build volume of 256 x 256 x 256mm, a PEI build plate, auto leveling and direct drive that lets you print capably in flexible TPU filament. The auto leveling is so automated that you never need to even select a z offset, an annoying process that involves sticking a piece of paper under the nozzle on most printers. You can also print your own side panels, which we did in bright red and black PETG, showing our logo.
Bambu also sells its own, optional AMS (Automatic Material System) for $349. This add-on allows you to have one print that uses four different colors of filament at once, solving another huge problem of 3D printing, the fact that most prints are monochrome.
Read: Bambu Lab P1P Review
— Avram Piltch

Elegoo Neptune 3 Max
Max size and quality at a min price
Elegoo's line of Neptune FDM 3D printers continues to raise the bar when it comes to quality and features for the price, an innovation of value. For less than $500, the Neptune 3 Max offers a huge 420 x 420 x 500 mm build volume, enough to print huge cosplay items such as a sword or even a helmet.
But the Neptune 3 Max is more than just a giant printer. Its direct drive mechanism allows it to handle more exotic filaments such as TPM, a flexible material which can create rubbery models. Its automatic bed leveling and PEI build plate make getting a great first layer a breeze.
In our tests, the Neptune 3 Max delivered a gorgeous bust of Spider-Man in black PLA filament and a highly-detailed dragon in purple PETG, both using the maximum 500mm height. A translucent green trash can printed in TPU looked fantastic as did a Skyrim dagger printed in Silver PLA+.
Read: Elegoo Neptune 3 Max Review
—Avram Piltch
Asus ROG Azoth Gaming Keyboard
Keyboard enthusiasm goes mainstream.
The Asus ROG Azoth is one of the best gaming keyboards for several reasons — refined, well-built chassis, hot-swappable switches, excellent all-around typing and gaming experience. But the Azoth's gasket mount design and customizable OLED screen aren't unique — the reason this keyboard gets an innovation award is because of what it comes with.
The Azoth comes with an entire box of accessories, which include a 6.5-foot (2m) USB-C cable, a USB extender, a keycap puller, a switch puller, and a DIY lube kit. The lube kit includes lubricant (Krytox GPL205-GD0), a switch opener, a lube station, a brush, and a handful of extra switches. Asus also includes a QR code that links to a video tutorial on how to use the lube kit. The kit isn't made up of particularly pricey or hard-to-get items, but it's awesome to see all this packaged with a mainstream gaming keyboard — and a great one, at that.
Read: Asus ROG Azoth Review
—Sarah Jacobsson Purewal
Insta360 Link
Image 1 of 2
An action webcam with shockingly good auto-white balance
Action-cam maker Insta360's first webcam, the Insta360 Link, is pretty specc'd out — this 4K/30fps webcam comes with a built-in 3-axis gimbal and a variety of capture modes that make it perfect for streaming everything from business presentations to TikTok dance tutorials. But while the Link's AI-powered tracking and capture modes are impressive, what really stands out about the Link is its exceptionally accurate auto-white balance and auto-exposure.
Adjusting exposure, white balance, and brightness/contrast on the fly are tasks almost all webcams struggle with — and that's when you're in a balanced, evenly-lit setting (which most people are not). The Insta360 Link's ability to adjust exposure in well-lit, dark, and over-exposed settings — while also keeping the picture's white balance vibrant-yet-realistic, definitely stands out against the competition.
The Insta360 Link is packed with features, but it doesn't require much tweaking — it's an excellent plug-and-play device. (But if you want to tweak, the companion Link Controller app is practically professional when it comes to detailed control and thoroughness).
Read: Insta360 Link Review
– Sarah Jacobsson Purewal
Elgato Facecam Pro
Image 1 of 2
4K/60fps
There are a lot of 4K webcams on the market now, but almost all of them capture 4K video at 30 frames per second (fps). While this might seem fine considering most video conferencing apps limit streaming to 1080p/30fps at most, what about all those content creators who need to be able to capture video in ultra-high-res, ultra-smooth 4K/60fps?
Elgato's Facecam Pro features a premium autofocus lens, a wide 90-degree field of view, and can stream in 4K/60fps (as well as 4K/30fps, 1080p/60fps, 1080p/30fps, 720p/60fps, and 720p/30fps). It also comes bundled with Elgato's Camera Hub software, which offers impressively detailed control over the picture as well as streaming-focused features for setting up different "scenes." All it needs is an action-cam gimbal to go with that ultra-smooth 60fps video.
Read: Elgato Facecam Pro Review
– Sarah Jacobsson Purewal

Razer DeathAdder V3 Pro
This mouse feels better than my hand
Razer's flagship DeathAdder line of gaming mice has had the same general design — large, right-handed, flared at the front — since the original DeathAdder dropped in 2006. And it's a popular design: the DeathAdder is Razer's best-selling gaming mouse. So, naturally, Razer decided the best way to celebrate the DeathAdder's long-standing legacy would be to... give it a complete redesign.
The Razer DeathAdder V3 Pro features a fully redesigned body with reduced side flare, a more streamlined silhouette, and a split key cover instead of a unibody shell. It also sports some more subtle tweaks — the hump has been shifted slightly to the left, the thumb buttons are slightly higher for better accessibility, etc. — all of which combine into what Razer calls "next-generation ergonomics," and what I call witchcraft. Why does this stripped-down, lightweight gaming mouse feel so damn good?
The DeathAdder V3 Pro sports Razer's latest Focus Pro 30K optical sensor, gets up to 90 hours of battery life, and comes with custom, pre-cut grip tape. It doesn't have Bluetooth, RGB lighting, or more than five programmable buttons. It's lightweight, but it's not that lightweight — many ultra-lightweight FPS-oriented gaming mice weigh less than this mouse's 2.26oz / 64g. And at $150, it's pricey, considering all you don't get. But I actually had to move it off of my desk because I couldn't stop my hand from gravitating toward it in ridiculous situations (like when I was playing a game that required at least 15 additional mouse buttons). And that kind of speaks for itself.
Read: Razer DeathAdder V3 Pro Review
– Sarah Jacobsson Purewal
Pinecil V2
Low cost soldering iron, with high end features
$26 for a soldering iron is crazy cheap, but Pine64's Pinecil v2 is much more than just a hot piece of metal. Inside this RISC-V powered soldering iron lies a temperature controlled soldering station, while still being just a little larger than a pen. It heats up fast, 20 seconds and you are ready to solder.
It can hit 450 degrees Celsius and a range of interchangeable tips means that we can tackle soldering jobs both big and small. Pinceil v2 can be powered by standard DC power or via USB C, which means with a USB powerbank we have a portable temperature controlled soldering station ready to fix our projects in the field.
We love its small size, easy-to-use interface and upgradable firmware. All of that makes this a great iron, but for $26, it is a steal. If you've never soldered before, get a Pinecil v2. If you are an experienced maker, Pinecil v2 is a great second soldering iron, either for your portable maker kit or for those quick jobs when a dedicated soldering station is not feasible.
Read: Pinecil V2 Review
– Les Pounder
Pimoroni Tufty RP2040
RP2040 Powered Full-Color Badge, Display or Games Console
Bringing a 2.4 inch IPS display to a badge is a bold move. Battery life for a backlit LCD screen is much lower than ePaper, but trading battery life for a full-color screen is worth it. Powered by the RP2040, Tufty 2040 is bold in features and design, just take a look at the silkscreen on the rear.
The screen is the big selling point, but this isn't a one-trick pony. Around the back is a battery connection, compatible with externally charged LiPo / Li-ion packs and a QW/ST connector. The QW/ST connector is compatible with Qwiic and Stemma QT components such as sensors. Using these components with Tufty 2040's screen is made easy thanks to a great MicroPython module. In no time, we can have a custom sensor platform ready to serve data.
What if your ambitions lie in game creation? In that case you can also make your own games to play on Tufty 2040. Using Pimoroni's PicoGraphics module, Pixylatte recreated the Atari classic River Raid. There is nothing to stop you creating your own games, demos or name badge using Tufty 2040.
Read: Pimoroni Tufty 2040 Review
– Les Pounder
Tom's Hardware Innovation Awards 2023: Live Broadcast
Join the experts who read Tom's Hardware for the inside track on enthusiast PC tech news — and have for over 25 years. We'll send breaking news and in-depth reviews of CPUs, GPUs, AI, maker hardware and more straight to your inbox.
After a rough start with the Mattel Aquarius as a child, Matt built his first PC in the late 1990s and ventured into mild PC modding in the early 2000s. He's spent the last 15 years covering emerging technology for Smithsonian, Popular Science, and Consumer Reports, while testing components and PCs for Computer Shopper, PCMag and Digital Trends.
Great list, I skimmed through it but will go into detail later. Just wanted to post a comment to show my appreciation.

Reply

It's a shame that the Steam Deck didnt make the list for a great number reasons.

Who would have ever expected to see a retail gaming platform based on Linux that isnt a severe walled garden of some kind.

Edit: it has been mentioned before. Shows what I know.

https://www.tomshardware.com/news/tomshardware-innovation-awards-2022#section-valve-steam-deck-gaming-console

Reply