Note: For AMD's AM4 X570(S), B550, B450 and Threadripper motherboards, see page two or our Best AMD X570 Motherboards or Best AMD B550 Motherboards pages. This first page focuses on Intel, after laying out some basics.

Choosing the best gaming motherboard (or best motherboard for another type of desktop) is a key step in your PC build, even though choosing the best CPU for gaming or the best graphics card often gets more attention. Every part of your PC connects to your motherboard. Its form factor will decide the size of your case, and its chipset and socket will limit what type of CPU you can install.
If you're not sure which chipset you're after when choosing the best gaming motherboard, or you have more basic questions for a different type of build, you can visit our motherboard basics and motherboard buying guide features to help narrow down your shopping options.


Black Friday Motherboard Deals
With supply-chain issues affecting the price of graphics cards, and Intel's Alder Lake CPUs putting price pressure on AMD's CPUs, now might be a good time to buy a motherboard. We're tracking all the sales on motherboards and other components on our Best Black Friday Tech and PC Hardware deals page. Our favorite motherboard deal right now is below.
Asus Prime B550-Plus:  was $149, now $109 at Newegg
Asus Prime B550-Plus: was $149, now $109 at Newegg
With PCIe 4.0 support (with a compatible Ryzen CPU) for fast SSDs, two USB 3.2 Gen 2 ports and Aura Sync RGB support, the Asus Prime B550-Plus is a great board for a mid-range build, be you a gamer or a creator (or both). And at $109.99, it's the lowest price it's ever been.
The picks below include the best gaming motherboards designed for Intel's 11th Gen "Rocket Lake" and older "Comet Lake" processors. We're busy testing brand-new "Alder Lake" 12th Gen Z690 motherboards, but of the handful we've looked at so far, there's one clear winner, which you'll find at the top of the list below. As we test more models, we'll post reviews on our motherboard review page and add our favorites here.
Below are our mainstream picks for current and recent-generation boards. You'll find our recommendations for the best motherboards for Z590, as well as Intel's high-end desktop (HEDT) LGA-2066 socket and X299 chipset supporting the X-Series and Extreme line of processors. The second page of this guide covers the best AMD motherboards, including X570 and B550 chipset models, as well as high-end Threadripper picks that compete with Intel's X-Series platform.
Quick Motherboard Shopping Tips
When choosing a motherboard, consider the following:
Get the right socket for your CPU: You can find great CPUs from either Intel or AMD. But whatever processor you choose, make sure that your board has the correct socket to support it. The latest mainstream AMD chips use AM4 CPU sockets while Intel's 10th Gen and 11th Gen Core CPUs require LGA 1200 sockets.
Smaller boards = fewer slots and features. Motherboards come in three main sizes--for more info see our diagram and explanation of motherboard parts. From largest to smallest, there's ATX, Micro-ATX and Mini-ITX. (Yes, Mini is smaller than Micro). You can use a smaller chassis with the micro or mini boards, but you'll have to settle for fewer card expansion slots, sometimes fewer RAM slots, and other connectors.
Pay for built-in Wi-Fi and high-end ports only if you need them. Don't spend extra for wireless if you are using Ethernet. You can future-proof your PC by getting USB 3.1 Gen 2 and / or Thunderbolt support. But Thunderbolt is very rare on AMD motherboards.
The Best Intel Gaming Motherboards: Z690, Z590, Z490 X299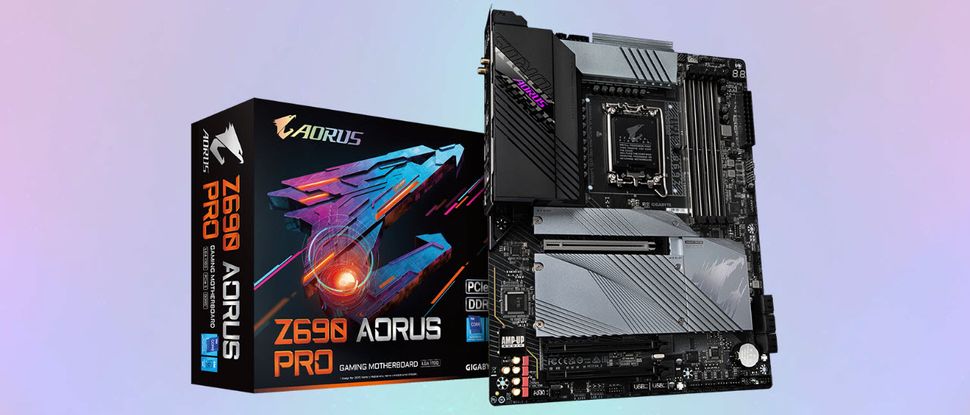 At around $330, the Gigabyte Z690 Aorus Pro is a mid-range Alder Lake motherboard that covers all the bases very well, with minimal sacrifices. There are ample storage options, including four M.2 sockets, updated audio, and a new appearance. Performance, thermals and overclocking were also well within the range of other Z690 boards we've tested so far.
Between its 13 USB ports on the rear IO, four M.2 sockets and capable power delivery, all at a price that's well below flagship options, there's a lot to lovea bout the Z690 Aorus Pro. So long as you don't require integrated RGB lighting or Wi-Fi 6E out of the box (you still get Wi-Fi 6), the Gigabyte Z690 Aorus Pro is an excellent Alder Lake motherboard to build your Z690 system around.
Read: Gigabyte Z690 Aorus Pro review
The Asus ROG Maximus XIII Hero has the premium parts and attractive looks to stand out, despite its fairly high price. From its clean, high-end appearance to the robust power delivery, four M.2 sockets and a premium audio solution, the Hero is a well-rounded, feature-laden solution in the upper-midrange of the Z590 motherboard space. With more-than-capable 90A power phases and dual Thunderbolt 4 ports, plus the four PCIe 4.0 M.2 sockets and premium audio bits, the board justifies its $499 price.
Performance compared to the other Z590 models we've tested to this point was spot on, and often negligibly faster in many of our tests. Memory testing went without a hitch, with DDR4 3600 supported at 1:1 and easily handling the DDR4 4000 kit. And overclocking testing proceeded without any issue.
Read: Asus ROG Maximus XIII Hero Z590 review
The Asus ROG Maximus XIII Extreme Glacial is a full-featured Z590 motherboard that include robust power delivery, premium audio with a DAC, five M.2 sockets, 10 GbE and integrated Wi-Fi 6E and includes a custom waterblock. While pricing is tough to take, the Extreme Glacial ($1499) represents what flagship-class motherboards should be.
Read: Asus ROG Maximus XIII Extreme Glacial review
The Z590 Tachyon is an attractive E-ATX-size board that, outside of the extra buttons, you'd never know was designed to be an extreme overclocker. And while it's certainly not cheap, it costs less than competing overclocking-focused models from ASRock and Asus. The Tachyon's 11-phase power delivery may not sound like the most robust option, but it delivers 1100 amps to the CPU. This means the VRMs shouldn't hold back your clock speeds back, whether you're taking on ambient or sub-ambient cooling with a flagship CPU. If you're after a board to deliver the best possible speed while looking good and not breaking your build budget, this is the best option we've tested.
Read: Gigabyte Z590 Aorus Tachyon review
The ASRock Z490 Taichi is a great motherboard in the $350-$400 price bracket for building a Z490 system, comparing favorably to similarly priced competition.It includes eight SATA ports (while others have six), as well as a speedy USB 3.2 Gen 2x2 Type-C port. It also has a premium appearance and runs cooler than competing boards in the power delivery department.

If you need three M.2 slots and eight SATA ports, this is the only board around this price point with that storage configuration. If your budget allows for an upper mid-range board, ASRock's Z490 Taichi should be at the top of the list.
Read: ASRock Z490 Taichi review
Fully equipped for the 48 lanes of Intel's 10th generation Core Extreme processors, the X299X Designare 10G comes loaded to the brink with Intel X550 dual 10Gb/s Ethernet and a pair of Thunderbolt 3 headers with dual DisplayPort passthrough on Intel's 40Gb/s controller. A four-drive M.2 expander card and 2.4Gb/s Wi-Fi 6 finish a package of which the added component value far outweighs the price difference over its closest competitor.
Read: Gigabyte X299X Designare 10G Review
Savings on the Best Motherboards
Whether you're buying one of the best motherboards or a different model, you may find some savings by checking our list of coupon codes, especially our list of Newegg promo codes and Micro Center coupons.
MORE: How To Choose A Motherboard
MORE: All Motherboard Content
MORE: CPU Benchmarks