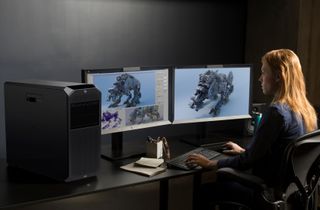 (Image credit: HP)
When choosing which desktop PC you should get from HP, the CPU, or processor, is one of if not the most important pieces of hardware that you should consider. The CPU is, after all, the "brains" of your computer; without a processor you can rely on, your system won't function as well as it could and may perform slowly.
When configuring your hardware, you'll have options from both Intel and AMD to select from. While Intel processors have been on top for most of the last decade, AMD has soared to new heights in recent years, and many of its processors beat what Intel currently offers in a variety of ways. Here are five reasons why you should opt for HP desktops equipped with AMD CPUs.
More affordable for the average consumer
Arguably the biggest reason why AMD will be a better choice for most people is because of the fact that at nearly all performance levels, AMD's Ryzen processors cost less than Intel models, without sacrificing much, if any, performance. By configuring your desktop with AMD, you'll get considerably more value for the dollar than you would if you went with an alternative.
Purchasing a PC is expensive enough. If you want to save money, going with AMD will allow you to do just that.
Take the HP Pavilion TG01-0170m, for example. If you choose to equip this PC with the AMD Ryzen 7 3700X, you can get near-identical performance to the Intel equivalent, the Core i7-10700, for more than $100 less.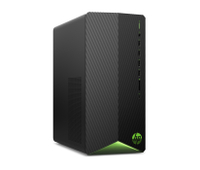 AMD Ryzen CPUs offer near-equivalent performance to Intel CPUs at a lower price, making choosing them in systems like the HP Pavilion TG01-0170m more than worth it.
Less power consumption and heat buildup
Another big win for AMD is the fact that, compared to Intel, its processor lithography is more efficient and modern. While most Intel CPUs are stuck an older 14nm process node, nearly all of AMD's processors feature 7nm designs. Though Intel has started to release 10nm processors, AMD still has the edge.
The reason why this matters is that the smaller the process node, are, the less power is required in order for the CPU to run properly. This means that AMD processors require less power than Intel ones do across the board, resulting in a lower electric bill for you as well as less heat buildup within your PC.
Better for productivity and multitasking
In processors, the two things that impact performance the most are core count and clock speed. Core count is what determines how many cores the processor has available to use, while clock speed determines how capable individual cores are at processing tasks and programs.
When using your system productively and working on business or creative projects, you'll often have multiple programs and tabs open. In this scenario, core count matters more than clock speed because you'll want to have cores to use for each task. Higher clock speeds still help, but they're not nearly as impactful because most productivity applications don't take full advantage of them.
While Intel tends to deliver slightly higher clock speeds, AMD offers higher core counts in its processors at every price point. This means that, in productivity and multitasking scenarios, AMD processors have a distinct performance edge. The HP EliteDesk 705 G5 Small Form Factor PC, for instance, features an AMD Ryzen 7 PRO 3700 with 8 cores. This processor's high core count means that it will be fantastic for productivity work.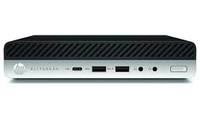 The 8-core AMD Ryzen 7 PRO 3700 within the HP EliteDesk 705 G5 Small Form Factor PC makes it a stellar productivity-focused desktop.
No overclocking restrictions
If you're a gamer and you want to overclock your CPU to boost your clock speed, your options are limited with Intel. Only a select line of Intel's processors, the K-series, comes unlocked and is compatible with overclocking. Intel charges a premium for K-series CPUs, too, which means that any PC you buy with them in it will be on the pricey side.
Meanwhile, all of AMD's Ryzen processors are completely unlocked and ready for overclocking. This means that your options for a PC with an overclockable processor inside are more plentiful, and you won't need to pay extra to get that freedom.
With AMD, it's possible to buy a less-premium processor and then overclock it to achieve the performance you'd normally pay more for. For example, you could equip an OMEN 30L Desktop GT13-0280z with its base-level AMD Ryzen 5 3600. Then, you could overclock it to help it perform like a processor from the next tier up.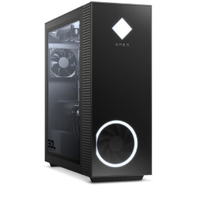 All of AMD's Ryzen CPUs support overclocking, and in a system like the OMEN 30L Desktop GT13-0280z, you can take advantage of that in order to get high performance for a balanced cost.
More robust and reliable security
The security of your processor is perhaps more important than that of any other component. If a virus can infiltrate your CPU, it can effectively act as a backdoor to get around your PC's other protective measures. In this scenario, your personal information would be at severe risk.
Currently, Intel has a whopping 242 publicly known vulnerabilities, while AMD only has 16. This means that Intel has 15 times more holes in its security systems that it needs to plug compared to AMD. Due to the sheer size of that number, there's a higher chance that bad actors will be successful in their efforts to infiltrate your system if you go with Intel as opposed to AMD.
AMD reigns supreme, and it's easy to see why
Between a better price-to-performance ratio, more efficient lithography, higher productivity and multitasking performance, no overclock restrictions, and fewer security vulnerabilities , it's easy to see why AMD has made such a strong comeback in the processor market. AMD CPUs offer incredible value to the modern PC user in a myriad of ways, and you'll get to enjoy all of it if you decide to equip your next HP desktop with an AMD Ryzen processor.
Join the experts who read Tom's Hardware for the inside track on enthusiast PC tech news — and have for over 25 years. We'll send breaking news and in-depth reviews of CPUs, GPUs, AI, maker hardware and more straight to your inbox.
Finally, an OEM that takes AMD seriously.

Reply