New-Age Volcanoes: Thermaltake Volcano 9 & Volcano 7+
What led the marketing strategists at Thermaltake to choose these names for their products is a matter for conjecture. It is a little strange to think of a cooler in the same context as a volcano. After all, a cooler should cool and not spew fire and lava like a volcano. But enough philosophizing, let's talk about the products.
A Free Rein: Volcano 7+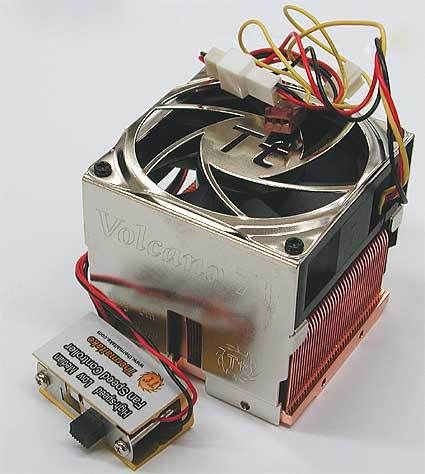 The "smaller" of the two volcanoes consists of a 6 mm copper plate from which 38 tiny fins protrude in two rows. The tiny fins are presumably produced in a similar way to skived fins. The advantages of this manufacturing technique have already been described for the cooler models from Cooljag and Global-Win.
The Volcano 7+'s specialty is a slide switch that controls the fan speed - and thus noise levels - in three stages (2,500/ 4,200/ 5,400 rpm). Thermaltake has unfortunately not thought to fasten the switch.
The base of the Volcano 7+ is very even and polished. In place of the heat transfer pad, there is a small tube of heat transfer grease included. The lateral holes on the base plate can be used for brackets (included in delivery) so that the Volcano 7+ can also be used in a Socket 478 system. The Volcano 7+ scored the following results in the different switch positions.
Swipe to scroll horizontally
| Switch | Die-Temperature °C | Thermal Resistance °C/W | Loudness dB(A) |
| --- | --- | --- | --- |
| Low | 56 | 0.45 | 49 |
| Medium | 52 | 0.39 | 61 |
| High | 50 | 0.36 | 67 |
If you decide to unleash the full power of the Volcano 7+, you should be prepared for both lavish cooling capacity and a deafening roar. The cooler still manages a great deal at the low performance setting, and goes about it a lot more discreetly.