System Builder Marathon: Performance & Value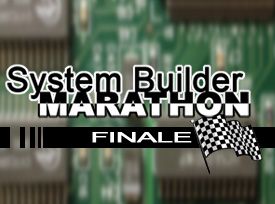 Introduction
System Builder Marathon, October 2008 : The Articles
Here are links to each of the four articles in this month's System Builder Marathon (we'll update them as each story is published).
The biggest change to this month's System Builder Marathon was that we purchased all of our components one online vendor—NewEgg, as mentioned in the very first piece. Purchasing retail parts ensures that everything in our build is available on the open market, and that overclockers could have a realistic expectation of achieving similar performance gains. But perhaps the most important reason for buying our parts was to eliminate delays that typically accompany public relations department inquiries. Everything we ordered was in stock and speedy shipping reduced the possibility that any component we chose would be outdated by the time this project was published.
Of course, large projects are rarely completed without overcoming unexpected obstacles. After a small data entry error caused our account to be frozen, it took several days to figure out which parts of the order had been shipped, which parts had been canceled, and which parts were still pending approval. We were then faced with selecting substitutes for components that were no longer in stock and again waiting for shipping. The good news is that even while this series uses a six-week-old shopping list, technology has changed so little during that time that every one of our builds is still completely up-to-date, even if some of the exact models are no longer available from our friends at NewEgg. Let's take a closer look.
Swipe to scroll horizontally
| Component | $4,500 PC | $1,500 PC | $500 PC |
| --- | --- | --- | --- |
| CPU | Intel Core 2 Quad Q9650 (3.00 GHz)Overclocked to 4.14 GHz, FSB-1840 | Intel Core 2 Quad Q6600 2.40 GHzOverclocked to 3.46 GHz, FSB-1536 | Intel Pentium E2180 (2.00 GHz)Overclocked to 3.20 GHz, FSB-1600 |
| CPU Cooler | Zalman LQ1000 Integrated | Swiftech H20-220 Apex GT | Cooler Master Hyper TX2 |
| Motherboard | Asus P5E3 Premium WiFi-AP | DFI Lanparty DK X38-T2RB | Gigabyte GA-EP35-DS3L |
| RAM | 4x 2GB OCZ PC3-12800 Platinum EditionUnderclocked to DDR3-1533, CAS 8 | 2x 2 GB Patriot Viper PC2-6400 CAS 4Underclocked to DDR2-768 CAS 5 | 2x 1 GB Wintec AMPO PC2-6400 CAS 5at DDR2-800 CAS 5 (Stock) |
| Graphics | 2x MSI HD 4870 X2 CrossfireXOverclocked to 782 MHz GPU, GDDR5-3600 | 2x ASUS Radeon 4850 TOP CrossfireOverclocked to 700 MHz GPU, GDDR3-2140 | PNY GeForce 8800 GT 512 MBOverclocked to 738 MHz GPU, GDDR3-2106 |
| Hard Drives | 4x 1.0 TB Samsung Spinpoint F1 (RAID0) | 2x 500 GB SeagateBarracuda 7200.10 (RAID 0) | Seagate Barracuda 7200.10ST3400620AS 400 GB |
| Sound | Asus Xonar DX 7.1ch Audio Card | Integrated | Integrated 8-Channel HD Audio |
| Network | Integrated Gigabit Networking | Integrated Gigabit Networking | Integrated Gigabit Networking |
| Case | Zalman Z-Machine LQ1000 | CoolerMaster Cosmos 1000 | Antec NSK4480B |
| Power | Corsair CMPSU-1000HX 1000W | CORSAIR CMPSU-750TX 750 W | Earthwatts 380 W Included w/Case |
| Optical | LG GGW-H20L BD-RE/HDDVD-ROM | LITE-ON iHAS120-04 DVD±RW | LITE-ON iHAS120-04 DVD±RW |
| Total Price | $4,500 | $1,482 | $499 |
Like so many custom-ordered "boutique builder" systems, each of our System Builder Marathon machines uses overclocking to maximize performance and value. Even the least of these builds reached a CPU clock speed of 3.2 GHz CPU, a fact that will certainly make it difficult for many builders to justify a more expensive configuration. Yet all the overclocking in the world isn't enough to impress buyers who really need one of the higher-priced configurations .
Join the experts who read Tom's Hardware for the inside track on enthusiast PC tech news — and have for over 25 years. We'll send breaking news and in-depth reviews of CPUs, GPUs, AI, maker hardware and more straight to your inbox.
Thomas Soderstrom is a Senior Staff Editor at Tom's Hardware US. He tests and reviews cases, cooling, memory and motherboards.