SanDisk Optimus Eco SSD: A SAS Interface And Up To 2 TB Of Flash
Consolidation drastically changed the face of enterprise solid-state storage in 2013. One of the bigger moves was SanDisk's acquisition of SMART Storage Systems. Today, we're looking at the first branded SAS-based SSD to come from that purchase.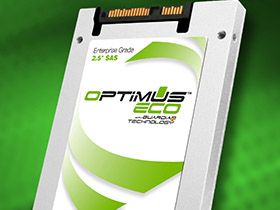 Meet SanDisk's Optimus Eco SSD, With Up To 2 TB
Before we get into SanDisk's newest SSD offering, we need to consider where the company has already been. Back in 2008, SMART Modular Technologies acquired a small solid-state drive company called Adtron for $20 million in cash. At the time, SMART primarily focused on memory technologies for embedded computing, primarily for OEMs. Over the next three years, it introduced many different types of SSDs, with IDE, SCSI, and SATA interfaces, built using SLC and MLC flash. In 2011, the company was taken private, and in 2012, SMART was spun-off as an independent entity to better focus its efforts on the growing solid-state drive market. From then on, SMART continued its OEM enterprise business, actively displacing many larger and more entrenched competitors.
SMART Storage Systems may not be a household name, but in enterprise circles, it's well-respected. In the first half of 2013, SMART announced several new products and appeared poised to finish the year with a bang. Then, in June, Western Digital announced the acquisition of STEC, one of SMART's competitors. Just a week later, SanDisk announced its plan to acquire SMART Storage Systems for more than $300 million. In the span of a few days we had two fewer SSD companies.
This wasn't SanDisk's first foray into enterprise storage acquisitions. Back in 2011, the company bought Pliant Technology, which focused on MLC-based enterprise SSDs with SAS interfaces. That deal was also for more than $300 million. So what does SanDisk get this time that Pliant didn't give it? Good question. SanDisk says SMART's products and technologies will complement those acquired from Pliant, including a first SATA-based enterprise-oriented SSD.
All of that history gets us caught up to today. We have the first branded product born out of that acquisition, SanDisk's Optimus Eco SAS SSD. Apparently, the company moved full-speed ahead after closing its deal back in August. After all, our review unit still has all of SMART's old markings, including the distinctive green artwork. This should be the last time anyone sees that, though. When it hits retail, the Optimus Eco will get a SanDisk logo with the corporate color scheme.
Swipe to scroll horizontally
SanDisk Optimus Eco
User Capacity
400 GB
800 GB
1.6 TB
2 TB
Interface
6 Gb/s SAS
Form Factor
2.5" 9.5 mm
2.5" 15 mm
Sequential Read
500 MB/s
Sequential Write
500 MB/s
4 KB Random Read
95,000 IOPS
4 KB Random Write
35,000 IOPS
Power Consumption(Active)
7 W
Endurance (Drive Writes Per Day)
Three (Random), Seven (Sequential)
The Optimus Eco in an interesting product with a handful of attributes worth pointing out. First, notice those capacity points. We're used to seeing this class of 2.5" drive shipping in 100, 200, 400, and sometimes even 800 GB denominations. The Eco blows right past those numbers, showing up with 400 GB, 800 GB, 1.6 TB, and a massive 2 TB of storage. That flagship easily exceeds the maximum capacity of competing SSDs. But it also comes at a premium price. At the other end of the spectrum, an entry-level 400 GB means you're looking at a sizable investment just to get your foot in the door.
With the exception of the 2 TB model, which is crammed into a 15 mm-tall chassis, the Ecos all ship in a 9.5 mm form factor. The good thing about sporting a SAS interface is that nobody expects your drive to drop into a laptop. And most storage systems with SAS support also accommodate 15 mm drives, since that's the standard for high-speed mechanical disks, too.
Next, check out the drive's performance specs. The word Eco gives off this impression that speed is sacrificed in the name of pricing or efficiency. But that's not the case with SanDisk's Optimus Eco. Its true that you get a slightly lower random write spec than SMART's original Optimus. However, with sequential performance rated at 500 MB/s, and random 4 KB reads rated for 90,000 IOPS and writes at 35,000 IOPS, this shouldn't be a slouch.
But perhaps most shocking (or as shocking as an enterprise-oriented SSD can get), is that the Optimus Eco is still rated for three complete writes per day in random workloads and seven in sequential tasks. Considering it uses 19 nm MLC NAND, not eMLC or SLC, write endurance shouldn't be anywhere near that high. SanDisk apparently has a few tricks up its sleeve, and we'll explore those in today's review.
As with most of these high-end introductions, SanDisk is keeping pricing information fairly quiet. However, its initial announcement did mention that the 2 TB model will sell for $4000. At roughly $2/GB, you pretty much find yourself in the same field as Intel's SSD DC S3700 (Intel SSD DC S3700 Review: Benchmarking Consistency) and Micron's P400m (Micron P400m SSD Review: High Endurance MLC Is Here To Stay). You can expect the lower-capacity versions to command a higher price per gigabyte, but we're hoping they stay in the mid to low $2/GB range.
Join the experts who read Tom's Hardware for the inside track on enthusiast PC tech news — and have for over 25 years. We'll send breaking news and in-depth reviews of CPUs, GPUs, AI, maker hardware and more straight to your inbox.