Hardware Installation, Evaluation, And Conclusion
The Primera PM01 includes a very basic manual, screws, standoffs, and two 3-pin, 2-conductor fan extension cables.
The PM01's power LED lead is split to serve both standard and Asus motherboards. The HD Audio front-panel connector doesn't have a legacy AC97 dongle, since most motherboards made the switch a couple years after AC97 was introduced.
What's lacking in the manual is certainly present in our guide, How To Build A PC. The case is fit with only six of ATX's nine standoffs installed, and after adding three from the installation kit, remaining parts are placed over the appropriate mounting holes and screwed down.
Even our big air cooler fits with room to spare: SilverStone rates the PM01 as having 180mm (7") of CPU cooler space. The top-panel LED switch turns off the faux vent and fan lighting, as well as all 12 side-panel LEDs.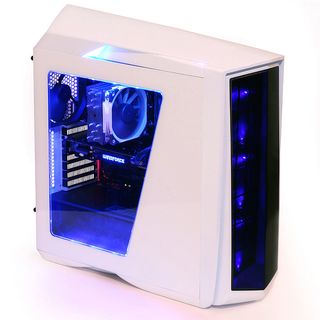 Most of our recently reviewed cases have had glass side panels, which take a long time to warm up and eventually raise the internal case temperature. A look through the past year in case reviews has revealed NZXT's Noctis 450 as the PM01's most direct competitor, followed by the Bitfenix Pandora ATX. The low-budget Fractal Design Define-C and Cooler Master MasterBox 5 help to fill out the chart and keep budget buyers happy. All have been tested in our standardized configuration.

MORE: Best Motherboards
MORE: How To Choose A Motherboard

MORE: All Motherboard Content
Comparison Cases

MORE: Best Power Supplies

MORE: How To Choose A PSU

MORE: All Power Supply Content
Test Results
The Primera PM01 is actually the coolest mainstream gaming ATX case we've tested since introducing our Core i7-5930K configuration in 2015.
PM01 noise levels are nearly on par with the Noctis 450, even though the mesh front panel is essentially open and the test runs from a 45° angle to the front and side panels. Internal component fans are quiet raucous, so the PM01's big case fans are moving a lot of air at moderate noise.
With a CPU temperature that's 11.3% better than average (dividing the group average by the single result), and a noise level that's only 1.3% higher than average (dividing the single result by the group average), the Primera PM01 handily beats the field in cooling-to-noise ratio.
The competing MasterBox 5 is so insanely cheap that even the Primera PM01's extraordinary performance advantage leaves it trailing in value, before considering the cost of the PM01's extra features.
Performance-to-price supremacy for Cooler Master's MasterBox 5 puts me in yet another conundrum concerning commendation. I can't close a review of SilverStone's Primera PM01 without giving its excellent performance proper credit, and its price includes a bunch of LEDs that some users really want, an LED on/off button that most of us want, a top panel shell that's capable of holding a 3x 120mm radiator, and a premium finish. Buyers who want these features certainly aren't looking at the MasterBox 5 or even the Define-C, and the extra performance makes it easy to recommend adding the Primera PM01 to their short list.

MORE: Best Cases

MORE: All Case Content