Corsair's Carbide 175R RGB normally costs $69.99, but we've spotted an early Black Friday tech deal that brings that price all the way down to $39.99 after a $20 rebate. That's its lowest price ever and an absolute steal if you consider that this case comes with tempered glass, a power supply cover, RGB support, dust filters and more.
The chassis is a mid-tower ATX design, so you'll be able to fit up to ATX-sized motherboards in here and up to seven expansion slots. It has room for two 2.5-inch SSDs and two 3.5-inch drives, along with graphics cards measuring up to 330mm long and CPU coolers up to 160mm tall. Long story short: plenty of space for building quite a solid gaming system.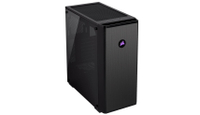 Corsair Carbide 175R RGB - was $69.99, now $39.99 after rebate
This case offers all the space you need for a nice gaming system, and if you're willing to sort out the rebate and like the minimalist looks, it's a bargain. This is the lowest price we've seen yet.

If you're into liquid cooling, you'll also be pleased to know that the front of the chassis can hold up to a 360mm radiator, the top a 240mm unit and the rear a 120mm unit. The case comes with one 120mm fan included as standard, so you might want to spend a little extra on adding one or two more –- unless you install a 240mm radiator at the top of the chassis, in which case you'll have your bases covered.
The RGB support comes in the form of the RGB-lit Corsair logo at the front of the chassis, and the included fan comes with six RGB LEDs.
For more recommendations, you can also take a look at what we consider the best PC cases available right now, based on our own testing.