G.Skill Ripjaws MX780 Gaming Mouse, Hands On
Although G.Skill is riding the wave of company after company jumping into the peripherals game, it's not doing so half-heartedly. Among its "Ripjaws" gaming peripherals, the RAM maker's MX780 mouse is a sight to behold, and it's loaded with customization options.
G.Skills' intention with the ambidextrous MX780 is to create a mouse for everyone. As in the case of any one-for-all product, the big question is whether it ends up being ideal for anyone.
Design
In addition to the left and right click buttons, the MX780 has a scroll wheel, DPI switcher, and forward/back navigation buttons on both sides of the mouse, for a total of eight programmable buttons. Counting the ability to program the forward, back and click actions of the scroll wheel, you actually get 10 effective programmable buttons.
The ambidextrous Ripjaws MX780 has a low-slung front profile, with a long gentle slope that crests towards the back of the mouse, giving way to a small palm rest. The device has kind of an exoskeleton-like appearance, as there's a silver, er, skeleton, with black parts stuck on at strategic locations.
The images tell the story:
Image 1 of 2
Image 1 of 2
The design language is remarkably consistent. Every single button has that same "floating" look to it. The only hint of inconsistency is that all of the parts have a rubberized-looking finish save for the forward/back navigation buttons (matted finish), DPI switcher (shiny black finish), and one part of the chassis that sticks up right behind the scroll wheel (shiny black finish).
The scroll wheel has tactile bumps in its roll, as opposed to a smoother action. The wheel is rubber, not just rubberized, and it has a unique design wherein it's split into two halves with a concavity in the middle. I don't know if that's supposed to aid in performance or tactility, but I didn't like the feel of it at all.
There are five lighting zones on the MX780. There's one on either side, under the right and left mouse buttons; one on the scroll wheel; one in front of the palm rest; and one (the G.Skill logo) on the palm rest itself. Of these five zones, though, there are seven individual lights you can adjust in the included software.
The mouse glides on five small feet (PTFE Glide Pads)--or seven, depending on which grip attachments you employ.
Customization
And on that note: There are many ways you can customize this mouse. G.Skill included two different options for side grips, as well as removable weights and a palm rest height adjuster.
The side grips attach with magnets, and the connection is sufficiently firm. One of the side grips offers a thumb rest and has an extra "foot" underneath, and the other is smaller and has no thumb rest. G.Skill included two sets of each, so you can use two smaller grips, two larger grips, or a mix, depending on your preference and left- or right-handedness. (I ended up using both of the larger wings, as it gave my pinky somewhere to go.)
The MX780 comes with two 4.5 g weights, which mount on either side of the mouse. Thus, you can load up one side or the other with an extra 4.5 g, or you can employ both and add 9 g total weight. I love the placement, because you can really play with the balance.
To adjust the palm rest, G.Skill employed a small screw underneath the mouse. There's a tiny hex wrench included with which you crank the palm rest up or down a few millimeters. That may not sound like much, but I found that the MX780 felt completely different with the palm rest all the way up or down.
My ideal height is somewhere in the middle, but that brings up one small problem: There's nothing to indicate exactly how far up or down you've gone, which means you can't replicate your positioning precisely if you change it. That's a minute issue, but real sticklers for precision may find it annoying.
Image 1 of 2
Offering so many means of customization is welcome regardless, but in the case of an ambidextrous mouse, it's needed. Kudos to G.Skill on understanding that.
G.Skill Unified Driver System Software
Of course, you can customize the MX780's performance further with the accompanying G.Skill software.
The layout of the software is odd; there's a main screen with three categories -- Customize, Setting and Lighting -- but at the top, there are two additional headings -- Macros and Lighting Profiles. If you click Macros or Lighting Profiles, you get a completely different page (although Customize, Setting and Lighting persist as clickable options), and there's no clear way to return to the "home" screen.
It's also somewhat strange that among the five areas you can click, two of them are for lighting, although Razer's Synapse software does the same thing.

Customize, Setting, Lighting
Anyway, under Customize, you can click any of the (effectively) 10 buttons to assign them a different command. You can set mouse functions, keyboard commands, multimedia controls, macros, Windows shortcuts and so on.
In the Setting area, you can adjust the polling rate (125, 250, 500 or 1,000 Hz) and adjust the number of DPI stages (up to five) for the DPI switcher to click through, and the sensitivities of each stage, in increments of 100, up to 8200 dpi. You can also choose from 1-10 levels of double click speed, pointer speed, scroll wheel speed and lift off range. You can also toggle the lift off feature on or off.
Image 1 of 2
In (this) Lighting area, you can switch the lights to one of 24 preset colors (the default is a superb-looking hot pink) for any of the seven programmable lights. The LEDs are apparently not very bright; the colors wash out badly. For example, I set four adjacent lights to four shades of purple, and not only were the colors not distinct, some of the colors were hardly distinguishable from one another. Indeed, all the white, gray, blue and purple tones, for example, looked awfully similar.
You can also turn off the lighting entirely, slide the brightness up or down (which seems to be broken in the software), sync the lighting with your system, or switch on "effect lighting" (which you can configure in the other Lighting Profiles area).
Whichever of these three areas you're in, on the left side of the screen you can copy, create, import, export and manage profiles. (This is kind of a copy of how Razer Synapse displays things, too.) The software also lets you link a profile to a specific program.
Lighting Profiles, Macros
Using the Lighting Profiles area to set RGB and color effects is a frustrating, kludgy experience. It's not at all intuitive, so much so that I fear describing it will be an unreadable mess. Therefore, I'll outline the step-by-step process in bullet form for clarity:
Click Lighting Profiles On the left, choose Cycle or Breathing In the middle of the screen under Name, modify the default profile or create and name a new one On the right, under Color Controller, click one of the three tiny squares Click a color in the color pallette Use the sliders under Color Tool, or punch in RGB numbers, to adjust as desired (If you wish to add another "stop", click the little + under Color Controller)Click Lighting (the other tab) Make sure the Effect Lighting box is ticked Click any of the numbers of the lighting zones (1-4) Select the profile you modified from the list and click OK
To change anything else, repeat the above steps. Also note that although G.Skill advertises three RGB lighting zones in some places, there are actually four.
Image 1 of 2
Macro recording and management is fairly straightforward. It's reasonably intuitive and easy to add, name, record and edit a macro (keystroke or text) with the interface. Back on the Customize screen, you can assign a macro to any of the buttons in a few clicks. However, note that in order to save the macro and therefore make it assignable and executable, you have to go to the Customize or Setting or Lighting tabs, and on the left side of the screen click Save To Device Memory. (A simple "Apply" button at the bottom of each screen would be a much better UI feature.)
Performance
Despite all the excellent customization options, I never did find a perfect setup on the MX780, although multiple configurations were "pretty good."

Using a claw grip, I dialed down the palm rest as low as it would go, and that worked fairly well. I found a reasonably comfortable fingertip and palm grip with the palm rest about halfway up. To give myself more of that full palm rest I prefer for palm gripping, I ratcheted it all the way up, but then the edge of the palm rest was digging into my hand. In no configurations could I reach the forward and back buttons easily.
I also found that my ring finger kept hitting the right-side forward/back buttons constantly. It's simple enough to disable these in the software so you don't get any extraneous clicks, but it wasn't comfortable. On that note, the forward/back buttons are extremely sensitive, so it's all too easy to accidentally click the left-side ones, too. That could be seen as a pro for gamers, as you can activate those buttons lightning fast and with exceedingly little pressure.
And in fact, the more I played games, the more I liked the feel of the MX780. However, I noticed that I had to control it by squeezing the sides because of the tiny palm rest, whereas I generally prefer to use my palm for control. There's an upside to that, though: Because of the exoskeleton design, your hand has ample room to breathe, so if you normally get sweaty hands, this is a mouse to consider.
On The Right Track
There is much to like about the G.Skill Ripjaws MX780, although it's going to appeal to a certain set of users. It's flashy and gaudy and fun, with a wild, space robot-like design.
There are a few features G.Skill needs to address, though, mainly pertaining to the lighting. The LEDs seem weak, with dim, ill-defined colors. The software has an odd layout, and the lighting controls need to be completely overhauled.
But building an ambidextrous mouse is always a risk, because it's far too easy to end up pleasing no one in an attempt to please everyone. G.Skill seems to have mostly avoided that fate with the MX780, and it did so by packing in a number of customizable features with the removable weights, swappable sides and adjustable-height palm rest.
The price is right, too; although it's originally listed as high as $74.99, you can get one from Newegg or Amazon for just $49.99. Fifty bucks for a well-appointed gaming mouse, even with a few shortcomings, is an attractive deal.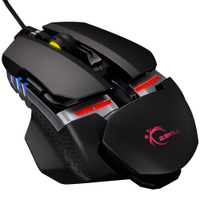 G.Skill Ripjaws MX780
Seth Colaner is the News Director for Tom's Hardware. Follow him on Twitter @SethColaner. Follow us on Facebook, Google+, RSS, Twitter and YouTube.
Join the experts who read Tom's Hardware for the inside track on enthusiast PC tech news — and have for over 25 years. We'll send breaking news and in-depth reviews of CPUs, GPUs, AI, maker hardware and more straight to your inbox.