Windows 11 has leaked online, revealing a treasure trove of information from those who have downloaded it. Tom's Hardware can confirm the leak is genuine, but is an early build and likely not entirely representative of the final product.

First, on Baidu, a Chinese forum. The two screenshots showed off a new, refreshed Start menu as well as the settings screen, which shows the name Windows 11 Pro.

The image of the Start menu is the big reveal. It shows a new, centered task bar, similar to what was seen in Windows 10X prior to its cancelation. The menu doesn't have Live Tiles and lets you pin software in place. There's also a power icon to shut down or restart your computer. It all looks far more touch-friendly, and is likely part of the Windows 10X project being folded into Windows 11.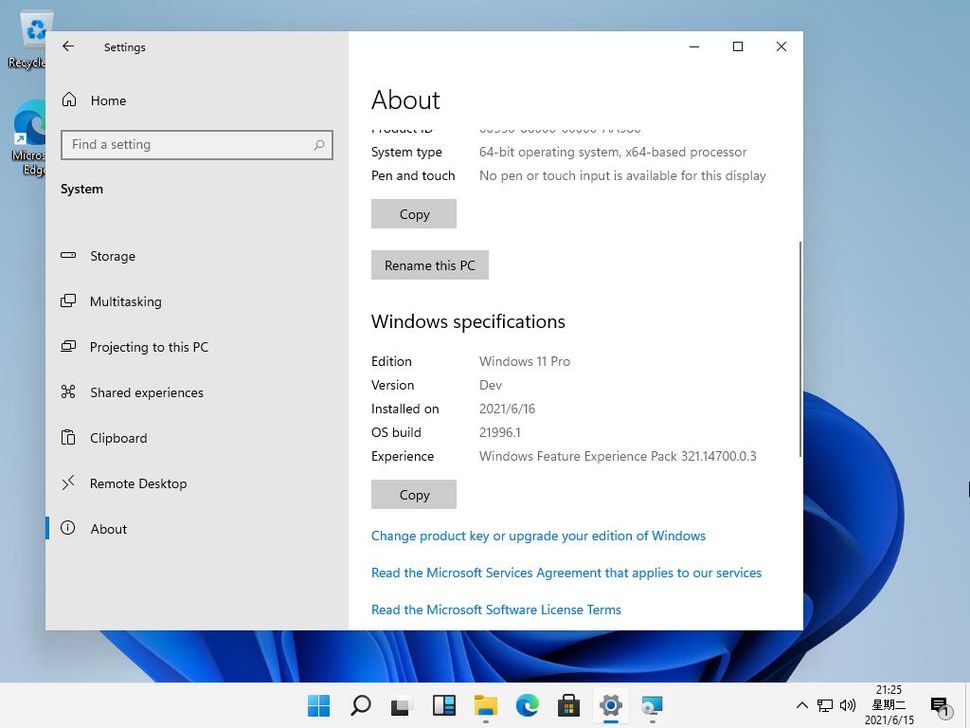 The second image is far less revealing. It lists the name "Windows 11 Pro," suggesting that Microsoft will stick to the Home, Pro and Enterprise naming system.

The Verge editor Tom Warren posted several details on Twitter with the build, including wallpapers, Xbox and much of the user interface.
here's a first look at Windows 11. There's a new Start menu, rounded corners, a new startup sound, and more https://t.co/VDS08QPsl5 pic.twitter.com/OkCyX3TtmIJune 15, 2021
the new Xbox experience on Windows 11 https://t.co/VDS08QPsl5 pic.twitter.com/4jXebU9B56June 15, 2021
don't worry, all the old Windows stuff is still there in Windows 11 🙃https://t.co/VDS08QPsl5 pic.twitter.com/RMi8KLgBV0June 15, 2021
and yes, the Control Panel still exists pic.twitter.com/JZDOJcjRqlJune 15, 2021
If the centered taskbar is too modern for your liking, one Twitter user is suggesting that there's a way to return to the way things look in Windows 10 with a left adjustment:
lol they provided an option to change the taskbar back to the left 😆 pic.twitter.com/45SjnV2lnbJune 15, 2021
Developer Steve Troughton-Smith is attempting to get the OS working on an Apple M1 processor using QEMU:
Let's see how bad x86_64 emulation is on the M1… pic.twitter.com/WBDiIl3ckhJune 15, 2021
Here's the new startup, via Daniel Rubino of Windows Central:

Here is the Windows 11 start-up sound (compared to Windows 95) via @zacbowden and from today's earlier leak. pic.twitter.com/TrBxGWs88YJune 15, 2021
Microsoft didn't respond to a request for comment prior to publication. This story will be updated if it responds.

That being said, the Windows team's twitter account had some fun with it, writing "This is just the Start. Tune in on June 24th at 11 am ET to see what's next." That suggests there's more to show, but also verifies that this leak is real.

While the build may be floating around online, it's possible that it isn't yet finished.

Microsoft will host an event on June 24 to announce what's next for Windows. The company has been dropping hints at it being Windows 11, including an 11-minute video of Windows startup sounds and an image showing two lights coming through a window that form the number 11. It's likely we'll learn more then.

Updated 2:15 p.m. ET with findings from those who downloaded the build.
Updated 7:18 p.m. ET with details on how representative of the final product this leak is.