Ahead of E3 Microsoft and Xbox are putting a heavy emphasis on cloud gaming and its Game Pass subscription program alongside its existing console ecosystem. This includes new, dedicated streaming hardware for any TV or monitor. It is also updating its cloud datacenters to use the Xbox Series X, so that gamers who stream are getting the company's most powerful hardware.

Xbox's announcement comes ahead of Xbox's joint E3 games showcase this Sunday with its recent acquisition, Bethesda, and also comes with a slew of new attempts to push Xbox onto just about any device you might already have. The Xbox division is moving to get its software embedded into internet-connected TVs, which would require no additional hardware other than a controller to play cloud games.
Additionally, the company is looking into new subscription offerings for Game Pass. (though it didn't get into specifics), and is looking into new purchase options for Xbox All Access, which lets people buy the console and Game Pass for a monthly fee, rather than paying up front. (This is similar to how many pay for smartphones in the U.S.).

Building its own streaming devices, however, is a bigger push to make Xbox an ecosystem outside of consoles and even moves Xbox into competition, to a degree, with Chromecast, Roku and Apple TV for the living room. (Chromecast is scheduled to get Google Stadia support later this month).
Still, the company sees its consoles, the Xbox Series X and Series S, as its top-notch offering, even while it expands in mobile, on PC and in streaming. In fact, that's the other major piece of hardware Xbox is working on: the next console.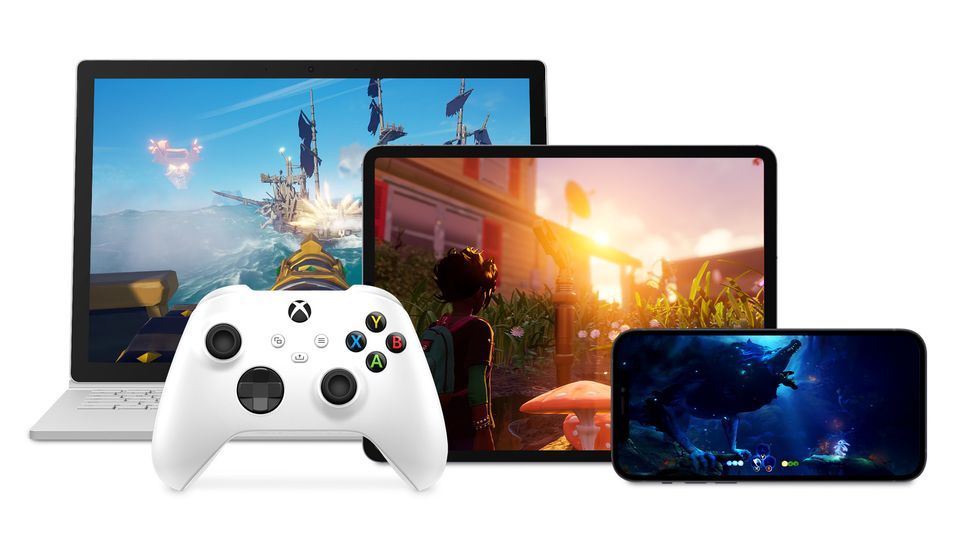 "Cloud is key to our hardware and Game Pass roadmaps, but no one should think we're slowing down on our core console engineering. In fact, we're accelerating it," said Liz Hamren, corporate vice president of gaming experiences and platforms.
"We're already hard at work on new hardware and platforms, some of which won't come to light for years. But even as we build for the future, we're focused on extending the Xbox experience to more devices today so we can reach more people."

This isn't exactly surprising. Consoles start getting designed years in advance, and these days, the mid-life cycle refresh cycle is common. Microsoft has also positioned the latest consoles as a "series" of devices, so it's possible there will be new entries in the line that remain compatible with the current options.
Cloud gaming in Xbox Game Pass Ultimate is set to launch in Brazil, Japan and Australia later this year. Meanwhile, cloud gaming in a web browser, including support for Chrome, Edge and Safari, will go live to Game Pass Ultimate subscribers "in the next few weeks." The Xbox app on PC will also get cloud gaming integrated this year.

Hamren said that Game Pass has more than 18 million subscribers, though that wasn't broken down between the console, PC and ultimate plans, (which include game streaming).

The Series X and S haven't seen a ton of new titles from Microsoft Studios yet, but it sounds like that will change.

"In terms of the overall lineup, we want to get to a point of releasing a new game every quarter…" said Matt Booty, the head of Xbox Game Studios. "We know that a thriving entertainment service needs a consistent and exciting flow of new content. So our portfolio will continue to grow as our service grows."

Xbox has more than 23 studios and also recently acquired ZeniMax Media, the parent company of Bethesda Game Studios, as well as id Software, ZeniMax Online Studios, Arkane, MachineGames, Tango Gameworks, Alpha Dog and Roundhouse Studios.

Game Pass games are released simultaneously on PC and Xbox, which Xbox Head Phil Spencer used to poke at its competitors, namely Sony and its PlayStation 5.

"So right now, we're the only platform shipping games on console, PC and cloud simultaneously," Spencer said. "Others bring console games to PC years later, not only making people buy their hardware up front, but then charging them a second time to play on PC. And, of course, all of our games are in our subscription service day one, full cross-platform included." (PlayStation brought Horizon Zero Dawn and Days Gone to PC but long after their PlayStation 4 releases.)

Tim Stuart, the chief financial officer for Xbox, said "we'll do a lot more in PC for sure." There have been rumors of big changes to the Microsoft Store on Windows, including making it easier for developers to sell games. That's another avenue we may see explored soon, as Microsoft explores what's next for Windows later this month, after E3.

The Xbox and Bethesda Games Showcase will take place on Sunday, June 13 at 10 a.m. PT / 1 p.m. ET and will stream on YouTube, Twitch, Facebook and Twitter.