Back to the Future: Buy a Last-Gen CPU to Save This Black Friday
AMD Ryzen 5000 Series or Intel 13th Gen Core chips are the best values.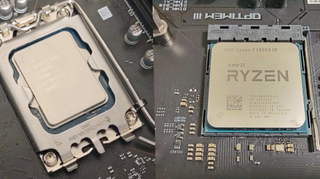 (Image credit: Tom's Hardware)
At Tom's Hardware, we're all about living on the bleeding edge, which usually means recommending the latest and greatest components. However, money is a finite resource, and you can save a lot of it by purchasing a last-gen AMD or Intel CPU this Black Friday shopping season.
The costs are lower, the deals are better, and you can use the cash you save on the processor to pay for a faster graphics card, which will give you a much better gaming experience, or you can purchase more storage for more games. The delta between buying a current-gen processor and one from the prior-gen could be anywhere from $20 to $80, based on current prices. And, as we see more limited-time deals, the differences could be even more pronounced.
AMD's Best Value: Ryzen 7 5800X3D
If you can budget $320 or so for your processor, the best value is clearly AMD's Ryzen 7 5800X3D. Yes, this is a Ryzen 5000 series, which has since been displaced by the Ryzen 7000 series and, more specifically, in this case, by the Ryzen 7 7800X3D. Both of these processors are great for gaming because they have a huge amount, 96MB, of L3 cache, which allows them to keep more data closer to the processor cores. Both have 8 cores and 16 threads, though the Ryzen 7 7800X3D has higher clock speeds and a newer architecture.
However, building a system around the Ryzen 7 7800X3D is about 30 percent more expensive, while you get only about 14 percent more performance for your money. At press time, the price difference between the two chips was $77 ($322 vs $399), which is about 24 percent. However, we need to remember that the Ryzen 7000 series requires more expensive motherboards and pricier DDR5 RAM instead of the cheaper DDR4 variety.
I priced out what it would cost to buy the CPU, along with an inexpensive motherboard and an inexpensive, but name-brand 32GB RAM kit. As you can see, there's an overall difference of $142 between the CPU / RAM / Motherboard combinations.
Swipe to scroll horizontally
With $142 of extra money, you can do a lot to improve your computer. but most importantly, you can buy a better GPU. For example, right now, an Nvidia RTX 4060 Ti goes for $369, while an RTX 4070 goes for $519, a $150 difference (close enough to $142).
The difference in performance between an RTX 4060 Ti and RTX 4070 is quite significant. On our test suite of games, the 4060 Ti averaged 101.7 fps at 1080p ultra settings, while the 4070 averaged 123.6 fps. At 1440p, those numbers were 75.5 and 98.1 and, at 4K, the 4070 was a playable 57.2 fps, while the 4060 Ti was a much-less-playable 36.9 fps.
Swipe to scroll horizontally
With ray tracing enabled, the deltas make the difference between a game being playable or not. At 1080p Ultra, the 4060 Ti averaged 52.8 fps while the 4070 delivered 69.4 fps. At 1440p, the 4060 Ti was barely playable at 33.5 fps but the 4070 managed a better 45.2 fps.
Intel: 13th Gen Core is a Better Value than 14th Gen
In the case of Intel platforms, the delta in price between the new 14th Gen "Raptor Lake Refresh" chips and their immediate predecessors, the 13th Gen "Raptor Lake" processors is fairly small, but the performance difference is even smaller.
With either 13th or 14th Gen Intel chips, you can use the same motherboards, which require either DDR4 or DDR5 RAM, depending on the model. So you're only saving $20 to $30 if you go with a Core i5-13600K instead of a Core i5-14600K and the same goes for a Core i7-13700K versus a Core i7-14700K and a Core i9-13900K versus Core i9-14900K.
However, even that $20 to $30 is a waste of money at this point. Raptor Lake and Raptor Lake Refresh are the same chips, with the 14th Gen supposedly offering higher clock speeds, but the same architecture and core counts. The one exception is the 14700K, which has four more efficiency cores than its 13th Gen counterpart. In our testing, performance was nearly identical between generations, with deltas of just a few fps.
With $20 or $30 of savings, you probably won't be able to move from a lower-end graphics card to a higher-end one. However, you could possibly get a higher-quality SSD or even one that's 2TB instead of 1TB.
What about going back two generations to Intel's 12th Generation "Alder Lake CPUs?" There, you could save as much as $90 on a processor, though again, you'd be using the same Socket 1700-based motherboards as 13th and 14th-gen processors and the same DDR4 or DDR5 RAM.
The drop in performance between 13th and 12th gen is more significant, as the core counts are less on 12th Gen, and we saw bigger drops in frame rates on our tests. In general, the performance delta between 12th and 13th generation is 16 to 20 percent whereas the delta between 13th and 14th gen is only about 3 percent.
Swipe to scroll horizontally
| CPU | Price | Cores / Threads (P + E) |
| --- | --- | --- |
| Core i5-13600K | $308 | 14 / 20 (6+8) |
| Core i5-14600K | $329 | 14 / 20 (6+8) |
| Core i7-13700K | $364 | 16 / 24 (8+8) |
| Core i7-14700K | $405 | 16 / 24 (8+8) |
| Core i9-13900K | $546 | 24 / 32 (8+16) |
| Core i9-14900K | $577 | 24 / 32 (8+16) |
| Core i5-12600K | $242 | 10 /16 (6+4) |
| Core i7-12700K | $312 | 12 / 20 (8+4) |
| Core i9-12900K | $427 | 16 / 24 (8+8) |
For Intel, we recommend going with 13th Gen "Raptor Lake" processors at this time or 14th Gen if you don't mind spending an extra few dollars for little or no benefit, depending on your workload.
Join the experts who read Tom's Hardware for the inside track on enthusiast PC tech news — and have for over 25 years. We'll send breaking news and in-depth reviews of CPUs, GPUs, AI, maker hardware and more straight to your inbox.
Avram Piltch is Tom's Hardware's editor-in-chief. When he's not playing with the latest gadgets at work or putting on VR helmets at trade shows, you'll find him rooting his phone, taking apart his PC or coding plugins. With his technical knowledge and passion for testing, Avram developed many real-world benchmarks, including our laptop battery test.